_The Conversation, in conjunction with the Centre for Applied Macroeconomic Analysis (CAMA), presents the monthly findings of the Shadow Board, prior to the meeting of the Reserve Bank of Australia Board meets to consider the official cash rate._
Strong support continues within CAMA's shadow board to hold the cash rate at the current level of 3.5%, amid greater uncertainty for its 12-month projections.
Keeping the interest rate unchanged at 3.5% received around 65 percent weight, considerably above the next most popular setting, an increase to 3.75%, with about 15% weight.
Support for a decrease in the cash rate of 25 basis points or more received a weight of nearly 20%, slightly greater than the support for an increase by 25 basis points or more.
The risks to aggregate demand are finely balanced. Professors Warwick McKibbin and Jeffrey Sheen continue to see possible demand pressures in the domestic economy that are consistent with a higher interest rate.
In the longer term, at the 12 month horizon, CAMA's shadow board sees more uncertainty, with a greater range of interest rate settings envisaged than for the current month, with upside risks balanced by downside risks.
| | Current | 6 month | 12 month |
| --- | --- | --- | --- |
| Probability rates rise | 15.6% | 29.4% | 43.9% |
| Probability rates stay put | 66.1% | 21.7% | 16.1% |
| Probability rates fall | 18.3% | 48.9% | 40% |
The shadow board is made up of influential economists from the private sector and academia. They were asked to rank their preferred outcomes for the cash rate.
The comments by individual Shadow Board members can be obtained from the CAMA website and are reported below.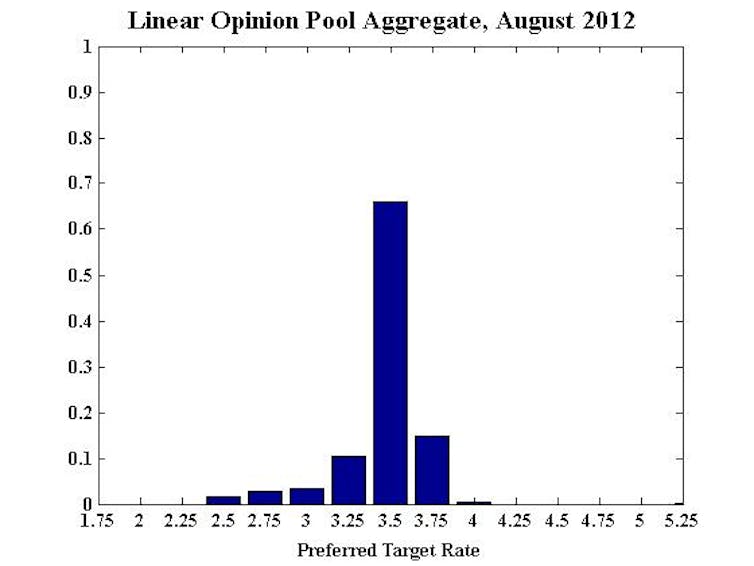 Paul Bloxham, Chief Economist (Australia and New Zealand), HSBC Bank Australia Ltd:
"I recommend the RBA stays on hold this month. Evidence from the past month shows that previous cash rate cuts appear to be providing some support for the housing and retail sectors, although some part of this also reflects government payments to compensate for the carbon tax. Trade data also suggest a solid contribution to growth in the past quarter. Overall, the economy appears to be tracking at close to trend. While inflation is low, which allows scope for further cuts, signs of solid demand suggest there is no urgency to provide further stimulus at this stage.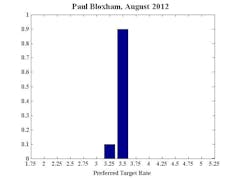 While the AUD has been higher than might have been expected, given falling commodity prices, I would not recommend any direct intervention. This should be monitored though, and clearly needs to be incorporated into the inflation outlook. Should the exchange rate appreciate further, without a rise in commodity prices it would not be unreasonable to consider action, though I would recommend this to involve further cash rate adjustments, consistent with the inflation target, rather than direct exchange rate intervention.
Over a longer horizon recent local improvements in activity mean I now view the probability of further rate cuts as equal to the probability that the cash rate will be unchanged or increase. A further modest cut could be made over coming months as inflation is low. The risk of a sharp financial shock from abroad, most likely from Europe, means there is still some risk that rates need to be cut more sharply. But equally, looking 12 months ahead there is a reasonable chance that rates will need to rise.
Also see Paul's six month and 12 month projections.
---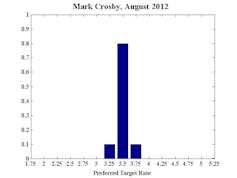 Mark Crosby, Dean of the Global MBA Program, Acting Dean of the Global BBA Program, and Professor of Economics, S P Jain Center of Management in Singapore:
"Issues in Europe are still very far from resolved, and most likely will end with severe international disruption within the next 12 months. This would result in loosening by the RBA. However given European authorities incredible powers of procrastination it is quite possible that the next 12 months will remain a period of "muddling through."
Also see Mark's six month and 12 month projections.
---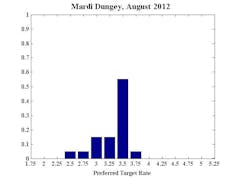 Mardi Dungey, Professor, University of Tasmania, CFAP University of Cambridge, CAMA
"The risks from the international situation have not noticeably decreased in the past month, nor have domestic conditions shown significant improvements. Consequently I maintain my stance from July outlook to the August outlook at all horizons."
Also see Mardi's six month and 12 month projections.
---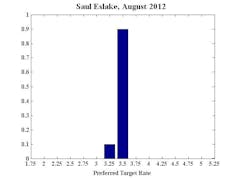 Saul Eslake, Chief Economist, Bank of America Merrill Lynch Australia
No comment.
Also see Saul's six month and 12 month projections.
---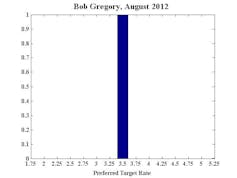 Bob Gregory, Professor Emeritus, RSE, ANU, Professorial Fellow, Centre for Strategic Economic Studies, Victoria University, Adjunct Professor, School of Economics & Finance, Queensland University of Technology
No comment.
Also see Bob's six month and 12 month projections.
---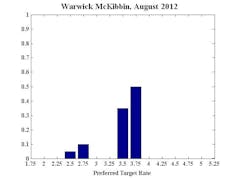 Warwick McKibbin, Professor, RSE, ANU, CAMA
No comment.
Also see Warwick's six month and 12 month projections.
---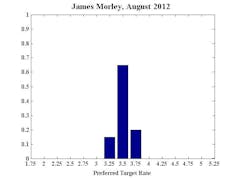 James Morley, Professor, University of New South Wales, CAMA:
"Focus on keeping inflation in target range: Monetary policy remains in a somewhat accommodative stance, but with little immediate cause for concern about inflationary pressures. Headline inflation is low, although the less volatile measure of underlying inflation is on target, albeit at the bottom end of the 2-3 target range. This allows an increased weight on keeping the policy rate steady in the near term and slightly increases the possible need for further easing in the event that underlying inflation falls below the target range."
Also see James' six month and 12 month projections.
---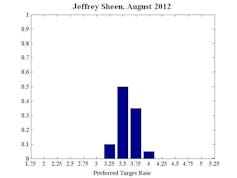 Jeffrey Sheen, Professor and Head of Department of Economics, Macquarie University, Editor, The Economic Record, CAMA:
"Data announcements since the July 2012 decision revealed little. Labour market flows in June indicated minor but statistically insignificant weakening. The trimmed mean for the Australian June CPI inflation was 2%, at the bottom of the RBA's target range, which leads me to make small adjustments to my distributions for the recommended cash rate."
Also see Jeffrey's six month and 12 month projections.
---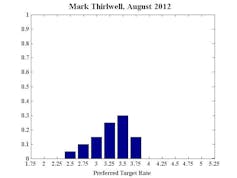 Mark Thirlwell, Director, International Economy Program, Lowy Institute for International Policy
No comment.