Reading instruction in the classroom is a key concern for all teachers and there are many ways to go about it. However, is our determination to achieve excellence in reading skills in our children killing their love and enjoyment of a good book?
In my work with parents, I am frequently asked the best ways to encourage and motivate reluctant readers to be engaged with books. Parents report that their children return home from school with no inclination to pick up a book and read.
Any avid reader will gladly talk about the joy of curling up with a good book to read away the hours on a cold, rainy afternoon. Reading a good book is one of life's greatest pleasures. We need to share these experiences with our children and adolescents in order to assist them in developing into strong and capable readers.
How widespread is this concern about the destruction of reading enjoyment?
As I have written previously, the use of boring, mass-produced home reading texts in children's early years at school can be seen as the beginning of this negative cycle.
As children progress through their schooling life, there are many other instances of learning reading skills that don't help to celebrate or foster reading development. As NAPLAN tells us, getting the reading skills required simply to access these assessments isn't always an enjoyable experience for students. Frequently, teachers feel the pressure to give their students "just enough" in terms of reading strategies to be able to access the test, which leaves little time to focus on reading for pleasure.
Kelly Gallagher, a high school teacher from the United States, outlines the term "Readicide" in his book by the same name. He says it's:
the systematic killing of the love of reading, often exacerbated by inane, mind-numbing practices found in schools.
It is clear that the destruction of reading for pleasure is not contained to US schools. When introducing my first-year pre-service teachers to the amazing collection of literature by Australian author Shaun Tan, audible gasps of displeasure are frequently found.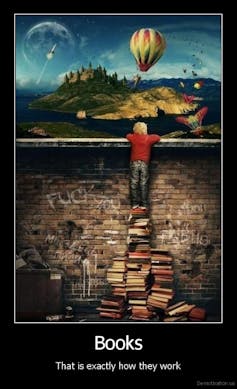 The Lost Thing is a multilayered visual text recommended by the NSW Board of Studies for students in years seven through to ten. Students recount their experiences of weeks spent analysing the key themes, ideas, imagery and concepts within the pages of this text.
The Lost Thing is an excellent example that illustrates all of these concepts; however, students comment that the length of time studying and analysing different components discourages them from looking at it or anything similar again.
Recent research also indicates that many pre-service teachers are inclined to follow the traditional literacy practices that they have experienced in their own education, which can often have negative connotations for their future students.
While teaching children and adolescents key concepts for analysing and evaluating texts is important, the manner in which it is done and time that is spent on this can lead to disengagement.
As Donalyn Miller notes in her book Reading in the Wild, schools aren't to blame when it comes to not arresting students' lack of interest in reading, but they have an important role to play in fostering reading enjoyment.
How do we encourage our children to read for pleasure?
Children (and adolescents, and adults) need to know that it is okay to read whatever they want, when they have the opportunity to do so. Giving children the chance to read whatever they like when shopping at the bookshop is a great place to start. If you are picking up a book to take home to your child as a gift, purchase a few, so they can choose something that interests them.
When parents are avid readers and actively talk about books with their children, they are establishing a climate at home where books are valued. Discussing your favourite books and parts of books with your children can lead to the discovery of new reading material about shared interests.
When your children bring home required reading, whether it be home readers or a set text for class, make sure that this isn't the only reading they do. Provide incentives for your child to want to return to books of their own choice, in order to foster their interest in reading.
By helping our children and adolescents recognise the need for reading practice at school and the joys of reading for pleasure at school and home, we are giving them the best possible opportunity to develop the skills that they will need to be literate, passionate readers.