After an absence of 18 years, TSB banks reappeared on the British high street this week. Though much of the initial commentary focused on the new bank's opening day website crash, a more interesting question concerns the TSB branding itself. Why bring back a defunct bank?
Lloyds didn't have to chose TSB, but it did have to dispose of many of its branches. As a condition of its bailout during the financial crisis it is obliged to transfer 600 branches out of the group and the hope is that creating a new smaller, more nimble and customer-focused challenger brand will bring much-needed competition to the banking sector.
However, this was not Lloyds' preferred solution. They had intended to sell the excess branches to the Co-operative bank, but that move fell through earlier this year due to concerns about the financial position of Co-op. This time, they have chosen to resurrect the TSB brand and although for the time being the "new" bank is wholly owned by Lloyds Group, the plan is to sell off the bank and make it wholly independent in 2014.
The first intriguing question to arise from this development is why Lloyds chose to resurrect the TSB brand. After all, they could have used another existing brand in their portfolio, or created an entirely new brand offering a truly fresh and distinctive alternative.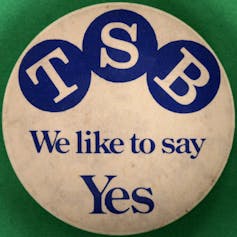 For some older customers in particular there is a legacy recognition of the TSB brand; some may even remember that it was "the bank likes to say yes" back in the 1980s. As TSB has a heritage associated with being a bank for the industrious poor and an underdog challenger to the traditional "big four", general perceptions of the brand are reasonably favourable.
Certainly, TSB's new brand image and positioning plays on such perceptions, emphasising its "back to local" credentials and its absence from investment banking and corporate finance. TSB is also unsullied by associations with the financial crisis and financial imprudence. Of course, ultimately Lloyds is introducing a brand that will, in time, be a direct competitor, so one could ask whether they really want the new TSB to be a resounding success.
The other main intrigue is what customers make of all of this. Initial indications are that the overwhelming response has been resigned indifference. Research has shown that customers do not have particularly strong relationships or associations with their bank brand and there is also a feeling that "they are all the same".
There is little genuine differentiation in the personal banking market. This is reflected in the fact that most customers who have commented on the move seem happy that things have gone smoothly and expect to notice very little difference. Some have expressed the hope that service will improve as a result, but, so far there is little evidence that a large number of long-time Lloyds customers are switching back from TSB.
Of course, a number of banks are offering attractive incentives to switch, and switching is supposedly more straightforward than ever. In time, TSB customers will also find their choice of branches far more restricted once they can no longer use Lloyds. So there is some danger of customers gradually drifting away to competitors or back to Lloyds. However, given the well-documented inertia of customers in the banking sector, people are unlikely to leave on a scale large enough to make a significant difference.
Ultimately, there is much scepticism that the TSB will bring genuinely increased levels of competition in the sector, especially given its relatively small size. However, if it can cleverly position itself as the "underdog" and deliver on its promise of a different type of banking, it could carve out a successful niche in the market.