Long-term growth and development in Japan is best achieved by working with the landscape and people – a proposition that's easier to say than put into effect.
At 2:46 pm, March 11, 2014, Tokyo stood still. It marked the moment that, three years previously, the Great Eastern Japan Earthquake began.
It started with a magnitude 9.0 earthquake that hit the Tōhoku region of north-eastern Japan. Three minutes later, a tsunami warning was issued and broadcast across all national TV networks and radio.
Soon after, a series of tsunami waves up to 40 metre-high hit the north-eastern coast of Japan. What was swept away included more than 600km of coastline, cities, villages, 350,000 buildings and 16,079 lives.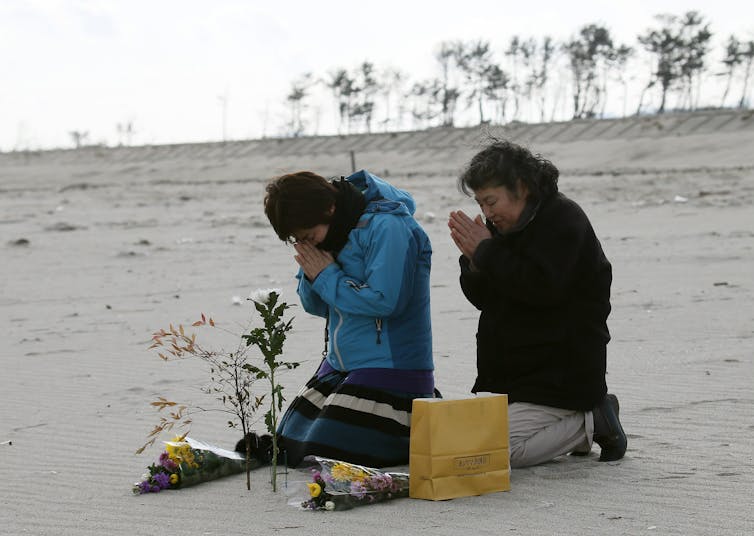 On March 9, 2014, 36,000 protesters marched in Tokyo. They urged the government to change course so the mistakes that increased the damage done in 2011 weren't repeated.
Two approaches to development are currently at odds: quick-fixes that offer comfort but little protection versus long-term strategies that work with the land.
Some 120,000 people are still living in temporary housing as villages debate reconstruction strategies. The prefectural governments of Miyagi and Iwate have only two ideas: build tall concrete seawalls to keep the tsunamis of the future out and raise land to relocate dwellings to higher ground.
This isn't the right direction. Tōhoku needs to embrace a dynamic landscape, not work against it. To encourage a safe and resilient region in which to re-build, two things must be acknowledged:
the interrelation of economic and urban development
the role small manufacturing and fishing industries play in the region's economy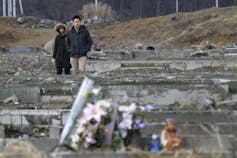 Holistic planning strategies and careful management of resources aren't new. Despite this, much of the rebuilding is occurring in ways that can only be described as dangerous, destructive and unsustainable. The lessons of the past haven't been learned.
The example of Shibitachi, a small fishing village, provides a microcosm of the problem.
Shibitachi bay is approximately 1.2 kilometres wide and sits on the coast of the Kawakura peninsula. Its topography has created one of the best bays in Japan for oyster culture and tuna fishing.
Planted forests and natural vegetation extend to the sea; and this relationship between land and sea creates nutrient rich rainwater runoff that filters into the bay, providing ideal conditions for oyster cultivation.
The Great Eastern Japan Earthquake left low lying areas inundated with water and the bay filled with debris, burning carpets of oil and large ships from nearby.
In the months after the disaster, relief was organised through academic research units and architects. The new Shibitachi would be a collaboration between locals, a Tokyo University research team and landscape architects from RMIT University.
Workshops with the community saw new evacuation routes become a priority. The people of Shibitachi self-organised to form committees for rebuilding the port, roads and housing. Models and drawings were produced by the research team, presented and discussed. Suggestions were accepted, models changed and presented again.
The process became difficult. People grew frustrated by the lack of real action. They began withdrawing support.
The standstill was tied to one dilemma: should they build a seawall or not?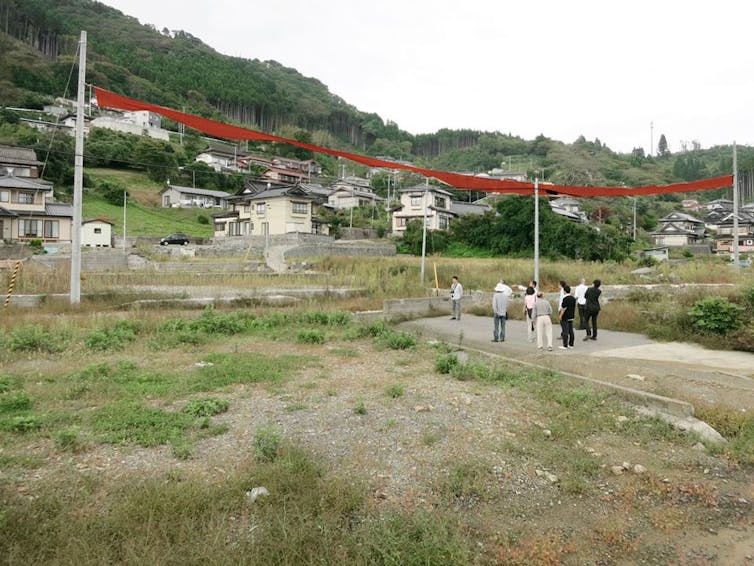 Government funds for rebuilding are given to communities who agree on a future reconstruction plan. The government's proposed idea involves building a 9.9 metre-high concrete wall along the coastline in the small bay. The proposed structure would require a base of 30 metres in width, covering the entire port area in concrete.
This wouldn't just change the scenery: it would impact an economy based around fishing and tourism.
Worse, it offers a false sense of security – the same fate that befell the village of Tarō.
Tarō is home to Japan's own "Great Wall of China". Its seawall was 10 metres tall and 2 kilometres long. Residents were so sure the wall would protect them that, when the earthquake began, they ran towards it.
Within a few minutes, water ripped through the outer wall and over the inner, sweeping away the town and those who lived there.
Part of the March 11 tragedy was the failure to get people to higher ground. Tarō's infrastructure gave its people feelings of security and pride, leading them to believe they could overcome nature. It failed, leaving them surrounded by death and debris.
One resident described her disappointment in a New York Times interview:
For us, the sea wall was a source of pride, an asset, something that we believed in. We felt protected, I believe. That's why our feeling of loss is even greater now.
As mentioned at the start of this article, long-term growth and development is best achieved by working with the landscape and people. Humans are part of nature: safety comes from understanding dynamic landscapes, not from neglecting them.
Disrupting this relationship would be a mistake. And, as the people of Tarō and the protesters in Tokyo know, not learning from a disaster only makes the next one more devastating.