Screen Australia announced this morning a A$5 million plan called Gender Matters, a three-year suite of initiatives aimed at addressing gender imbalances in the Australian film industry.
In order to attract funding, projects must have at least three of their four key creative roles – director, writer, producer and protagonist – occupied by a woman.
This plan follows a string of initiatives aimed at addressing gender diversity from within the Australian film industry.
In the past month, Screen NSW set targets for 50/50 gender equity for development and production funding by 2020; Film Victoria announced a A$50K partnership with the Natalie Miller Fellowship to advance the careers/leadership roles of women in the screen industry; and the Australian Director's Guild has proposed quotas of 50% for directors getting Screen Australia funding.
Women are a vital and under appreciated part of Australia's film industry. If Screen Australia can follow through on these targets, we might see real change in a stubbornly persistent gender imbalance.
Best in show: why gender matters
The industry has been slow to acknowledge the low participation of women, that they get paid less, and that they are a minority across key creative fields.
And more significantly, there has been no acknowledgement that not only are women not increasing their participation – but in some areas it is declining. In 1992, women were 18% of directors of feature films, today they are only 16%.
One reason this issue has been slow to attract attention is that Australian women punch well above their weight in the film industry. The presence of highly successful women makes the industry look more representative than it actually is.
According to my research of the AFI (now AACTA) feature film categories between 2000 and 2010, women won Best Film 80% of the time, Best Direction 40% of the time and Best Original Screenplay 50% of the time.
In that period, women made up, respectively, 33%, 18% and 20% of the workforce in those categories.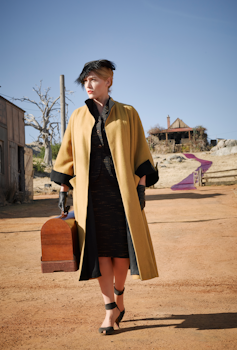 The strong performance of women illustrates the business case for drawing more women into the industry. Promoting the work of women also promotes innovation and diversity in the stories that are reaching our screens.
It is becoming difficult to ignore that audiences are flocking to the cinemas to see films such as The Dressmaker (2015), or to the small screen to see female-centred Australian shows such as Puberty Blues (2012-), Wentworth (2013-), Paper Giants: The Birth of Cleo (2011).
Shows made by female creatives have also made an impact, such as Miss Fisher's Murder Mysteries (2012–), created by Deb Cox and Fiona Eagger, and Offspring (2010–), created by Debra Oswald, John Edwards and Imogen Banks.
Quotas or targets?
Senior leadership at Screen Australia has been very firm in saying these initiatives are targets, not quotas. The operative difference is that a target is optional and a quota is mandatory.
The issue of quotas is complex, but many, including myself, believe quotas (and affirmative action) are necessary to get some change. However, some women are ambivalent about them and it does mean they have to deal with perceptions that they got an unfair leg-up. Quotas can be seen as divisive, at at a time when everyone, men and women, should be working together to get the best possible industry.
Setting targets, with firm plans on how to achieve them, may counterbalance the perceived drawbacks of quotas.
It's worth noting that a comparable situation has played out in the political arena: in 1994 the ALP adopted a quota system, which Howard rejected as "patronising women". Today, the ALP has around twice as many female MPs as the Liberal party.
Ultimately, whether you call it a target or a quota, the key will be strong leadership, and a commitment from Screen Australia to integrate this policy into every level of their funding policies.
We know that dedicated resources for underrepresented populations can have a highly positive results: Indigenous filmmaking funds spurred a whole generation of filmmakers who produced some of the most vibrant work Australia had seen for decades.
This is long overdue action from the industry, but is likely to make a significant positive impact on its success – and I commend the industry for putting gender on the agenda.