This is the fourth piece in our series, Reinventing density, co-published with Future West (Australian Urbanism).
---
The story of Perth's low-density composition and growth is well understood. The increasingly urgent need to develop infill housing for a growing population that results in a more compact city form have been well communicated and form an inevitable part of the discussion about density. In the last decade, this reasoning has become broadly accepted.
However, understanding the problem is one thing; exploring its potential solutions is another. Economics, stigma, inertia and layers of legislation mean Perth is substantially failing to meet the state government target of 47% infill for new residential development across the metropolitan area by 2031.
The primary mechanism that local governments have used to implement the top-down long-term vision for more infill housing is "upcoding"; that is, identifying and increasing sites with higher development potential. This has a number of consequences:
increasing friction between supporters of market-driven speculation and those calling for affordable housing;

the entrenchment of NIMBYism;

built-form policies that prevent sites from reaching their potential; and

questioning of whether infill density is improving or dismantling the spatial and cultural qualities of our suburbs.
It is debatable whether more or less regulation might help to achieve the infill targets. On the one hand, further top-down regulation may be needed to force targets to be met. On the other, the bluntness of the instruments used for housing delivery may prevent innovative approaches to density and development from appearing.
Is there an alternative? Can regulation ever be expected to deal adequately with the complexities of how people could, should and want to live together?
Can current regulation become an instrument to support non-standard approaches to achieving density? Can individual buildings be prototypes that permit a range of possibilities for planning legislation? Could density conditions be negotiated rather than preordained? And, if they can be, what might happen?
A fresh take on density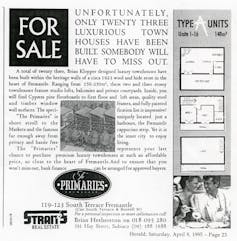 It is worth considering a project where these questions have come into play.
Built in 1923 as a wool and hide store, the Primaries warehouse in Fremantle was used to stored wool for 70 years until it was purchased for conversion into residential units. In 1993, approval was granted for 17 dwellings on the site. This was in addition to 23 dwellings that had been approved three years prior and subsequently built.
The resultant 40 grouped dwellings doubled the allowable density of the R35 site (the R35 code stipulates a minimum site area of 220m² per dwelling). This was made possible through a density bonus, granted under a clause of the town planning scheme relating to "places, buildings and objects of historical or scientific interest".
Council could relax any provision of the scheme, including the density of a site, where part of an existing building deemed to be significant was being preserved. In this instance, it was proposed to retain the roof structure and external walls of the 6,070m² warehouse. As a result, the site density was varied considerably, as were the required setbacks and the private open space requirements.
Brian Klopper, a local architect becoming increasingly known for his canny, idiosyncratic residential projects, was engaged to design both stages of the development. Stage 2 sold in just eight weeks.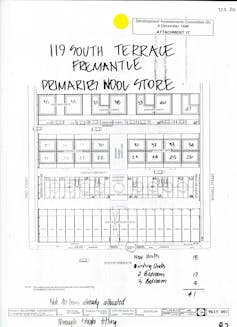 Within the boundary perimeter walls, Klopper inserted three rows of grouped housing and two large open courts. The courts function as inner streets, open to the sky. They allow for pedestrian and car access, for open car parking, for shared gardens, for each dwelling to address.
The houses are built in rows, with party walls at right angles to the perimeter walls and terminated on the inner court ends by full-height curtain glass walls. This is a terrace-house typology, expanded vertically and flooded with light.
Multifunctional and multifarious, the two-and-a-half-storey units have adaptable spaces. Occupants are able to use these as houses or for office or retail purposes, with little or no modification.
The most compelling aspect of the Primaries project, with the most enduring relevance, is its deft balancing of communality and privacy. It is a remarkable exemplar of medium-density development because it maintains the ideals of an individual house – privacy, comfort and customisability – within the compact dimensions of a collective residential cluster.
The defining feature of the inner courts is public space. Connectivity, so often suppressed in multi-unit developments, is enhanced.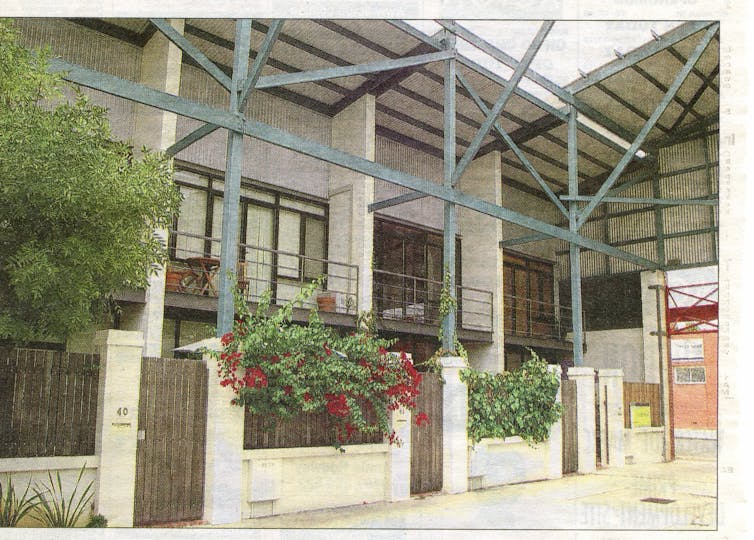 Flexible rules expand possibilities
This is a propositional project. It proposes a way of living in the city and of approaching density. The density bonus provision allowed the developer, architect and planners to establish the rules and conditions of the site, rather having to follow rules.
Negotiated conditions were necessary due to the unique nature of the warehouse. It's worth considering that if the warehouse had not existed on the site, the scheme, even in identical form, would have been unlikely to be approved.
It's also worth reconsidering subdivision. We are accustomed to subdivision being about land; to density codes being related to minimum site areas and plot ratios. Perhaps density is more about people than buildings; about occupation, not containers.
We may need to consider new ways of subdividing all sorts of buildings, rather than land. And we may need to build things that are subdivisible from the outset.
It's possible to imagine other projects initiating progressive planning conditions. It's possible to imagine height and setback provisions being varied for projects that demonstrate exceptional solar access and ventilation. It's possible to imagine density bonuses based on performance, adaptability, communality or affordability.
With these sorts of expanded parameters for density bonuses, at once specific and wide-ranging, initiated and tested by project, new forms of housing may emerge that more effectively serve our contemporary, changing city.
---
The Conversation is co-publishing articles with Future West (Australian Urbanism), produced by the University of Western Australia's Faculty of Architecture, Landscape and Visual Arts. These articles look towards the future of urbanism, taking Perth and Western Australia as its reference point. You can read other articles here.