This is the fifth and final piece in our series, Reinventing density, co-published with Future West (Australian Urbanism).
---
Since the beginning of the 20th century the single-function building typology – for example, the office, school, apartment, institution or retail complex – has been subject to regulations requiring separate spaces for "working" and "living".
Within this framework, paid labour seldom took place inside the home. Today, people use space differently, which means legislation must change to support different ways of living and working in the one building.
The post-industrial city, which has existed since the late 20th century, has changed the way people live and work.
In North America, with the decline of the manufacturing sector in many cities and the "discovery" of the inner city by the 1970s, it became fashionable for people to live in former manufacturing spaces that had been converted for residential use. This trend emerged in New York and then in San Francisco a decade later.
By the 1990s most cities in North America boasted converted loft districts where people were, potentially, both living and working.
The early adopters of the contemporary live/work movement were artists and craftspeople. Other groups that have since taken advantage of live/work dwellings are entrepreneurs and the self-employed. They may be freelancers who do not keep regular office hours or need permanent office space.
The availability and affordability of computers, advances in telecommunications and tax deductions for home offices have made the live/work option a practical and economically savvy alternative for many.
Movement calls for planning reform
When the contemporary live/work movement gained traction in the 1980s and 1990s, it challenged the North American urban planning system. New legislation allowed for mixed use, blending residential, commercial, cultural, institutional and, where appropriate, industrial uses.
This included "home occupation", which incorporated the right to pursue small-scale work activities at home. This model usually placed restrictions on the number of employees and commercial or client visits to the premises.
The term "live/work" signifies that the building or unit is primarily used for residential purposes, but that working is permitted. "Work/live" means the work component takes priority over the residential. In urban planning legislation, live/work is often associated with residential and mixed-use zones and codes, whereas work/live is associated with commercial, industrial or mixed-use zones and codes.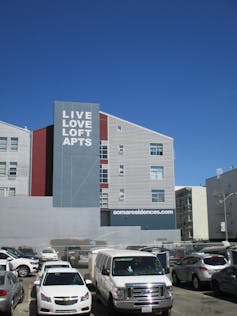 The main difference between live/work and work/live and home occupation is the "disturbance factor" – that is, how intrusive the activities in the building are for neighbours.
In Australia, home occupations are generally permitted in current residential and mixed-use zones as long as they do not disturb the neighbours.
While artist communities and creative entrepreneurs in Australia have been blurring the boundaries between living and working for decades, live/work (or work/live) as a formalised land use does not exist.
The adaptive reuse of vacant or underused buildings and lots is a strand of the live/work, work/live movement. Locations such as Collingwood in Melbourne, Northbridge in Perth and Surry Hills in Sydney are all home to numerous adaptive reuse projects and people working in the creative economies. Councils often turn a blind eye to the buildings' unregulated use.
However, Australia is yet to see the development of new land use or mixed-use live/work zones such as those in North America. Since the 1990s, live/work has also been formalised in Western Europe. By the 2000s, the movement had taken hold in places such as Eastern Europe, Russia and China.
What are the live/work benefits?
As a land-use and building typology, live/work can support urban neighbourhoods through providing a diversity of uses, which can be flexible over time. It intersects with housing, job, transportation and infrastructure planning to support an integrated approach to urban planning.
The live/work ethic advocates for mixing stores, offices and housing. This can help make neighbourhoods busier and more productive, meaning they may be livelier and safer.
Live/work offers multiple sustainability benefits. These include a reduction in vehicle use, improved air quality, less dependency on natural resources and reduced sprawl. It can also support and promote efficient land use by putting maximum floor area within a given envelope.
Increased choice as to how and where people live and work, as well as the accommodation of different lifestyles and new demographics, can result in a built environment that is more responsive to the changes in cities that occur over time.
What changes are needed?
The City of Perth encourages residential uses within commercial precincts – for example, in West Perth – but what happens when you want to work in your own home in the city or the suburbs?
How many workers can you have? Can you put up signage? What services are prohibited? How easy or expensive is it to change the use of a building through the planning system? What spaces and safety conditions need to be adhered to?
The WA planning scheme stipulates that home occupation means that the business cannot employ non-household members. It also cannot occupy over 20m² or have a physical retail component. A "home business" cannot employ more than two people, be larger than 50m², or have a physical retail component.
With a shift in the attitudes of Australian federal and state governments towards innovation and creativity, planning regimes also need to be more creative to support living and working conditions for the 21st century. An increase in densities presents an opportunity to explore further experiments in live/work.
---
The Conversation is co-publishing articles with Future West (Australian Urbanism), produced by the University of Western Australia's Faculty of Architecture, Landscape and Visual Arts. These articles look towards the future of urbanism, taking Perth and Western Australia as its reference point. You can read other articles here.