This is the second piece in our series, Reinventing density, co-published with Future West (Australian Urbanism).
---
Profit-driven developments shape the housing markets of most major cities today. However, new models exist that offer greater choice and lower costs, foster cohesive neighbourhoods and enable adaptable, customised living solutions.
These alternatives have been diverse and of a high architectural standard. They also allow self-determination: they are initiated by the people who will dwell in them.
Baugruppe – German for "building group" – stands for a long tradition of self-initiated, community-oriented living and the shared responsibility of building. The concept has taken off in Berlin. There is no "typical model" – every project differs in its financing, social make-up, the wishes and desires of the group, and the project's resulting architectural and urban qualities.
The most significant and innovative built examples, particularly in Berlin, have been initiated by architects for a specific group of clients who were all looking to live in the buildings.
On the surface, these are practical solutions, where single-family homes are stacked and combined to optimise the use of an urban site.
On closer inspection, it is clear that close collaboration between architects and clients has resulted in projects packed with special features and spaces that foster social interaction – such as Ritter Strasse 50 and Spreefeld.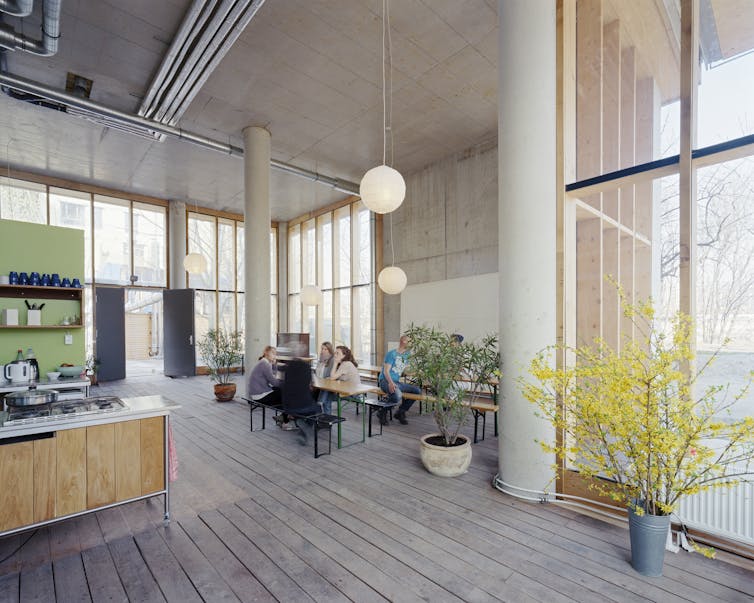 Baugruppe adds to urban vitality by considering social issues of inclusion and community and by incorporating mixed-use elements that fuel urban interaction. Green, open and community spaces have proven vital parts of good neighbourhoods and are important here. Common spaces such as rooftop terraces, function rooms, playrooms, guest rooms and even saunas also help to bring people together.
Every baugruppe project in Berlin has a shared garden, which is often also open to the public.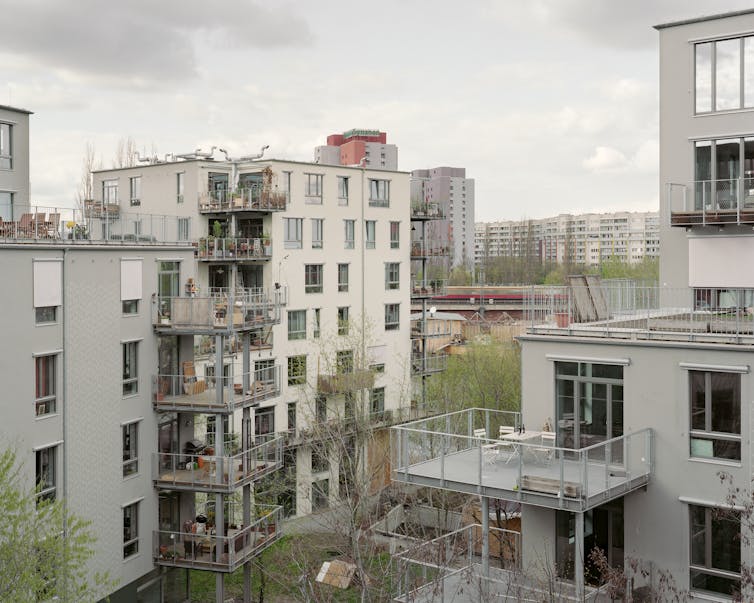 The entire neighbourhood profits from the green and surrounding urban spaces. The experience helps foster a sense of community identity and encourages people to take responsibility for the place they live in.
Affordable and sustainable
Long-term affordability helps to create stable neighbourhoods. Alternative models for financing and ownership have offered a new level of long-term affordability within a non-profit ideology.
In collective projects, the future users decide what to invest in and where money can be best saved. This redefines the quality-to-price relationship.
One example of this is the co-op association Spreefeld. This project diverges from the traditional owner-occupier baugruppe model: here, a land grant or a leasehold contract guarantees the long-term use of land in return for rent. It also ensures that what is built and established there meets certain criteria and ideals.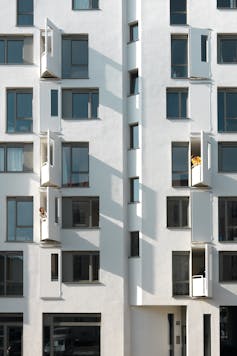 Personalised solutions, and spaces that can be adapted to suit changing needs over time, allow people with special needs to find a place in the city. For example, these spaces can allow multi-generation living, barrier-free standards, or an environmentally aware way of life.
The Strelitzer Strasse 53 project, on which architect Florian Koehl worked closely with the owner group, includes fold-out balconies, as city planning regulations prohibited real ones.
This inspired many other baugruppen to try new ideas. Such projects show the architect's role expanding from that of designer to that of initiator, developer, moderator of engagement processes and project manager.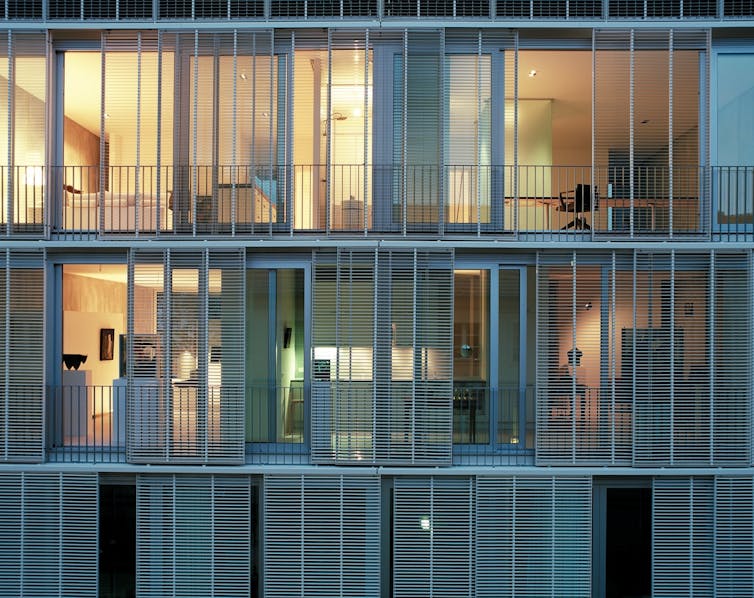 Baugruppe projects are leading the way in environmental sustainability by employing, for example, high-rise timber construction or passive design. Users and owners willingly explore new technology, carefully balancing its pros and cons. Several different types of multi-storey wooden construction solutions are now certified in Germany as a result of baugruppe experimentation.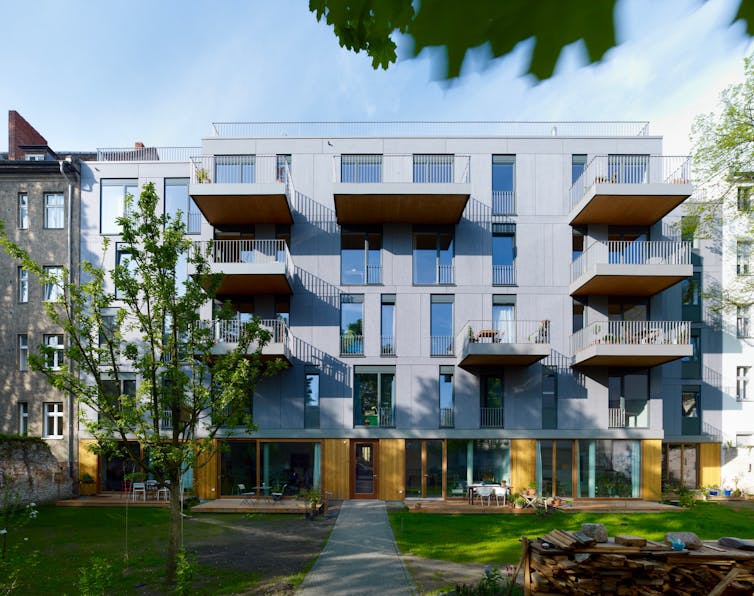 Co-operating to create better lives
It is time that our cities are determined by the people who live in them. High-quality solutions that improve the surrounding communities should become standard. This requires the architectural profession, as well as policymakers, to value such solutions.
Often, the largest challenge for groups is buying a site. Specifically, they must organise the loan quickly enough to beat other investors to the table. Governments could allow payment on a site to be deferred until the groups are fully formed and have planning approval.
By designating public land for development, the social, cultural and urban planning goals of the city can be realised through private initiatives and long-term self-administration.
Goals such as social mix, mixed use, environmental standards or non-profit constraints can all be regulated within land allocation policies. England, Finland and many other countries are re-establishing policy to facilitate baugruppe building.
Baugruppen can help cities meet the challenge of providing an adequate supply of suitable, affordable housing in a sustainable way. By transforming themselves from consumers into pioneers, the people who make up the collectives have succeeded in developing affordable projects that allow a high quality of life and add value to the community.
---
The Conversation is co-publishing articles with Future West (Australian Urbanism), produced by the University of Western Australia's Faculty of Architecture, Landscape and Visual Arts. These articles look towards the future of urbanism, taking Perth and Western Australia as its reference point. You can read other articles here.