Peter Corrigan died last Thursday morning, the first day of summer. He was 77. He had worked as an architect and theatre designer from the early 1960s, and from 1974 with his collaborator and life partner Maggie Edmond. Their partnership saw through a succession of major projects, each with the intensity of a last design, and often bringing storms of controversy.
Corrigan's maxim for his many students was simple. As Vivian Mitsogianni has written, it was: lead a life of integrity. For students and architects, the greatest compliment he could pay anyone was to say they had "a commitment to architecture".
He supported younger musicians, artists, fashion designers, as well as mentoring a generation of architecture students: "these kids need support".
He was famous for attending every exhibition at RMIT University's gallery, and he was unswerving in his dedication to RMIT University, being a major factor in its current status as an architecture school. In his architecture history lectures, which often ran for three to four hours and were supported by hundreds of images, he would trace the principles and the lapses of one modern architect after another: they were architects and dramatic characters, with all hopes and disappointments embedded in them.
Unlike so many Australian architects, who tended to see architecture generated in some overseas metropolis as a dependable standard of excellence, he saw such "centres" as contested and unstable environments. He placed architects like Frank Lloyd Wright and Louis Kahn in what was to us an unfamiliar context of American cultural anxiety. Correspondingly, he totally rejected the Australian cultural cringe.
He saw so much through a prism of integrity, and would pull most of us up short if he sensed any backsliding, glossing or easy options. He waged perpetual war on fuzzy thinking; for example challenging the general assumption of Australia's "suburban wilderness".
He would be thinking, all the time. In architecture at least, Corrigan did not make a customary intellectual's progress: from a youthful enactment of someone else's theory or passion, towards a fixed pattern of thought and certainties that defined their identity.
He was never a real adherent of any school or movement. Integrity, and in building design a commitment to architecture, was really the only irreducible element.
Complexity and contradiction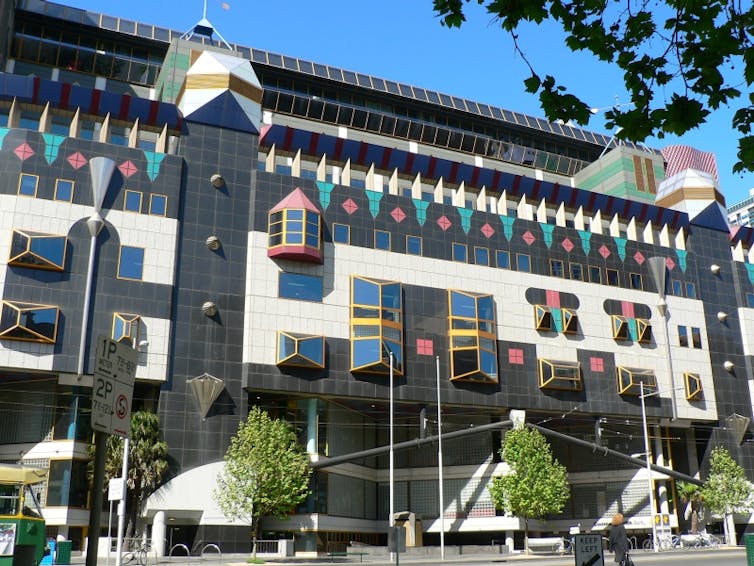 Corrigan embraced architecture's complexity and contradiction, rather than the widespread desire in architectural modernism to simplify tasks and to purify form. The modernist movement in the 50s and 60s embraced industrialism and scientism, demanding refined and replicable forms. This led to such absurdities as architects complaining that the Sydney Opera House was flawed because it didn't offer an industrially reproducible model.
But Corrigan had already rejected this by the early- to mid-1960s, by the time he was producing his first built designs. He recognised, as did an increasing group of architects, that the complexity of modern living often defied refined form and absolute resolution; posing problems and demanding imagery that polished architectural beauty simply ignored.
He became fascinated by the haunted realms of Old Europe after collaborating with Australian director Barrie Kosky on the Dybbuk Trilogy plays in the early 1990s. His Building 8 at RMIT University, the Library and Humanities Building (1991-5) has winding corridors and internal "streets" that echoed Prague or Lviv, or the old Jewish quarters of the Vienna Neubau.
The lift foyers spoke of the tiles, colours and raucous movement in the concourses of Berlin U-bahn stations, especially in Berlin's doomed prewar theatre districts. Externally, Building 8 looms over Swanston Street as a great polychrome folly, tumultuously Gothic in bearing (though without explicitly Gothic detailing); capped by canted rooftop "faces" and quoifs in Colorbond steel, animated in colour and facial expression.
The nearest counterparts are Antoni Gaudi's houses and apartment blocks in Barcelona: triumphant follies confronting an often grim industrial city.
Corrigan would constantly crash ideas and architectural themes together, often in oblique, smudged or "momentary" images and glimpses. If he faced an issue, as his friend and early champion Norman Day said, he would circle round it in a kind of spiral: I found this constantly, as he would draw getting closer to the point by telling anecdotes, parables, in a sense.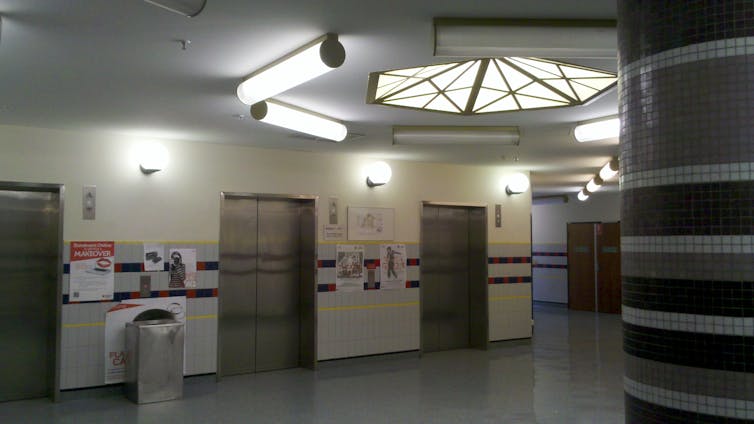 These stories were mostly of his own and other people's incredible luck; he never ceased to be amazed by these tales when recounting them himself. During discussions in libraries, pubs or his little office he would associate an immediate issue with a broader point, and illustrate it with a vivid account of some miraculous occurrence.
Among these he would often recall being sacked from a succession of mighty American architectural firms for, as he put it, "inappropriate enthusiasm" and "asking too many questions!" In one instance he was so fired up he started sketching foliage over an exhibition drawing of one of legendary architect Paul Rudolph's prize projects. Unfortunately, Rudolph was standing behind him at the time.
This love of storytelling was reflected and supported by his huge library: 3,000 or more books, which which he was invariably generous. When he moved back to his house in his last year, as Maggie Edmond told me, he was reading constantly.
Embracing Australia
Though he lectured on the greatest of modern architects overseas, Corrigan's crucial guides were often major Australian architects: Frederick Romberg, to whose raw concrete buildings he eagerly took friends; Roy Grounds, long criticised for the monumental expression and the regional referencing in his Victorian Arts Centre.
I recall how the McCartney house in Kew, 1981, reshaped my own assessment of 1900s Federation architecture. It brought out the diagonal force implicit or latent in so many of Australia's suburban house plans, and in so doing became an absolutely precarious arrangement of shapes, which are almost quarrelling with each other.
A polygonal tower bumped against a living room wing that cranked round in facets. The hooded upper windows seemed to form a toothy mouth. The main hall was dominated by a massive crystal chandelier – and what was wrong with a bit of domestic aspiration? Were Australian buildings always to know their place in some divine order?
This sense of "movement and energy", as Corrigan put it, was at the core of Corrigan's design. Almost all of Edmond and Corrigan's buildings expressed mobility and with a constant theatrical flourish.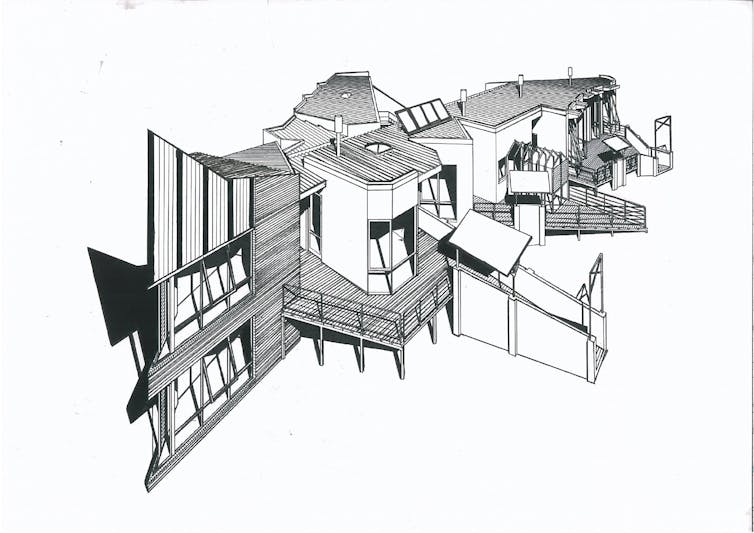 The Athan House (1988), a v-shaped semi-rural residence with an open triangular courtyard in the centre, brought home to me many of these the dramatic possibilities in a completed building. Instead of a continuous veranda around the house, a series of ramps, walkways and bridges almost stutter out into the bush outside.
The house wings doubled back on themselves, and you would see another room through two windows with an external space in between, so the house interior becomes the compressed and half-viewed proximities of inner city apartments.
Architecture could be loaded with one item after another – the sky was the limit, because good architecture did not always have to be perfected in simplification.
When I took students to Edmond and Corrigan's controversial Resurrection Parish, visited by architects and students from all over the world, the Parish school featured the bright 19th-century polychrome stripes of so many Melbourne railway stations or inner suburban terraces.
He embraced the suburban bungalow and veranda; the Parish church featured bay windows and and a broad, Vatican II nave. A wide veranda is set in a blowsy, slouching curve.
Inspiring a movement
This was now a realm in which Australian architects could now stay home and in Corrigan's words "bite and fight": you didn't have to go overseas to do "proper" architecture. Your duty, he felt, was to stay in Australia, immersed in its particular complexity, and to sort it out here.
His influence meant that throughout the 70s and 80s young architects would more often stay on in Melbourne and open offices. In contrast, Sydney absorbed bright young architects into established offices, tending to assimilate them into wider and less queried traditions.
Corrigan was a fulcrum in the 1970s to 1990s transformation in Australian architecture, arguably the most radical shift since the Federation period of 1890-1910, or the full surge of architectural modernism between 1930 and 1950.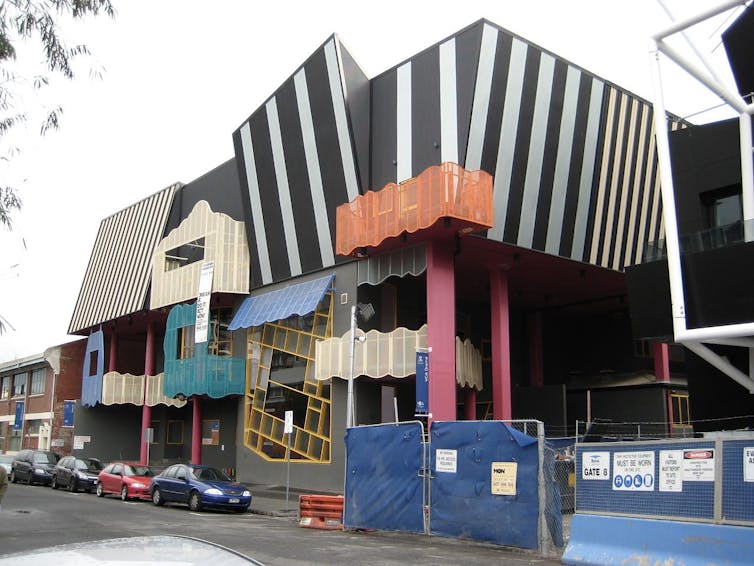 In so being, Peter Corrigan was also at the forefront of a new movement of recognisably Melburnian style that emerged in the 90s. Increasingly foreign architects, often bemused, gravitated to Melbourne, lured by the creativity and innovation of the moment.
Despite his strength of feeling for Australia, he spent significant time overseas. There was the United States itself: Corrigan sought out a Yale degree when the almost universal Australian path was toward British training. When he went to Asia it was in the totally unfavoured year of 1963, through Laos, then at war; through Vietnam, soon to be embroiled in war, to Japan – to study Noh theatre.
Despite Peter's rejection of orthodoxy, he never relinquished one long-standing myth in architectural modernism: the reforming architect as hero. He gravitated to architects who were often isolated or marginalised, but used their designs to project their ideas into the world.
In many senses this idea looked creaky in the 1980s, in part through feminist critique of the notion of "heroes", in part through the necessary scepticism and caution of historians and critics.
He wanted so many of his own students to become heroes too, and this was part of the pursuit of integrity.
From that broad base of intelligence and enthusiasm, it was natural that his great personal quality was generosity – even if it was sometimes alloyed with a lightning-sharp tongue. Those who really disappointed him dwelled in some eternal Coventry.
As Jennifer Hocking wrote in 1995, there was scarcely a Melbourne architect coming through in the 1970s and 1980s who was not affected in some way by Corrigan's example. Among overseas friends were Frank Gehry, Peter Eisenman, Daniel Libeskind, Patrick McCaughey and later, after a reconciliation of sorts, Paul Rudolph.
All these people, and so many more, I sense will gather, and remember. Peter Corrigan was raised as an Irish (though half-German) Catholic, and into this others read all manner of Irishness and wayward madness.
Architects in both Melbourne and in other cities, who did not see things as Corrigan did, would say, "well, that's very Melbourne", or "the Mad Irish were at it again".
But in a most surprising way, Corrigan's constant search had a streak of the dissenting sternness of John Bunyan's Pilgrim's Progress:
Then fancies fly away,
He'll fear not what men say,
He'll labour night and day
To be a pilgrim.