Rhonda Senbergs captured the Australian art world and its shenanigans through the 1970s, '80s and '90s with thousands of photographs. Today, they represent an invaluable record of a significant era. As prominent art historian Susan McCulloch has observed, her photographs "form an immensely important social history of this period of Australia's artistic, political and cultural life".
As a family friend of the Senbergs, I am represented myself within that collection, which is entirely appropriate since her work excelled at portraying the intermixing of the personal and professional lives of artists. They include Jan Senbergs (her husband until 1977), Fred Williams, Margaret Olley, John Olsen and my father Leonard French – in fact all the major Australian artists of the period.
I knew Rhonda my entire life and loved her vibrant energy, her thoughtful approach to life, and just about everything else about her, from her Bowie-esque passion for a bit of glitter to her brilliant slide nights, which were always followed by a wild party. Dancing was essential and it was at parties that she photographed the Australian art world over a 25-year period (until her death in 1998).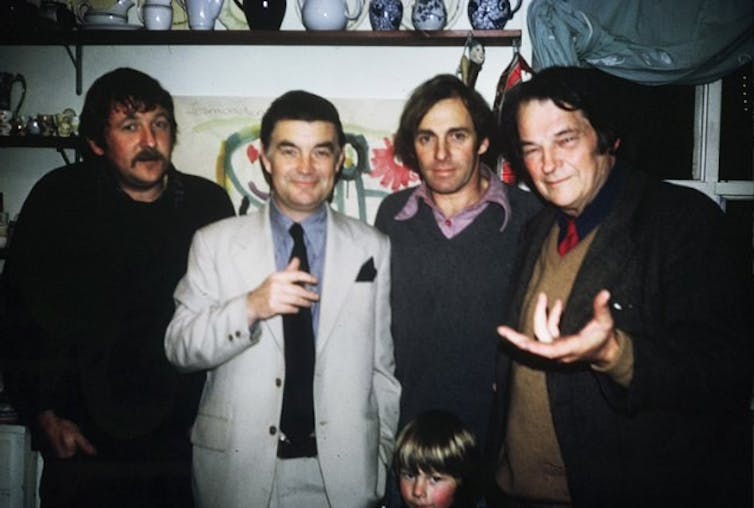 This work began during her marriage to acclaimed Australian artist Jan Senbergs. He features in many of the photographs, as did just about everyone she met in her everyday life — truck drivers who loved their rigs, families from her neighbourhood, and events such as the annual artists and writers cricket match in the countryside at St Andrews.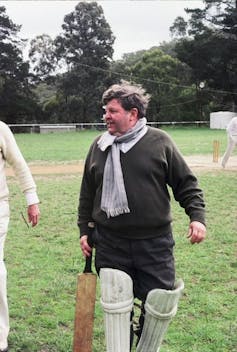 Although the match was set up for fun by the late George Baldessin, participants took it very seriously. As a child at this event, I learnt to pour beer (not really a useful skill as it turned out). It was always held in the summer and the intense heat on the tin roof of the pavilion meant the beer warmed up as the day went on (and so did the artists and writers).
When I was a student, Rhonda got me a job working for Marianne Baillieu at Realities Gallery in Toorak, where she also worked. Rhonda's presence at Realities was a perfect opportunity for her to further her art-world project. She always had her 35mm camera with her.
The online gallery of Rhonda's work put together by her daughters Selena and Jes contains images of Baillieu with artists such as Fred Williams, Imants Tillers, John Olsen, Donald Friend, Howard Arkley, Margaret Olley, Brett Whiteley and Asher Bilu. The gallery openings were famous and Rhonda's works from Realities are featured in the book by Luba Bilu, Realities with Marianne Baillieu: Photographs by Rhonda Senbergs.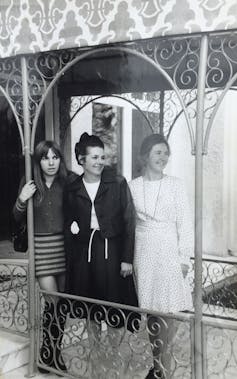 The Modernist period mainly enabled men. Yet several of the wives of artists, such as John Brack's wife Helen (nee Maudsley) and Merle Kemp (who met Roger Kemp at art school) were artists themselves. Some emerged as artists later, like my mother Helen French.
In the early years, they were all at home with the children and their own aspirations were often withheld. Many managed their husbands' careers. In the 1980s, Rhonda organised them into a group she called "the artists' wives" and they got together to commiserate (and laugh) about the artists in their garrets — as a kind of feminist solidarity.
Among Rhonda's works are photographs of the early "dealers" who essentially created the market for art in Australia – Rudy Komon and George Mora – and those that followed. Politicians and cartoonists also appear. Michael Leunig is captured on the dance floor with Marianne Baillieu. Bob Hawke also turns up. According to her daughters, Rhonda was a fan of Hawke. At one point, as one of her projects, she began ringing his press secretary and following him around.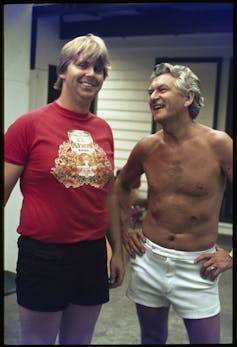 Rhonda photographed writers like Manning Clark, Les Murray and Chris Wallace-Crabbe, art-world figures such as Patrick McCaughey and James Mollison, and theatre people including Jenny Kemp and Rob Meldrum. Those were the days when the art world was less siloed than it is today.
Rhonda, in my (admittedly biased) view, is an unsung star. Much like American photographer Nan Goldin, whose images of the New York art scene are now exhibited at MOMA, she photographed her own milieu. Her perspective offers the observer the feeling of being an insider.
Rhonda's images often give the impression that something personal has just been shared or a moment captured. Often, there is a quality of the eye contact that speaks to the engagement between subject and photographer, capturing a whimsical movement or gesture.
Sometimes, the subject is snapped in flight, just looking up, just about to pose for a picture. Sometimes, they look sceptically at the woman whose camera always seems to be right there.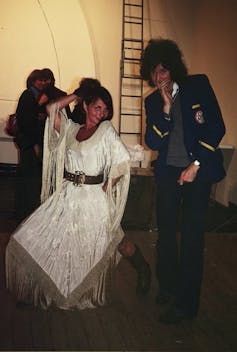 While Rhonda's photographs are intrinsically interesting in themselves, she always exhibited them as 35mm slide shows, set to music (popular hits, soundtracks from musicals, country and western songs, or 1940s classics). She called them "slide nights" (although they weren't understood to be that in the ordinary use of the term).
Rhonda would put on a vinyl record, then show a series of images, usually of the one person (or a couple), carefully curated to the music. The charm of the presentation, its nostalgia and humour, relied on that combination. A slide show on the general Melbourne art gallery scene was set to the Beatles song You Know My Name. Bob Hawke was set to Wandering Star (an old Lee Marvin song from Paint Your Wagon).
Rhonda's daughter Selena says:
Rhonda's tunes were very unique and were part of her calling card – very original. All of her songs told a story.
Her slide shows were performances that captured everyday life, her milieu and the Australian art world (and society) over a quarter of a century. They are intensely human, spontaneous and humorous – just as she was.
---
The State Library of Victoria is hosting a free slide night event on Friday, September 8. It will show Rhonda Senbergs's photographs set to the music according to the artist's original schema.
The Changing Face of Victoria exhibit in the Gallery, Mezzanine Level 5, (Dome Galleries) Reading Room, State Library of Victoria, includes work by Rhonda Senbergs, which will be on display for the next 12 months.