The Orlando massacre has again raised the question of whether it is ethical or sensible to restrict gay and bisexual men from donating blood.
Some of the most moving images coming out of Orlando this week are those of thousands of people queuing to donate blood.
In both the United States and Australia, men are only able to donate blood if they have abstained from sexual contact with another man for 12 months. This effectively places a ban on most gay and bisexual men.
In Australia, a lifetime ban on blood donation by any man who had ever had homosexual sex was introduced in 1983. At this time, Australian states and territories also put in place legislation that made it a criminal offence not to disclose to the blood bank a history of male homosexual contact or injecting drug use.
This ban occurred at a time when HIV testing technology was very new and often unreliable due to an extended "window period" – the lag time between someone contracting HIV and antibodies showing up in a blood test.
But banning gay men from donating blood was also a political move. It allowed governments to demonstrate they were taking action in response to widespread public fears about HIV, much of which were directed toward gay men.
Technology has significantly improved since the 1980s. Today the "window period" for blood testing is conservatively estimated to be around six to 12 weeks. Multiple testing methods are used to comprehensively screen for HIV and other blood-borne infections, meaning the risk of HIV being transmitted via donated blood is less than one in a million.
By 2000, Australian blood donation regulations had been changed to allow for donations by men who had not engaged in homosexual sex for 12 months, generally referred to as a deferral period. The US and the UK have a similar 12-month deferral period, while other countries, including South Africa, have a six month deferral. Some countries, including Argentina, Italy and Spain, have no such bans and rely instead on individual risk assessments.
In 2012, a study commissioned by the Australian Red Cross concluded that, as the vast majority of blood donors are compliant with safety regulations, there would be minimal risks associated with reducing the deferral period for homosexually active men to six months.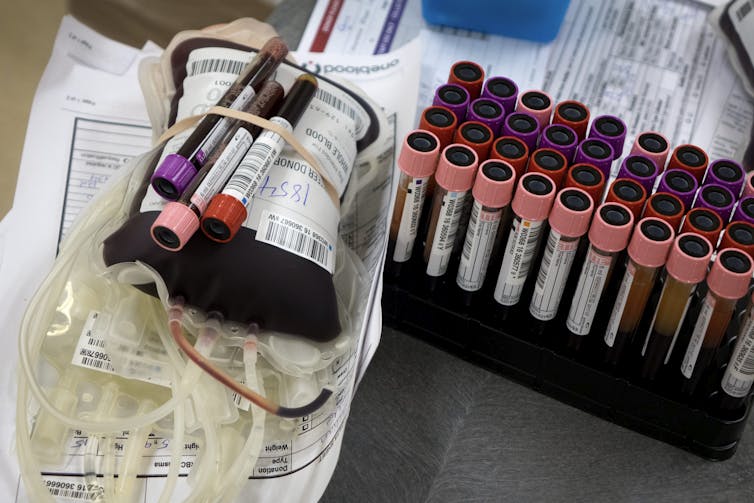 It is worth noting that in Australia, there are no financial or other incentives to donate blood. Altruistic donation is associated with a safer blood supply.
However, in 2014 the Therapeutic Good Administration (TGA) rejected a Red Cross submission to reduce the deferral period citing it would increase the risk of HIV being transmitted through the blood supply without a related increase in donors.
On one hand, this can be seen as the TGA simply taking a cautious stance on the safety of the Australian blood supply.
In 2014, 70% of people newly diagnosed with HIV in Australia had acquired the virus through male-to-male sexual contact. Men who have sex with men are at higher risk of acquiring HIV in Australia.
But the counter argument is that placing restrictions on male-to-male sex reflects discriminatory and misguided attitudes toward gay and bisexual men – positioning them as inherently irresponsible and risky.
A gay man who has been having safe sex, including within a monogamous relationship, is not necessarily at higher risk of acquiring HIV than a woman who has had multiple sexual partners and possibly unsafe sex.
Yet a heterosexual woman is not banned from blood donation because she has had sex. Instead, heterosexual women are trusted to make their own assessment and accurate disclosure of their likely HIV risk. Gay and bisexual men are not.
It is this lack of trust that reveals the subtle (and not so subtle) ways in which homophobia and discrimination plays out.
Gay and bisexual men are not trusted to make responsible decisions about their own, or others', sexual safety. Nor are they trusted to honestly disclose their likely sexual risk. This mistrust stems from a long-term cultural association between gay men, hedonism, irresponsibility and deviance.
The TGA's unwillingness to reduce the deferral period may be due to concerns that reducing restrictions on blood donation by gay and bisexual men could undermine public confidence in the safety of the blood supply.
Understanding discrimination in the context of blood donation can be complicated because it is not clearly about human rights. One may not necessarily have a "right" to donate blood. It is on these grounds that gay advocacy organisations have been criticised for calling out blood donation bans as discriminatory.
But it is discriminatory to the extent that restricting men who have sex with men from donating blood reflects and reinforces the perspective that gay and bisexual men are unreliable and require strict laws to regulate their actions – laws that are not applied to other groups.
The tragic irony, in the the wake of the Orlando massacre, is that many people directly affected by this homophobic hate crime are prevented from offering help due to regulations that are in place, in large part, due to homophobia.