Media attention on refugees is focused on chaotic scenes in Hungary and elsewhere in Europe right now, but it is worth reminding people that most of the world's refugees in fact live in camps in sub-Saharan Africa or the Middle East – and boredom rather than chaos is the typical routine.
There, they wait in supposedly "temporary" exile until they can safely return home, but many end up spending two decades in camps that in effect become semi-permanent mini-cities. Unsurprisingly, many of these displaced people become weary and frustrated. Crime, alcoholism and drugs often characterise camp life.
My academic research focuses on the dynamics and opportunities of refugee camps, and I believe that policymakers should foster entrepreneurship in refugee camps in order to help turn this cycle of despair into hope and dignity.
Such initiatives could be life-enhancing for millions of people displaced by war, persecution and other man-made events. Currently, however, there is an institutional paralysis that thwarts entrepreneurial initiatives in refugee camps, posing barriers that need to be tackled by governments, NGOs and others.
Menace?
Refugee camps have been founded on the assumption that they are short-term areas of protection. The rules established for camps reflect such assumption, but these rules have not been adjusted to account for the protracted displacement that has developed. The reason is that refugee crises often menace the social stability of host countries. For example, one in five people living in Lebanon is now a Syrian refugee. Since most Syrians are Sunni Muslims, their influx threatens Lebanon's delicate balance between Shia and Sunni populations.
It is no surprise then that host governments prefer to maintain refugee camps as temporary spaces. Refugees' legal status usually prevents them from taking up employment, owning property or moving freely, thus stripping them of agency. As an aid worker in Zaatari refugee camp in Jordan told me, speaking of Syrian refugees there:
At home they were engineers, teachers, doctors. Now all they can do is drink tea to pass the time. It is deeply depressing to watch.
Although camp managers are beginning to recognise the need to move beyond simply providing essentials for the displaced, devising innovative programmes has proven difficult.
First, camps develop unpredictably. Without warning, thousands of refugees may cross neighbouring borders to safety within a few hours and providing for the newcomers takes priority, as it should. Second, camps are run on aid donations, meaning that planning is only possible for the short term. Finally, camp managers strike a delicate balance between the de facto semi-permanence of many refugee camps and host communities' expectation that the camps be temporary.
That last factor is very significant: while there are cafes, barbershops and repair services in a camp like Zaatari, such activity remains a grey area because it contradicts the supposed transience underlying the camp concept. This creates obstacles to the broader entrepreneurship needed in such camps.
It means there is a lack of functioning supply that would otherwise evolve in demand-driven markets. There are inefficient legal and political systems regulating entrepreneurial activity and there is insufficient infrastructure which connects entrepreneurs to information, financial capital and customers.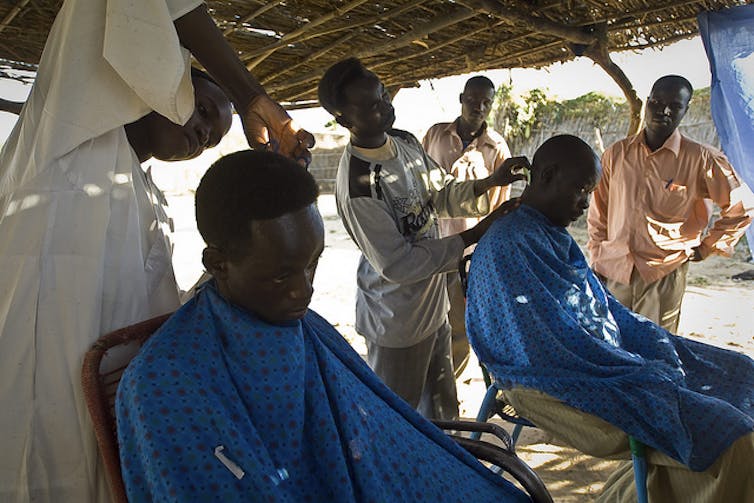 Planning
Research I conducted into this issue with Helen Haugh, leads us to propose a few solutions. For a start, cash-based aid programs and partnerships with micro-lending institutions, as cautiously piloted in a handful of camps, would help refugees launch businesses. There should also be clearer policies on how refugee-camp entrepreneurs engage with host communities in order to reduce uncertainty for both parties.
Host countries, meanwhile, could outsource some tasks to refugees in order to create employment opportunities within refugee camps. In addition, urban-planning strategies in camps would improve infrastructure in order to link entrepreneurs, resources and customers in these mini-cities. For example, in Jordan's Zaatari camp, refugees developed an informal postal system and rewired the electricity infrastructure to run their businesses more effectively. Camp managers are now collaborating with urban architects to formalise these initiatives.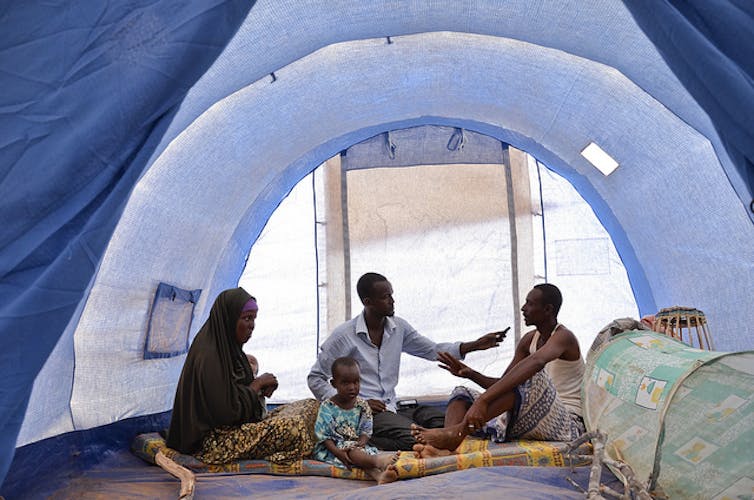 And most camps are fairly small: although some sprawling camps such as Dadaab in Kenya or Zaatari in Jordan are home to hundreds of thousands of refugees, the United Nations High Commission for Refugees says the 2012 mean population size of camps was 11,400 people. So projects such as improving infrastructure are manageable.
Empowerment
There could also be a role for business incubation and acceleration spaces in refugee camps as a venue for knowledge exchange and a safe place to pilot entrepreneurial ideas. Such innovation hubs already have proved successful in fostering technology-based ventures in Nairobi and other cities in Africa.
Another idea is to let refugees decide themselves what they want their camp to look like. Although elected refugee delegates represent the camp population to camp managers, decisions of how the camp should be run are made in offices far away. Refugees' entrepreneurial initiative demonstrates their ability to improve the situation in camps. There may be many more such ideas and initiatives if refugees are given more of a say.
Attention paid to refugees will surely ebb and flow over coming months and years, spiking when events become dramatic or tragic. Yet the everyday life of millions of people who live for decades in refugee camps also deserves the world's attention. Helping many of these people through entrepreneurship is a policy worth pursuing.