Last week, news broke that Labor MP Michael Danby, the member for Melbourne Ports, had issued two sets of how-to-vote cards to voters in his electorate.
One set of the how-to-vote cards was sent to many Jewish households in the electorate and asked voters to put Melissa Star, the candidate for the Australian Sex Party, last. The other, handed to voters at pre-polling booths, asked them to preference Melissa Star second, after Danby, switching places with Robert Keenan, the Family First candidate.
Danby claimed it was out of "respect" for Orthodox Jewish voters that the second card was created, despite the fact that Star herself is Jewish.
The inner Melbourne seat of Melbourne Ports includes a diverse range of individuals and communities, as well as a large number of Melbourne's Jewish community. According to the 2011 Census, 12.8% of the electorate identify as Jewish - well above the 0.8% of Victorians who do so.
Questions were asked of Danby's conduct when news of the how-to-vote card controversy came to light. What was Danby trying to tell voters in his electorate? Is he suggesting that he thinks that Jews vote one way, while other members of Melbourne Ports will vote another? Does he believe that Jews will vote for a conservative religious party but will be turned off a party that mentions sex?
Overall, though, what are the key issues that will influence the way Jews may vote on September 7?
Recent election coverage in the Australian Jewish News (AJN), a community-directed newspaper, has had a large focus on parties' policies towards Israel and Palestine. Candidates have also made pledges to fund security systems at Jewish schools. Other (Liberal) candidates have mentioned concerns about the cost of private school education and changes to private health cover, thereby reinforcing the image of the Jewish community as "moneyed".
But matters related to Israel are predominantly being directed at the Jewish community, an attitude reinforced by the approaches taken by some in the community. Danby, again, places himself at the forefront of this as he attempts to move both Labor Party policy and the Jewish community to the right in their thinking on Israel.
On this front, Danby took out a full page advertisement in the AJN on August 23 to repudiate foreign minister Bob Carr's recognition of Israeli settlements in the West Bank as being illegal under international law. In his ad, framed as an "open letter", Danby wrote:
I'll risk anything and everything to stand up for our truly miraculous ally, Israel. Foreign Ministers have come and gone but Australia and our Australian Jewish community's bond with Israel is as solid as Jerusalem stone.
Danby's simultaneous repudiation of his own party's position on Israel/Palestine, his claiming of Jerusalem as solidly Jewish, and the assertion of the homogeneity of Australian Jewish relationships to Israel, is quite something.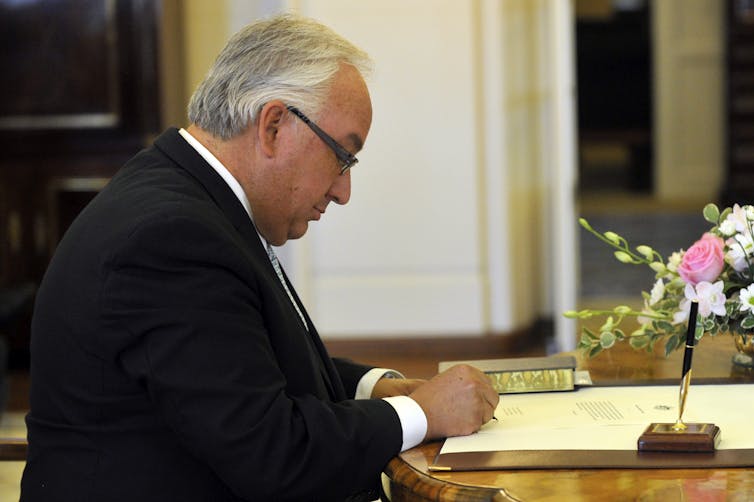 Yet much of what Danby asserts is shared by the three major parties. All support a two-state solution, with varying definitions of what precisely this will entail. All the parties seem in some way to suggest that their policy towards Israel/Palestine will inform Jewish voters. For the ALP, the Coalition, and to a lesser extent the Greens, this hardens into a false assumption that all Jews want their government to be a "friend" to Israel, and that all Jews agree on what it means to be a "friend". We see this in Danby's advertisement.
However, like any other group of people, Jews in Australia are motivated in choosing who to vote for by a diversity of issues. Campaigns such as Jewish Aid Australia's ["What Would You Do?"] also exist. Designed to "put the humanity back into Australia's asylum seeker conversation", it is just one indicator of the broader range of issues, ideas and political and ideological approaches that exist amongst Jews. Other organisations such as Jews for Refugees, which has been actively campaigning on refugee issues, is another.
While journalists such as Dan Goldberg might write in Israeli newspaper Haaretz that "Jewish community leaders in Australia have virtually abandoned support for the governing Labor Party, with most privately hoping the conservative Liberal Party wins the federal election next weekend", this is demonstrative only of what these "leaders" think.
We can see this in the words of "ittayf", a commenter on a recent article, who wrote that:
…if you were to vote on policies that directly affect Jews in Australia, like which party is most likely going to stop Abbott's plan to repeal section 18C of the racial discrimination act, increase funding to Jewish and public schools through the Gonski reforms, treating asylum seekers in accordance with Jewish values of not oppressing the stranger, promoting multiculturalism through stoping [sic] cuts to ethnic broadcasting on ABC and SBS, you would vote firstly for the Greens.
In short, Jews care about more things than Australia's policy towards Israel and government funding for the security of Jewish schools. And some Jews don't vote based on those issues at all.
Most significantly, from all of this we are reminded that there is no authentically Jewish way to think or act politically, or to vote. There is no such thing as the "Jewish vote" or a political "friend to the Jews".
When politicians and members of the Jewish community act as though there is — when they assert that one's Jewish values should make them vote a certain way — they do the diverse Jewish communities and Jewish individuals a disservice. In doing so, they do the wider community a further disservice, as they help to stereotype and marginalise a vibrant and varied community.