Ever since changes were introduced in 2013 to the way legal aid works in England and Wales, campaigners, judges and politicians have been telling the government that many people are now unable to access legal advice and representation.
In October, the government announced a long-awaited review of the changes made in the Legal Aid, Sentencing and Punishment of Offenders Act (LASPO). This is urgently needed and welcome.
My ongoing research with asylum lawyers suggests that the changes have created serious difficulties for people to access legal aid, even for cases that should still be covered by it, such as asylum, trafficking, certain types of housing law and welfare benefits. It is also increasingly difficult for lawyers to provide legal aid for these kinds of cases.
Rates of pay for all areas of civil legal aid work were cut by 10% in 2011, before LAPSO took almost all non-asylum immigration law out of the scope of legal aid two years later. This left potentially complex areas of law – refugee family reunion, deportation, claims for the right to remain in the UK for children and young adults who have been here most of their lives – outside the scope of legal aid. It also meant providers who were already on the edge were unable to stay in the legal aid market.
Each provider with a legal aid contract is allocated a number of what are called "matter starts", new cases which it can open within that contract year, most of which will be paid at a fixed fee, which depends on the type of case. Many providers saw their allocation drastically cut with the removal of non-asylum immigration casework from the scope of legal aid in 2013. This left some too small to be viable, particularly not-for-profit organisations which had no private paying clients to subsidise their legal aid work.
Shrinking provision
Data I received via a Freedom of Information request in early October from the Ministry of Justice showed large parts of England and Wales, including eastern England and much of south-west England – are now without any immigration and asylum providers at all, while other areas are badly under-served and have had huge cuts in their number of matter starts. My additional research shows that there is now only one provider in Plymouth, none in Cornwall, and none in Somerset, Wiltshire or Dorset. In Bedfordshire and south Hertfordshire, the number of matter starts more than halved from 930 in 2014-15 to 458 in 2016-17.
Some providers now survive by reducing the amount or quality of work they do on legal aid cases, keeping the cost per case within the fixed fee.
Asylum cases, which still qualify for legal aid, tend to take longer to close and are more complex than most non-asylum cases. In the past, to some extent the non-asylum cases subsidised the asylum work when they were still covered by legal aid. But when LASPO took effect, one not-for-profit provider I studied in southern England halved the size of its team, not because of a lack of demand but because there was a limit to how much it could afford to subsidise the unprofitable asylum work.
Since LASPO, the only other provider for asylum legal aid services in the same area, known as a "procurement point", has withdrawn from legal aid work, citing the stress of frequent auditing, contract compliance requirements and quibbles over payment. The partners in that firm decided the low payment rates on legal aid did not outweigh that hassle. This left the one small provider referred to above – less than half the size of the firm which withdrew – for the three counties which make up that procurement point. The area includes a town to which asylum applicants have historically been dispersed, and where asylum advice is therefore in demand. Support groups report being unable to find legal advisers for people seeking asylum.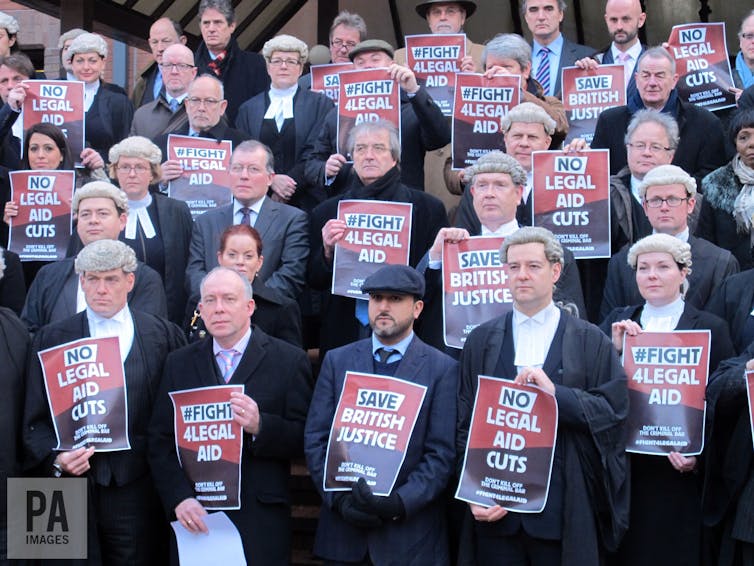 Paperwork hurdles
Immigration detention creates particular difficulties for lawyers. Firms which provide advice in detention centres do so via face-to-face "surgeries" at which they can spend up to half an hour each with up to ten clients. A half-hour appointment is at best very limited for a lawyer to understand the basics of the case, often through an interpreter via speaker phone, explain their advice and assess the client's eligibility for further legal aid if appropriate.
Worse still, the lawyer cannot do any further work on a case unless the client can prove their financial eligibility for legal aid, for example with bank statements. Lawyers say this is relatively easy for a newly arrived asylum seeker, but may be impossible for someone who has been in the UK for a bit longer, possibly as a student, or those working or self-employed for some period.
People who are detained suddenly may find their landlord has disposed of all their belongings and paperwork. Those without good contacts on the outside to obtain bank statements or other documentation may be left without representation, despite being eligible for legal aid. One provider I spoke to estimated that there was usually one client in every ten-slot surgery who she could not represent because of lack of evidence of financial means.
When asylum applications are refused, the applicant is assumed to be lying, or "bogus", rather than the victim of a system which is not working. Over a third of rejected applications succeed on appeal and perhaps many more would do so given properly funded representation.
The LASPO review needs to take an honest and open-minded look at the evidence about the consequences of the legal aid changes on the justice system. And an honest examination of the evidence must surely conclude that the cuts to legal aid have gone too far.