Google's recent decision to remove content at the request of victims of revenge porn is a huge win for victims. Governments are also reacting to the growing problem of revenge porn – the NSW government this week announced a parliamentary inquiry into existing laws and whether there was any need for reform.
The offence of revenge porn usually involves the following aspects:
an existing or previous relationship;

an intent to cause harm;

the unauthorised public release of intimate images; and

the act is facilitated by technology.
While this is neither a legal definition nor an exhaustive one, it does capture the concept of how revenge porn is seen in today's society. But is revenge porn just one example of technology intersecting with sexual and domestic violence? And what legal efforts have been made to combat it?
The rise of revenge porn
A number of factors have driven the rise in incidences of revenge porn. This includes the wide availability to create content through devices such as smartphones and the ability to distribute this content via the internet and other communication channels.
Various legislative acts in jurisdictions around the world provide for specific revenge porn offences. These typically contain requirements of non-consensual distribution or publication of intimate images, intent on the part of the offender, and the infliction of harm.
While a number of jurisdictions have enacted legislation to combat revenge porn, substantial challenges for law enforcement remain. First, police action requires the victim becoming aware of images being posted. Second, offences of this nature often are transnational in nature – they occur in multiple countries and multiple legal jurisdictions. This poses investigative challenges in securing the evidence needed to prosecute.
Third, the acts are often deliberately conducted in such a way as to preserve the offender's anonymity.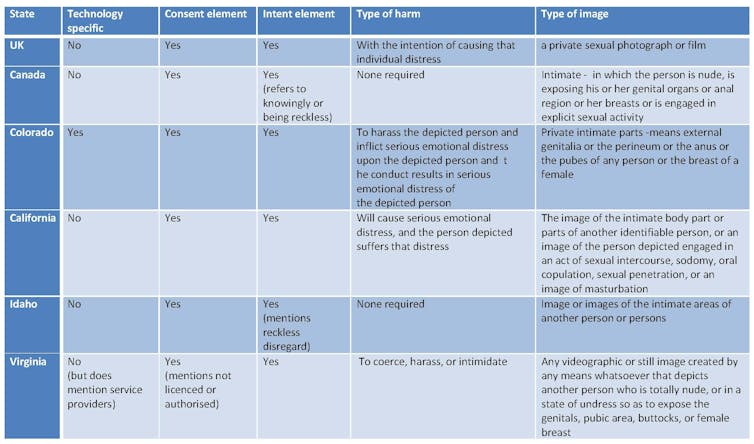 Google is the latest in a series of high-profile internet companies to enact a removal policy. Reddit, Twitter and Facebook have already initiated such policies.
Google will consider the removal of material only once users have submitted an online request. The final decision as to whether content should be removed remains a matter for Google.
Though Google has identified that the decision was motivated by its appreciation of the destructive nature such material has on (mostly female) victims, it is consistent with Google's current policy of removing sensitive personal information such as bank account numbers and signatures.
However, the announcement is not universally welcomed. The decision to remove revenge porn has been cited as a potential infringement of the right to free speech.
But, the criticisms are not all centred on civil rights arguments. Legitimate concerns are raised as to how exactly the policy will be administered and how Google will deal with historic revenge porn images that have been freely available.
Is revenge porn just part of a wider picture?
Much focus has been on the rise of revenge porn. But is it just a reflection of a growing trend in the intersection of technology with sexual and domestic violence? Revenge porn is arguably a digital extension of sexual violence.
That stalking, domestic violence, intimate partner violence and sexual assault are all linked in some way is not a new idea. Research has consistently shown that victims affected by these offences experience psychological and physiological symptoms including, but not limited to, depression, anxiety and post-traumatic stress disorder. They may also in some circumstances be at risk of physical harm – for example, physical assault or forced sexual contact.
Generally, cyberstalking is defined as stalking or harassing another person with the use of the internet, e-mail, or other electronic communication devices. Some argue that this definition should include the requirement that such communication would make a reasonable person afraid or concerned for their safety.
In the past, recommendations have been made for specific laws to target stalking on the internet, as it is viewed as an entirely new type of crime or behaviour, similar to the response for revenge porn. Others contend that cyberstalking is a covert form of stalking and merely a new means for offenders to pursue their victims.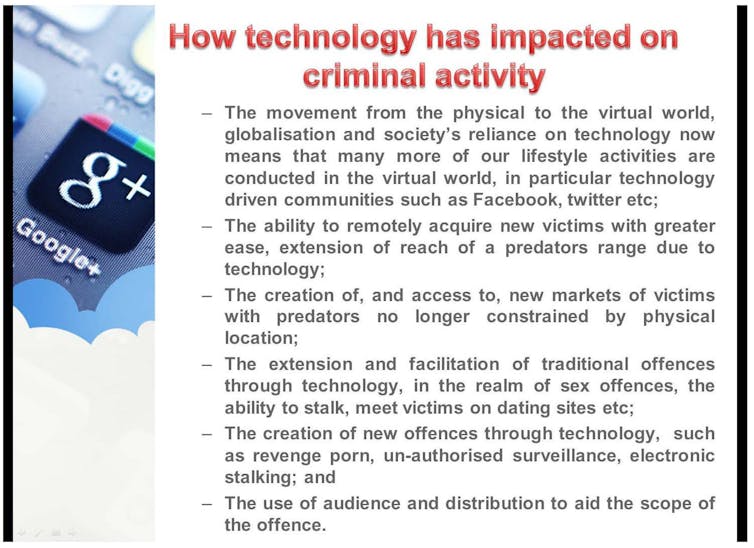 Cyberstalking research
Surveys in the US have shown that approximately one-quarter of female stalking victims are contacted and harassed via e-mail or instant messaging. Cyberstalking behaviours are most likely to involve:
threatening, harassing or obscene e-mails;

live chat harassment or online verbal abuse;

threatening or obscene calls to a cell phone;

improper messages on message boards; and

text and instant messaging.
The scourge of cyberstalking is considered just as damaging as any other type of pursuit behaviour. It can lead to the same types of physical and mental harm. An ongoing stalking survey, exploring victim responses, is looking at, among other things, the use of online technology to harass someone.
While there have been further calls for specific legislation to deal with issues like revenge porn, that in itself will not be the solution. In many states, traditional laws already capture revenge porn as an offence.
Making police investigations more effective by addressing the investigative barriers is much more important. In essence, the law enforcement response needs to be modernised to meet the changing technological environment.
Technology's rise has impacted our lives in almost very aspect, and the nature of criminal acts is no exception. It is how prepared we are to meet this challenge, and how effective our responses are as a society, that will be the true indicators of success in combatting new and emerging criminal threats.