Dear White People is not a laddish drinkathon college flick a la Animal House, Old School and Van Wilder, but rather a pacey, whip-smart tale of campus politics. The film sits somewhere between John Singleton's Higher Learning, David Fincher's Social Network and Spike Lee's School Daze. After it was premiered to critical acclaim at the 2014 Sundance Film Festival, Justin Simien's first feature film has now hit a limited number of screens across the UK.
Sam (Tessa Thompson) is a militant mulatto who runs a radio show called Dear White People, in which she calls out examples of racism on campus and beyond. Sam unexpectedly defeats ex-boyfriend Troy Fairbanks (Brandon Bell) to become president of Armstrong-Parker House. Once the only all-black residence at Winchester University, Armstrong-Parker is now mixed-race, following the randomisation of accommodation on campus. Other houses are organised according to shared interests and beliefs, Sam argues, but an all-black house is a threat to white power.
Indeed, the popularity of Sam and her supporters, especially admirer Reggie (Marque Richardson), provokes Kurt Fletcher (Kyle Gallner) the editor of satirical student rag Pastiche and President of the white, rich kids' Garmin Club to throw a black-themed Halloween party – to which students turn up in blackface. The party is exposed by journalist Lionel Higgins (Tyler James Williams), and black students invade to break it up.
Being black enough
Fathers loom large in Justin Simien's movie. Troy and Kurt are pushed on by their fathers – Dean Fairbanks (Dennis Haysbert) and President Fletcher (Peter Syversten) respectively – who are themselves locked in rivalry because the former is junior to the latter, despite having graduated from Winchester earlier and with a better degree.
Meanwhile, Sam has an ill (white) father whom we never see, but whose heart condition prevents her from becoming the Malcolm X radical Reggie wants her to be. Sam is also seeing Gabe (Justin Dobies), a white teaching assistant who is tellingly framed behind Sam when she receives news from home. But Sam's relationships with white men do not suggest that black people need white people. If anything, Winchester's white students' obsession with black culture might be an expression of rich, white society's need for its own, poorer others – those who, in the American context, have historically been black.
The film presents an array of black characters, in particular Sam, Lionel, Troy and Colandrea "Coco" Conners (Teyonah Parris), who all in their own ways resist the pressure on them (including from other black characters) to conform to a singular idea about what, or who, they should be. As Lionel says when interrogated by Reggie after joining Armstrong-Parker: what he finds hardest is not being black enough for white kids, nor being black enough for black kids, but being black enough for neither. What is hardest, is being himself.
Meta media
Dear White People is not just about finding your identity or being yourself in a bubble, though. The issue of representation and the pressure to conform to a specific image loom large. This is emphasised by the plethora of media technologies – phones, vlogs, radio, Sam's 16mm films – that pervade and enrich the texture of the film. Indeed, Dear White People starts and ends with a (black) TV producer (Malcolm Barrett), who is in town to devise a show about black people in white-majority environments.
The film shows that it's hard to be a black person when the media-drenched world expects you to be not a person but a character – or even a caricature. But the film's coda also wryly suggests that it's just as hard to escape being a character in order to a be person full stop – regardless of skin colour. So, does Simien himself manage to avoid caricature?
The media-savviness of Dear White People suggests a self-conscious engagement with this issue, as do his characters' endless references, including to Tyler Perry and his popular Madea films.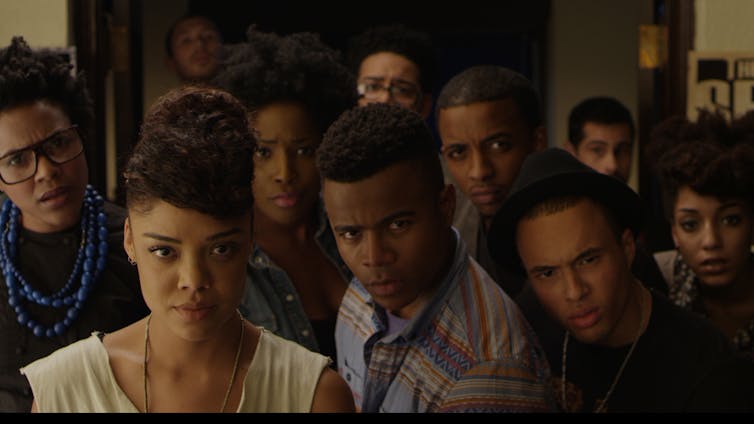 Dear White People is a fearlessly intelligent artistic achievement all of its own. In Sam's language, the film is neither an oofta (the playing up of blackness for a white audience), nor a nosejob (the playing down of blackness in order to be more white), but rather a 100 (someone who is 100% at terms with their black identity).
Although its title suggests that it is intended for a white audience, the invasion of the Garmin Club party by black students on Halloween signals the return of America's repressed racial history. Between Dear White People, Fruitvale Station and Selma, we can see the continuation of a politicised black American cinema, which sits alongside the more comedic Tyler Perry movies.
If you go to Dear White People looking for a clear answer about race politics in contemporary America, you will be disappointed. But you will also have asked the film an unfair question. What this film does offer is an artistic collection of ideas that will stimulate thought and discussion between all its audiences – whether white or black.