In the heart of Moscow, a group of young artists prepares to stage a new kind of artistic performance. They paint their faces and don flamboyant outfits of lurid colour. Their performance will be a march through central Moscow, during which they intend to disrupt public order and scandalise the unassuming citizenry with their unorthodox appearance and belligerent demeanour – for theirs is a developing artistic practice that aims to shock the public, to create a scandal, to challenge the status quo.
In an atmosphere of restriction and censorship, such "aesthetic disobedience" is one of the few possible methods for public criticism of the prevailing social reality in Russia. Yet just how far their message will spread remains unknown to these artists. The year is 1913; they are the Russian Futurists.
Russian Futurism would later come to be known as the art of confrontation. By challenging established norms of taste and decorum through their modernist visual techniques, their innovative use of language in poetry, and by scandalising audiences with their public performances, Russia's Futurists continually risked charges of hooliganism: in late Tsarist Russia, an attack on the official taste was an attack on the officialdom.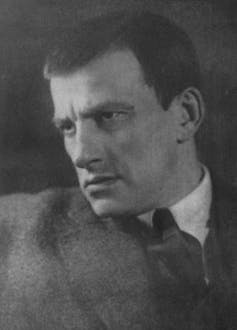 Perhaps unsurprisingly, public appearances by Futurists always attracted a detail of Tsarist agents, and by early 1914 two of the movement's stalwarts – Vladimir Mayakovsky and David Burliuk – found themselves expelled from the Moscow School of Painting, Sculpture and Architecture. Their offence? Repeated defiance of the School principal's request to cease their critical and agitational activities, and their "extreme artistic theories".
The aesthetics and politics of the Russian Futurist movement remain a source of fascination for scholars, and public interest in retrospectives of their works has rarely been greater. This should come as no surprise: as the appearance of founding members of the art collective Pussy Riot at Sydney's Festival of Dangerous Ideas (FODI) this past weekend demonstrates, Futurists pioneered an artistic method that remains relevant to this day.
Two years ago, the "extreme artistic theories" advanced by Pussy Riot saw three of the group's members face charges for criminal hooliganism at the Moscow Khamovniki District Court. Pussy Riot had by this time become well known across Russia for their guerrilla performances in public spaces around Moscow, in which they would scream provocative lyrics while wearing brightly coloured balaclavas and dresses.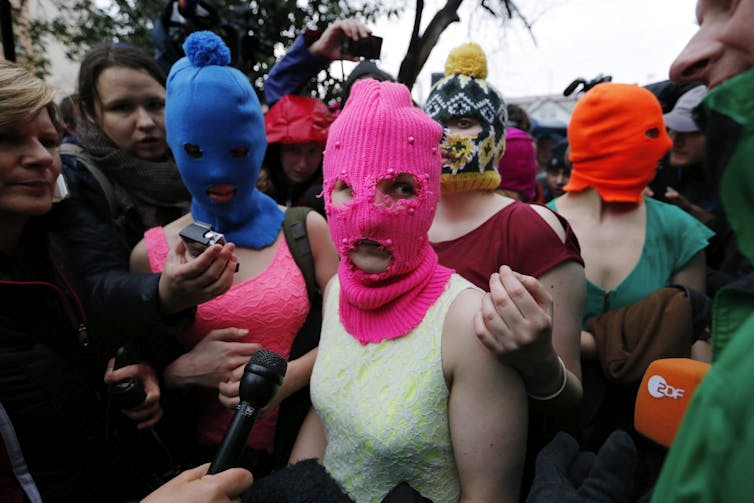 International attention would soon follow: on February 21 2012, during the week of maslenitsa (the celebratory final week before Lent), the group staged a performance in Moscow's Cathedral of Christ the Saviour entitled Punk Prayer – Mother of God, Chase Putin Away! Dressed in their trademark outfits, Pussy Riot stormed the cathedral and commenced dancing and singing their punk prayer.
Shortly afterwards, three group members were convicted of criminal hooliganism and sentenced to two years' imprisonment in a corrective labour colony, after the prosecution successfully argued that their actions had been aimed against the Russian Orthodox faith.
In their defence, the women insisted their acts were not motivated by a religious view, but had in fact been a work of political art: their performance had been designed to critique what they saw as an inappropriate relationship between the Orthodox Church and the Russian State.
Pussy Riot's performance had been strategically scheduled during a week of Church celebrations – ordinarily marked by a carnival-like atmosphere in which protest was generally tolerated – and had been designed as an artistic affront that would challenge the Putin regime's increasing practice of co-opting Orthodox aesthetics to portray itself as a source of stability, traditionalism and masculinity.
As Russian journalist Masha Gessen explained during her presentation at FODI, while Vladimir Putin's first presidential term had been characterised by efforts to cast himself as a post-ideological leader, this turn to Orthodox aesthetics has come in an effort to lend a firmer ideological framework to his third term, in which narratives of Russia's "civilisational mission" and "special destiny" have been paired with the country's efforts to reassert its status as a world superpower.
Though the court was not interested in the artistic premise of the group's actions, Pussy Riot's deployment of the term "political art" was a move of great strategic value. Its use served both to point to a significant intensification of ideological discourse within Russian politics, and to evoke powerful memories of historic show trials in which members of Russia's "creative class" had been persecuted for their oppositional aesthetics.
By drawing attention to this continuity, Pussy Riot sought to subvert the regime's tactical and selective approach to history. When group member Maria Alekhina argued in court that her protest against the regime was aesthetic in nature, she voiced a complaint of long historical lineage.
Indeed, after being informed of his expulsion from the School a century earlier, Burliuk had argued that one could not think freely in Russia, not even when it came to art, as oppression extended even to the realm of aesthetic taste. In Russia, where art is politics and politics an art, freedom of artistic expression has long been intrinsically linked with political expression.
After the fall of the Tsarist regime and the onset of the Bolshevik rule, Futurists saw their tactics of scandal had become obsolete, and accordingly developed a new creative strategy. Members of Pussy Riot gave the audience at FODI an insight into their own recent change of method: with their newfound fame rendering their practice of artistic subversion less effective, they have chosen instead to focus on forming an NGO named Zona Prava (The Law Zone) to promote the rights of prisoners in Russia.
Thus, while Futurists have often been dismissed by historians as flamboyant artistic bohemians who sought to cause trouble simply for the sake of doing so, their fight for freedom of taste, their strategy of artistic provocation, and their willingness to change tactics demonstrates that they were in fact rebels with a clearly defined cause – as well as being responsible for forging principles of political art that remain relevant in Russia an entire century later.