Let's talk of graves, of worms, and epitaphs …
And tell sad stories of the death of kings
These melancholic words, uttered by Shakespeare's Richard II, tell us of a preoccupation with death and mortality, of burial and commemoration. We've certainly seen something similar in the almost soap-operatic nature of Richard III's long running burial saga.
And now the tomb design for his re-interment has been announced. His wooden coffin will be made by Michael Ibsen, a direct descendant of Richard III's sister Anne, while the tomb will be made of a block of Swaledale fossil stone, deeply incised with a cross. The design for the impressive chest tomb manages to fulfil the trappings of medieval majesty in a modern world.
So Richard is at last to reach what many think of as his final resting place. He has had quite a mobile afterlife, and this may seem unusual. But what is distinctive about his case is only that his royal exhumation and reburial is to take place so long after his death.
From England's only royal saint, Edward the Confessor, through to (the almost saint) Henry VI, the bodies of kings and princes have been taken up from their graves and reburied elsewhere. Often, as in Richard's case, this was to somewhere more prestigious. So Richard's post-death restlessness is far from odd.
These royal bodies weren't necessarily even intact whilst on the move: the internal organs of Henry I, for example, were buried in Rouen Cathedral with his body conveyed, at his request, to Reading Abbey.
Even if a king's wishes were clear, they were not always guaranteed. Plans were briefly considered to remove the remains of King John from Worcester Cathedral and taken for reburial to the Cistercian house in Beaulieu which is what John wanted. But in 1232 the king's body was instead exhumed from his original grave in the cathedral and transplanted to a new tomb in the cathedral, where his monument remains.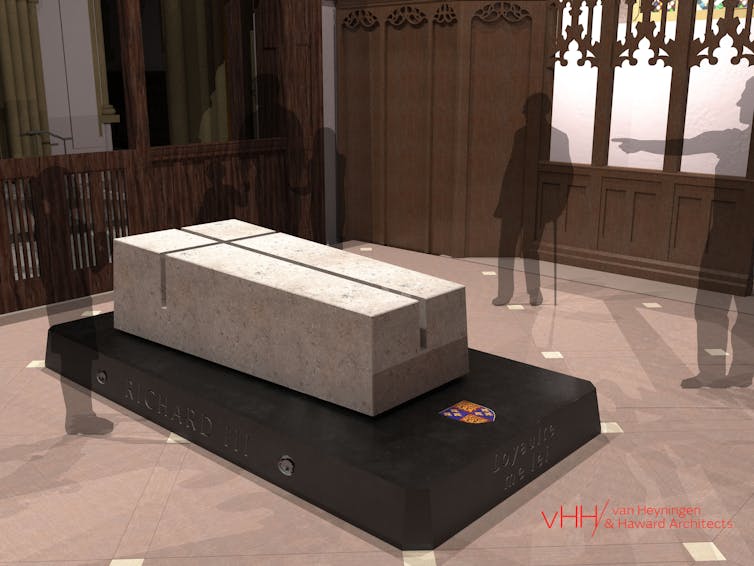 Henry III's great rebuilding of Westminster Abbey paved the way for a magnificent mausoleum celebrating the Plantagenet monarchy to rival that of the French royal family at St Denis.
And then Edward I's commemorative interest led him to commission a series of memorials for his family in Westminster Abbey, Lincoln Cathedral, Amesbury Abbey, the Franciscan and Dominican monasteries in London and a series of "Eleanor Crosses" celebrating his dead wife. He ordered the hearts of his son and one time heir, Alphonso, and that of his first wife Eleanor of Castile, to be placed near each other in the choir in the priory at London Blackfriars, alongside other heart burials of Edward's kinsmen. And in 1300 he ordered the exhumation of his brother Edmund from the Minories in east London and had him re-interred in the royal necropolis at Westminster.
Shakespeare's Richard II talks about the death of kings and of graves and worms and epitaphs. Like many of his predecessors, the real Richard II also had a preoccupation with commemoration. He took a personal interest in re-organising the burial intentions of his household knights and leading courtiers. His tutor Guy d'Angle, for example, made plans for his own burial, but the young king had him interred instead in Austin Friars in London, near the tomb of his half-brother, Edmund Holland.
Later in 1391, Richard II organised a monument for his elder brother, Edward of Angoulême (d. 1371), at his grave in the Dominican house at King's Langley. And it was in this house that his own body was buried in 1400. He himself wasn't granted much peace, only remaining there for 13 years: Henry V soon ordered his body's exhumation and return to Westminster Abbey.
So Richard III's remarkably mobile existence after death is by no means unique. He wasn't the only one in his family to be reburied. The remains of his father, Richard, duke of York and brother Edmund had an especially rough time of it initially: their heads left over Micklegate Bar in York, their bodies in the priory of St John in Pontefract.
Their exhumation in 1476, funeral procession and reburial in the Yorkist mausoleum at Fotheringhay came at a pause in the civil war between Lancaster and York. It was a time when other noble houses took the opportunity to remove the bodies of their executed and fallen kinsmen and return them to the family vault.
It is impossible to say where the last Plantagenet king intended his own burial. But Leicester Cathedral is a highly appropriate final destination, and means that his bones won't be rattling too far from where he died, unlike those of many other medieval kings.