While you may have heard about the increasing threat that climate change and rising seas pose to Pacific islands — already forcing some communities to move — Australia has its own group of islands that are just as threatened.
For communities in the Torres Strait, climate change is not a matter for political debate, but a reality.
Around 7,000 people call the Strait home, and they are already exposed to the impacts of climate variability. There are king tides, flooding, and unpredictable weather patterns that impede their everyday lives. In 2012, extreme weather damaged the local graveyard on Saibai island.
This raises important ethical and political issues for Australia. As a nation we must engage with the harmful cultural implications of climate damage.
Australia's forgotten people
At the northern tip of Australia, the Strait finds itself not quite excised, like other Australian territories scattered off the mainland such as Norfolk and Christmas islands.
Still, the islands are certainly invisible in political decision-making and in public concern. When I visited the region in 2013, I was told time and again by locals that they felt like Australia's "forgotten people".
According to the United Nations Permanent Forum on Indigenous Issues, indigenous peoples worldwide contribute the least to human-induced climate change, yet are among the most vulnerable to its effects.
This is the result of a combination of factors including the ongoing impacts of colonisation, chronic socio-economic disadvantage and, often, remote and vulnerable homelands such as deserts and small islands.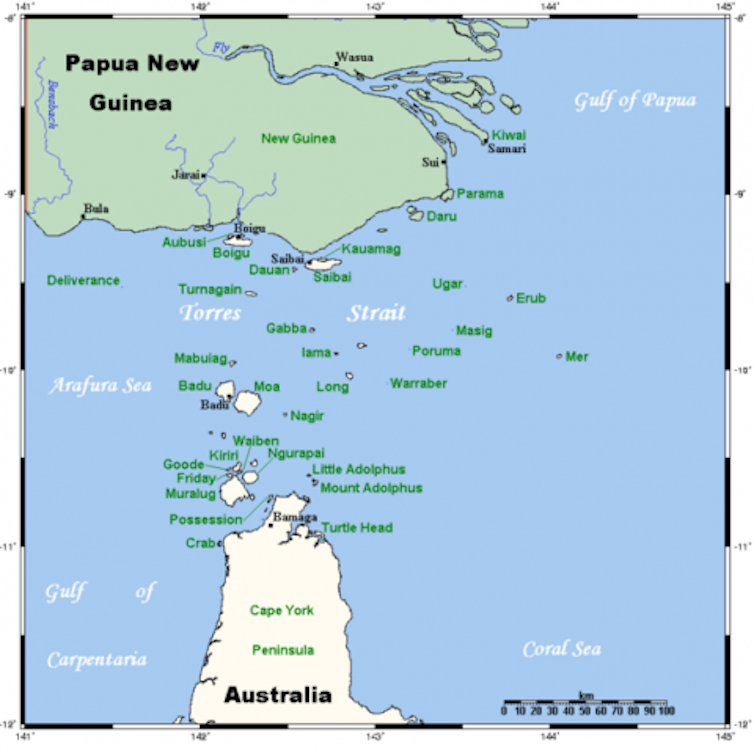 The global portrait of the exposure, sensitivity and weakened adaptive capacity of Indigenous groups can be recognised in the Torres Strait. Relatively speaking, the Torres Strait is populated by only a small number of people, who are spread across 16 islands.
According to the 2011 Census, the island of Boigu has 207 residents, and Saibai has 480 (both islands are low-lying and therefore exposed to the effects of climate change), while of the more elevated islands, Warraber has 250 residents, Iama 316, Poruma 149, and Masig 238.
Why the Torres Strait Islands are vulnerable
Like in the Pacific Islands — such as Kiribati and Tuvalu — it's the rise in sea levels that will cause the most severe forms of physical, psychological and cultural damage in the region.
The Garnaut Climate Change Review cites research indicating that a high-end prediction of sea level rise is 79 centimetres by 2100. This sea level rise, combined with stronger storm surges and higher tides, will risk washing out essential infrastructure, such as people's homes and culturally significant sites including grave yards.
The climate impacts set to impede in the region include rising temperatures with an increase 0.5-1.5C anticipated by 2030, which may jump up to 1.5-3C by 2070.
In conjunction with this rising temperature, changes in rainfall patterns could result in longer wet seasons and less predictable rains during the dry season. Coastal erosion and flooding would also cause damage to homes and main infrastructure.
Instead of refusing to heed climate science, politicians needs to invest consistently and comprehensively in finance and development — in conjunction with community — for adaptation programs in the Strait.
Climate adaptation in the Strait
Adaptation initiatives are already in place in the area. Local communities across many of the Islands, such as those on Erub and Boigu, have begun adaptation programs in partnership with researchers from James Cook University in Queensland.
At the grassroots level, local communities are also ensuring their ancestral lands and cultural roots are preserved by planning for the future in ways that recognise the changes coming for the environment.
On my visit, I had conversations with local councillors about their infrastructure plans, and how they are building away from the vulnerable coastlines to ensure the sustainability these projects for future generations. They did however raise the issue of their limited finances for achieving these goals.
Despite these efforts, in the future, Saibai may be completely lost due to rising sea levels. This poses a significant threat to the transmission of their people's culture, tied as it is to place. While culture is always evolving, mandating that it must adapt in response to climatic changes is a complicated issue. This opens up questions around compensation — a subject that is starting to find a voice in the language of Loss and Damages used by the UN to describe the irreversible and devastating impacts of climate change on cultures, lands and livelihoods.
Relocating the communities living on Saibai Island is a possible future, though it remains a last resort.
The physical changes occurring in a place like the Torres Strait have implications which far exceed tangible damage. We need to focus on more than just eroded coastlines and flooded townships, or on markers of "development" such as lifespan. These things are enormously important, but cannot quite capture the intangible cultural losses generated when land is drastically affected by climate.
Indeed, the material damages expose a deeper and more profound cultural impact for Islander communities. The line between adapting and enduring loss is blurred in this situation, revealing a deeply troubling limit to adaptation.
It may seem like an issue far removed from the halls of political power, but nonetheless, recognising this is the next frontier of international and domestic climate policy.
---
Editor's note: Elaine will be answering questions between 3 and 4pm AEDT on Thursday November 27. Ask your questions about rising sea levels and Torres Strait communities in the comments below.