Searching for Sugar Man (2012) brought worldwide attention to the music of Detroit singer-songwriter Sixto Rodriguez. The academy award-winning documentary focused on the efforts of South African fans to track him down in the late 1990s and the resonance his songs had for many during the apartheid era.
Rodriguez also has a long-standing connection with Australian audiences, having toured the country in 1979 and 1981 and numerous times in recent years. He is back again, beginning his 2014 tour of Australia in Brisbane last Sunday night, riding a wave of international recognition following the success of Searching for Sugar Man.
Rodriguez's place in the history of folk music
Rodriguez began his career in the late 1960s in a scene crowded with singer-songwriters, all hoping to be the next Bob Dylan or Paul Simon.
Dylan set the template for the modern day folk singer and charted new musical territory with The Band while expanding notions of the poetics of popular music. The most distinctive and successful artists of the next generation, such as Neil Young, Jim Croce and Paul Simon, developed very personal and often eclectic styles, forging a path away from Dylan's influence.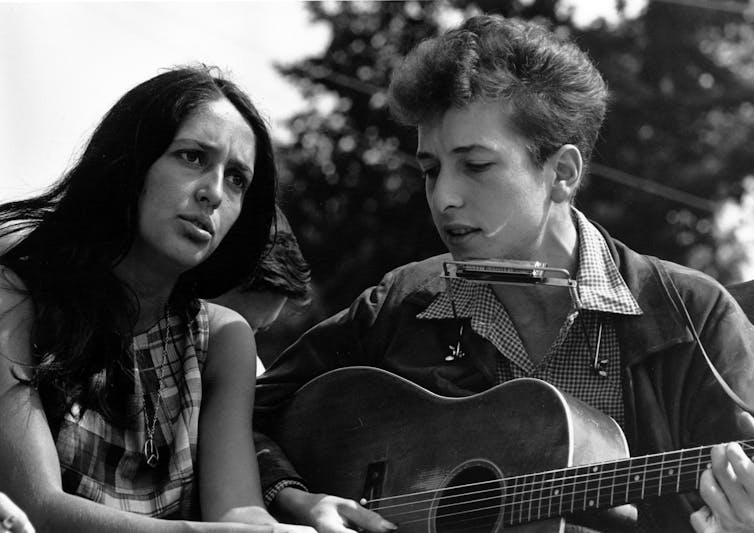 On the other side of the Atlantic, British folk artists had been developing a distinct brand of musical fusions, drawing on indigenous folk elements, blues, classical and popular styles.
British guitarist Davy Graham pioneered these innovations and even brought North African flavours into his music, although his musical vision was perhaps best realised in the work of virtuoso Scottish guitarist Bert Jansch.
American and British artists influenced each other: both Dylan and Simon had fruitful visits to UK folk clubs in the early 1960s and were inspired by the music of English folk singer and guitarist Martin Carthy and others.
Rodriguez's music
The story of Rodriguez's disappearance and rediscovery as told in the 2012 documentary is particularly remarkable for a generation accustomed to instant global communications via the web.
Even more remarkable is that he has not released any new material since his first two albums Cold Fact (1970) and Coming from Reality (1971).
There are rumours of a new album in the works but to date he is best known for songs written and recorded in the early 1970s when he was still in his 20s.
Listening to Rodriguez's Cold Fact I am reminded of how eclectic popular music was in the early 70s. There is gritty urban social commentary in songs such as Hate Street Dialogue, alongside the gentle swing of Inner City Blues and the psychedelic Sugar Man.
Sugar Man is Rodriguez's signature tune and the recorded version features brass, woodwind and strings in a Beatles-inspired arrangement that indicates the extent of the investment in the album by the Sussex record label.
The mind-bending instrumental section shows that the psychedelic soundscapes of Hendrix, Pink Floyd and others influenced popular music of the early 1970s.
The second song on Cold Fact, Only Good for Conversation, is perhaps the most striking, with an angular riff that would make Deep Purple proud. The distorted guitar work of session musician Denis Coffey, from Detroit's famed Funk Brothers, is front and centre in this bitter song.
Rodriguez rarely plays this song live now and prefers instead to include a wide range of covers in his concerts. The setlist is often decided on stage and covers can range from jazz standards such as I'm Gonna Live Till I Die to Dylan's All Along the Watchtower to Midnight Oil's Redneck Wonderland.
Like many singers of his generation the guitar was his accompaniment instrument of choice and he focused on developing his playing. It's possible to hear echoes of his Hispanic musical heritage in his guitar playing.
Seeming to prefer a nylon string guitar to the folk singers' standard steel-string, Rodriguez brushes the strings with the backs of his fingers rather than using a plectrum and the sound is often percussive. He keeps his accompaniments unpredictable by adding accents and building dynamics.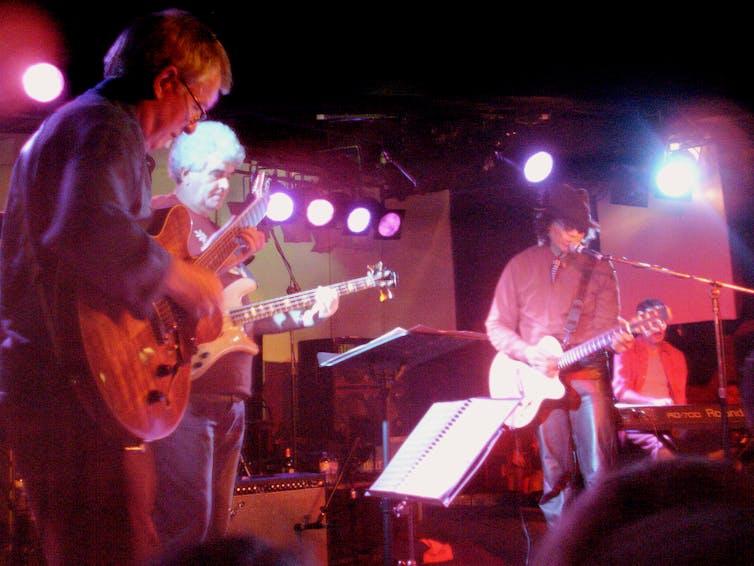 Vocally he has a direct and penetrating vocal delivery that is his most direct connection with the audience. As Midnight Oil's Rob Hirst observes, the voice is always "dead centre in the mix".
Rodriguez retains a close connection to his audiences in Australia and South Africa. The affection for Rodriguez in Australia is evident on the 1979 live recording Alive, made in Sydney. Every song is cheered enthusiastically and Rodriguez comes across as a confident performer at the top of his game.
His shows might now be a little more relaxed and reflective but they are a chance to hear a unique folk singer who is enjoying a career peak at the ripe old age of 72.
Rodriguez's Australian tour continues in Sydney, Melbourne, Adelaide and Perth.