The world is witnessing a state-orchestrated humanitarian catastrophe on the Myanmar-Bangladesh border. The latest UN figures show a staggering 370,000 Rohingya have fled into Bangladesh since August 25. An unknown number have perished. Around 26,000 non-Muslims have also been displaced.
This is just the latest crisis to confront the Rohingya in recent years. In October 2016, over 80,000 Rohingya fled violence which the UN said very likely amounted to crimes against humanity. In 2015, thousands were stranded on boats on the Andaman sea, described as "floating coffins". Their lives inside Myanmar were so desperate that they gambled with dangerous human trafficking networks. Many drowned, died of starvation, or ended up in death camps on the Thai-Malaysian border.
The Rohingya have long endured a bare and tenuous life. The World Food Programme has documented high levels of extreme food insecurity: an estimated 80,500 Rohingya children under five require treatment for acute malnutrition. Since October 2016, critical life-saving humanitarian activities have been severely restricted.
The Myanmar state has historically adopted strategies of "othering" the Rohingya, dehumanising them as "illegal Bengalis". The Rohingya have been isolated from society, forced into squalid open-air prisons, confined to villages, and denied livelihood opportunities. They have been harassed though disenfranchisement and violent intimidation. They suffer from destitution, malnutrition, starvation, and severe physical and mental illness as a result of restrictions on movement, education, marriage, childbirth, and the ever-present threat of violence and extortion.
This is what genocide looks like, just prior to the mass killing phase.
The dark descent
Modern genocide is a form of social engineering, and often a long-term process. It begins not with mass murder, but with the dehumanisation, isolation, and systematic weakening of a target group. Conceptualising genocide in this way enables us to identify the genocidal process while in motion, and to intervene before it's too late.
The destruction of members of a target group depends upon either the complicity or participation of the local population. An exclusionary ideology, designed to elicit support for the systematic removal of the "other", is therefore central to the genocidal process. Exclusionary ideologies enable perpetrators to cope with the destruction of the stigmatised community, providing a psychological justification for their removal. By creating internal enemies, the natural human aversion towards murder is eroded.
Propaganda, agitation, and incitement deeply indoctrinate future perpetrators, paving the way for mass murder. In the early stages of the Rwandan genocide, radio propaganda encouraged fear and hatred of the Tutsis, labelling them as "cockroaches", "snakes" and "devils who ate the vital organs of Hutus". In an eerie echo, Myanmar's state media has insinuated Muslims are like "detestable human fleas"; prominent nationalist monk Wirathu has said: "Muslims are like the African carp … They breed quickly and they are very violent and they eat their own kind."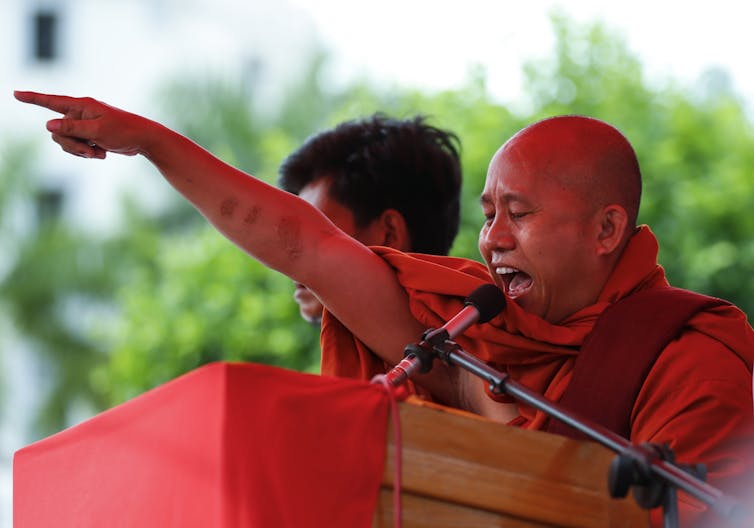 As well as making it easier for neighbours, business partners and even friends to kill one another, labelling the target group an "enemy of the state" also reinforces popular support for the military and a nationalistic agenda. On September 1, Myanmar's defence commander-in-chief, Min Aung Hlaing, declared that "entire government institutions and people must defend the country with strong patriotism", going on to describe the "Bengali problem" as a longstanding "unfinished job, despite the efforts of the previous governments to solve it". "We openly declare that absolutely, our country has no Rohingya race," he said.
This demonising rhetoric not only makes eliminating the Rohingya psychologically acceptable, but frames it as a matter of protecting national interests: land, race, and religion. Adopting a narrative of Rohingya "terrorism" relieves the state of responsibility for the long-running structural grievances among the Rakhine community which animate local hostility against the Rohingya, and also ensures the military retains popular support for its indiscriminate violence against the entire Rohingya population. One Rakhine politician in 2016 claimed that "all Bengali villages are like military strongholds".
Warnings that decades of discrimination and oppression against the Rohingya could lead to armed resistance in the region have become a reality. The pervasive persecution of the Rohingya is directly linked to the origins of the Arakan Rohingya Solidarity Army – but instead of tracking down and prosecuting those responsible for recent attacks, the military has instead launched a campaign of collective violence against the Rohingya, systematically razing entire villages to the ground and killing civilians.
Harrassed and terrorised
Genocide scholars document a range of strategies of physical and psychological destruction which take place prior to mass killings. Physical destruction involves overcrowding, malnutrition, epidemics, lack of health care, torture, and sporadic killings; psychological destruction involves humiliation, abuse, harassment or killing of family members, and attempts to undermine solidarity through collective punishment.
These forms of harassment and terror tactics are often deployed to force members of the out-group to leave, rather than killing them outright. One year before Bosnia's Srebrenica massacre, a Republika Srpska Army report referenced a "crucial task" to be executed: "the expulsion of Muslims from the Srebrenica enclave". "The enemy's life has to be made unbearable and their temporary stay in the enclave impossible so that they leave en masse as soon as possible, realising that they cannot survive there," it read.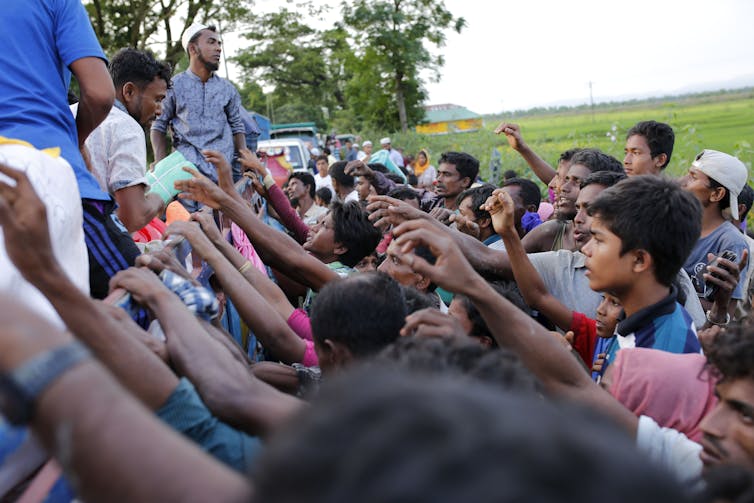 And yet conceptual difficulties with the legal definition of genocide, together with historical precedent, apparently mean that we need to wait for mass killings and a court ruling before we can call this form of structural violence what it is: genocide. Aung San Suu Kyi and the Kofi Annan Commission act as shields for brutal "clearance operations". Western diplomats, unwilling to take a firm stance, hide behind a broken international system, arguing that it's the UN's responsibility to take action – knowing full well that any such action would be vetoed by China and Russia.
The Myanmar government knows it can count on China in particular, which is keen to maintain its business interests and limit Western influence over a neighbour. On September 6, Myanmar's national security adviser, Thaung Tun, told journalists "we are negotiating with some friendly countries not to take it to the security council. China is our friend and we have a similar friendly relationship with Russia, so it will not be possible for that issue to go forward".
All the while, Rohingya villages continue to burn, many of their inhabitants murdered. More than half the Rohingya population of northern Rakhine has been forcibly displaced. Those who manage to escape the terror continue to stream across the border into Bangladesh – desperate, starving, injured, and traumatised.