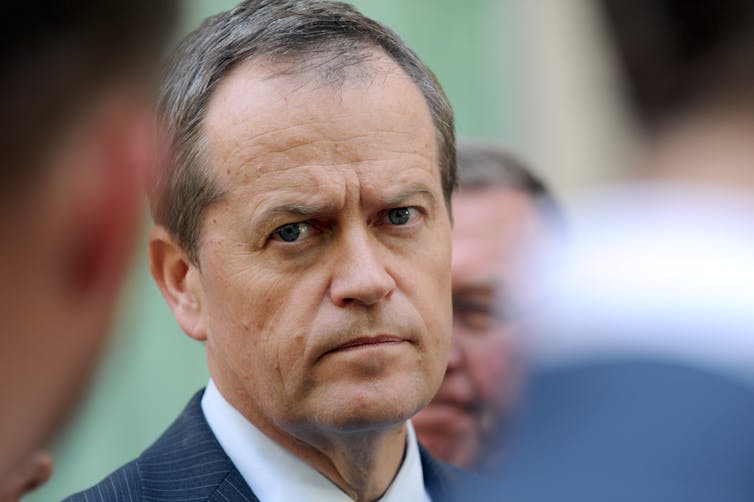 Bill Shorten is a powerbroker caught on the horns of a dilemma. He is seen as a key figure in Labor's leadership battle. There are calls for him to step in, which could only mean deserting Julia Gillard, because at the moment he is standing with her. One of the plotters who installed Gillard, if Shorten threw his weight behind Kevin Rudd, the game would be finished.
A former chief of the powerful Australian Workers' Union Shorten, who sees himself as a future prime minister, directly influences some caucus votes, although sources differ about the number, some say only three or four; others suggest a good many more. In Victoria he and Senate leader Stephen Conroy, a solid Gillard man, form the ShortCon group in the Right.
The importance of a change by Shorten would be its symbolism; it would have a domino effect.
So what course of action would be in Shorten's own interests? To openly put the knife into Gillard would bring him a double problem. First, it would be an admission he had made a serious error of judgment in 2010 (something that is pretty obvious now). Second, and more important, to be part of assassinating a second prime minister would be bad for the reputation of a future leadership aspirant. It would seem to colleagues and public alike that he was not a loyal or trustworthy person. And "trust" has become a hot button with voters.
Yet a change to Rudd could well be to Shorten's advantage. All indications are that Rudd would do better than Gillard in the election, although the expectation is that he would still lose. If Shorten became opposition leader after a Labor defeat, there would be a big difference between taking over a party that had been routed and one that had had a respectable loss. No leader would be likely to survive two or three terms of wilderness.
Shorten's best option would probably be for Rudd to become leader without his being actively part of the push. One Labor wag says that in present circumstances Shorten "likes to be chased while still being chaste". Whether that will be possible is another matter.
If there was a change to Rudd, it would be best for Shorten to avoid seeking advancement. Rudd is believed to have promised Treasury to Chris Bowen. Shorten for deputy leader? Not good for his prospects in the longer term, assuming a Rudd election loss.
Shorten ideally needs to enter Labor's post election phase with clean hands and as a fresh face. Anyway, if he remained in the Workplace Relations portfolio under Rudd, he would have a high profile and plenty of opportunity to display his abilities. Industrial relations will be a key election fight.
The leadership tussle is at a standoff as caucus members wait for next week's Newspoll and for the full parliament to resume on March 12 (next week only the Senate sits). Rudd pursues a multi-pronged strategy while he keeps himself in the public eye and hopes the polls will do their work on his colleagues. He is talking policy (as in his long Sunday Sky interview) and conceding past mistakes (up to a point). He attacks Tony Abbott at every available opportunity, to demonstrate he would be the best to take him on, and continues his visits to individual seats to display his appeal. This week he was at a Labor fund raiser in Bruce. Not that local MP Alan Griffin had to be convinced - he is one of Rudd's numbers men.
Rudd is carrying his message to Mr and Mrs Average via his return to Seven's Sunrise program and articles like the rather hokey one in the Sunday Telegraph which reported that the Rudd family had become "empty nesters", referred to the dog Abby (immortalised a few years ago in a book by Rudd and Rhys Muldoon) and advised "guys", in dealing with anniversaries and the like, how to follow the JDSU ("Just Don't Screw Up") principle. At the high end, in the Australian Financial Review the former PM, with 1.19 million Twitter followers, yesterday was handing out some social media advice, warning tweeters not to speak like robots. "I fight my Ruddbot instincts every day", he confided.