With 20 countries hailing from six continents, the Rugby World Cup is a truly global mega-event. It has come a long way since it was first staged in 1987, when it was broadcast to just 200m people in 17 territories. Now around 4 billion people in 205 territories will watch 20,000 hours of coverage – all making RWC 2015 a unique reputation-raising opportunity for its 11 host cities in England and Wales.
The economic impact of such global sports events is huge and far-reaching. A report by the accountancy firm Ernst & Young estimates that the host economies will benefit from £2.2 billion being spent. With almost half a million international visitors expected for the tournament, they predict that an extra £982m will be added to the UK's GDP and that international visitors will spend £869m.
Coming from all over the world, especially the southern hemisphere rugby-mad countries of Australia, New Zealand and South Africa, many of these visitors will enjoy an extended stay in the UK, ploughing around £200 a day into its economy. For some, it will likely be seen as the trip of a life-time – all the more reason to make the most of their visit. Nic Fletcher, head of marketing at English rugby's governing body, the Rugby Football Union, anticipates that World Cup tourists will spend time exploring the UK as well, following their respective teams' progress over the 44-day tournament.
Here's how host cities are capitalising on their trips.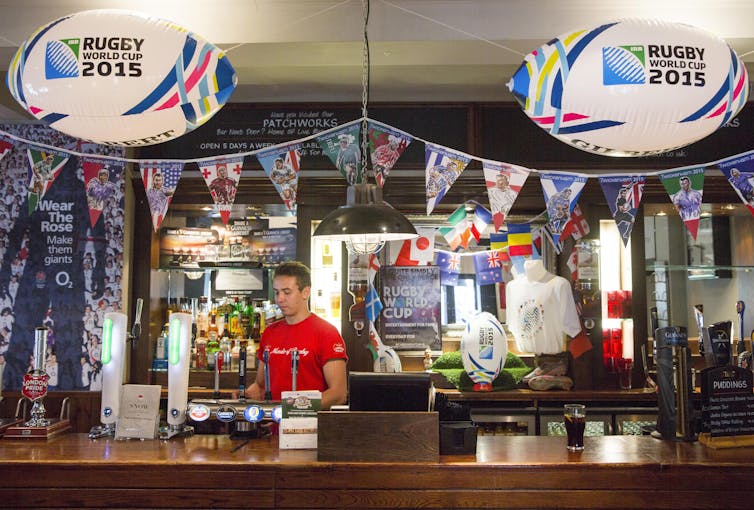 During the games
The economies of the world cup's host cities are expected to boom as they benefit from the influx of passionate rugby fans from both overseas and the UK. More than 2.2m of the 2.3m tickets available have been sold and the 5m applications on the official site means numerous games were oversubscribed and we're likely to see tickets being sold on for profit elsewhere.
Interest in the sport is expected to double during the tournament as sports fans everywhere celebrate the latest in a line of recent high-profile sporting events to be held in the UK. In addition, many more people will spend money watching games live in pubs and bars, while spending on food from supermarkets typically increases by around a third during such big sporting events.
Infrastructure
Host cities have already benefited from £85m in infrastructural enhancements as they prepare for the tournament. These have created 41,000 extra jobs and will also benefit cities long after the final whistle is blown. The RFU has invested £76m in redeveloping Twickenham Stadium, whilst at the other end of the scale, Exeter has invested £650,000 in extending the capacity of Sandy Park. Such accompanying infrastructural and tourism improvements will in turn underpin efforts to attract further inward investment, just as more than half of New Zealand businesses saw their international networks boosted by hosting the tournament in 2011.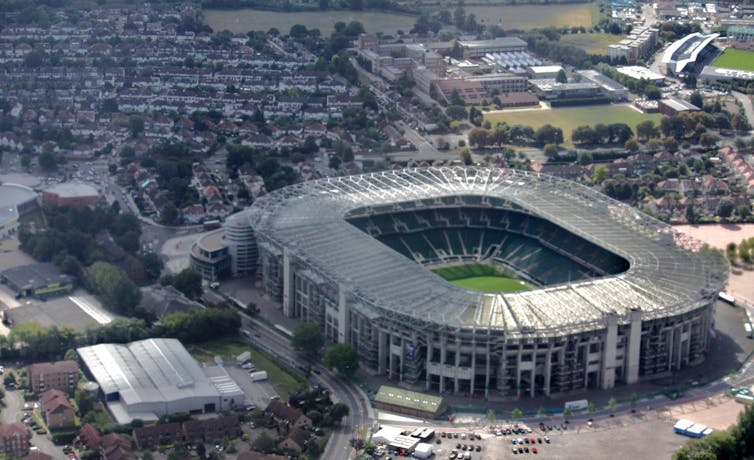 Reputation building
The Rugby World Cup offers its 11 host cities opportunities to boost their reputations as great places for residents, tourists and investors. England is the host nation and London hosts 17 matches in Twickenham, Wembley and the Olympic Stadium. In addition, Wales' Millennium Stadium in Cardiff will host a further eight games, just one less than when Wales itself was the host nation in 1999. Then around 330,000 people visited Wales specifically for the world cup and £83m flowed into the Welsh economy.
Then there are the number of host cities that people will visit and stay in that they might not otherwise visit on trips to the UK. These include Gloucester, Leicester, Milton Keynes and the town where the game was developed, Rugby. Plus, the fact that games are being broadcast around the world means a truly global audience for them.
Responsibilities and benefits
The opportunity to be a host city brings responsibilities as well as benefits. Hotels in many of them are already fully booked and rugby fans yet to finalise their arrangements are anxiously searching for accommodation. How these cities respond to their needs will leave a lasting impression on visitors – and their views will no doubt be shared on social media. The shortage of rooms has provided an Airbnb boost for host cities. Cardiff (where Australia, New Zealand and France will play) and Newcastle (where South Africa, New Zealand and Scotland appear) have experienced a 498% and 469% rise in bookings respectively.
At the same time, many hotels are charging inflated room rates during the tournament, something that will also have an effect on visitors' impressions of their hosts but which is beyond the control of the UK's various destination marketing organisations such as Visit England and Visit Wales. Everyone recognises that premium events bring premium prices but there are dangers in being too greedy.
Hotels may consider the World Cup fans to be one-off visitors and are not interested in them as potential repeat customers. Yet for the cities themselves, widespread negative reviews on social media platforms prompted by this kind of overcharging could undermine the tournament's reputation and legacy. This would be an unfortunate knock to the hard work that is involved in hosting the tournament.