Testifying before a congressional committee, FBI Director James Comey has confirmed that his agency is investigating links between the Donald Trump campaign and Russia.
While this investigation continues, Americans should be reminded of the signs of Russian interference in democratic processes outside the U.S. – specifically, in the Balkans.
Small but strategic
Recently, British Prime Minister Theresa May expressed concern over Moscow's apparent involvement in an attempted coup in my home country.
From 2010 to 2015, I was the ambassador to NATO from Montenegro, a young democracy in southeast Europe that is part of the former Yugoslavia. Montenegro was targeted by an apparent coup attempt during its last parliamentary election on Oct. 16, 2016. While Russia has denied involvement, details of the plot shared by a Serbian man arrested at the scene point to what The New York Times called "Russian efforts to sow mayhem."
Montenegro's chief special prosecutor has alleged the involvement of two Russian Military Intelligence Service (GRU) agents, Vladimir Popov and Eduard Shirokov. The GRU is the same organization sanctioned by the Obama administration for hacking the Democratic National Committee offices. Shirolov, who has also gone by the name Shishmakov, was posted as the assistant military attache at the Russian Embassy in Poland until 2014 – when Poland threw him out of the country for spying.
As some of the plotters later confessed, their goal was to overthrow Montenegro's government, kill then-Prime Minister Milo Djukanovic and put into power political groups that oppose Montenegro's NATO membership. Russia is on the record as opposing that membership bid and promised "retaliatory actions."
Despite Russian opposition, joining NATO is one of Montenegro's major foreign policy goals. The overwhelming majority of NATO members, 26 states, have already ratified the country's membership and the process seemed on track for completion at the next NATO summit in May of 2017.
However, the addition of new members to the alliance requires unanimous support, and Spain and the U.S. still haven't passed ratification.
In the U.S., the proposal has been stalled in the Senate for several months. The vote recently sparked a nasty exchange between senators John McCain and Rand Paul when McCain attempted to call a vote on the issue, but Paul – who, along with Mike Lee may be the only senators opposed to the ratification – used Senate rules to delay it.
Some officials in the U.S. and Europe see no relevance in getting Montenegro, a small state with a small military, into NATO. Indeed, the U.S. focus on Asia has left the region vulnerable and unguarded since the Clinton administration.
But, in my strong opinion, Moscow sees Montenegro in very different terms. Russia has a vivid interest in the Balkans and views Montenegro as more relevant than one may conclude from its small size.
No place to moor
Why is it so important? Consider the following anecdote:
In September 2013, the Russian Federation made what then-Russian ambassador in Montenegro, Andrey Nesterenko, described as "a request" to "discuss the terms of allowing Russian warships temporary moorage at the ports of Bar and Kotor for refueling, maintenance and other necessities." Moscow's request was prompted by the war in Syria and the uncertain future of the Russian naval facility in the Syrian port city of Tartus. Montenegro rejected the request in December of that year.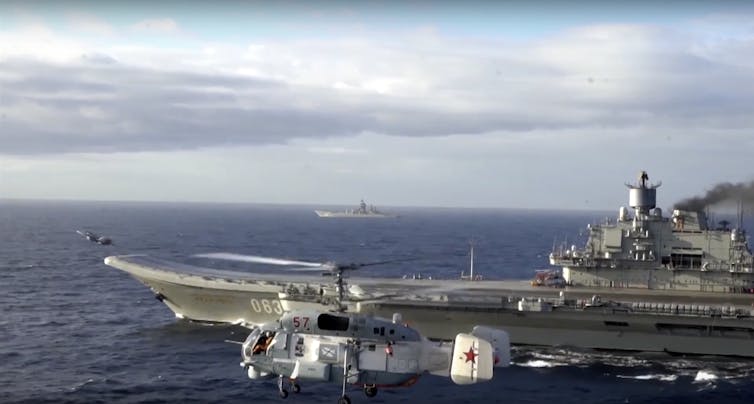 The importance of such facilities in the Mediterranean was demonstrated in October 2016 when the Russian carrier, the Admiral Kuznetsov, and its battle group were denied refueling in European ports on their way to support the Russian military effort in Syria.
That's why Moscow looks at Montenegro's decision to join NATO with displeasure. If Montenegro joins NATO, it would give the alliance control of every northern port in the Mediterranean.
Moscow's stress has grown as Montenegro became closer to NATO membership. In my view, the coup plot was the culmination of more than 18 months of synchronized actions, which included an aggressive media campaign. To influence the public opinion of Serbs in Montenegro, Russia has opened a number of Serbian-language media outlets – including Sputnik and Russia Today. This media campaign, coupled with open political and financial support for pro-Russian political parties in Montenegro, seems to me an obvious attempt to reverse a pro-Western trajectory of the state and stop it from joining NATO.
Rare loss
Montenegro is one of only a few contests that Moscow has lately lost in its zero-sum style competition with the West. Despite efforts and money, Moscow has made no measurable progress in slowing the pro-Western direction of the country. For example, Montenegro and Albania have joined the EU sanctions on Russia as punishment for annexing Crimea – a decision that made Moscow furious.
Russia's involvement in Montenegro is a part of Russia's broader strategy to roll back NATO and EU enlargement while regaining influence in countries that aspire to join those organizations. Russia has proved that it has the capacity to threaten, influence and subvert NATO's "open door" policy. Such has been the case since 2008 when Russian President Putin successfully derailed Georgia's bid for membership – a process that has never gotten back on track.
For now, Russia seems to have lost a possibility of having a strategically significant outlet on the Adriatic Sea. But, I believe, any further American retreat – in the form of a deal with Russia or a withdraw into isolationism – may have lasting adverse implications for this region, European security and America's enduring interests in Europe.