Tracking the first Russian newsagency reports of the downing of flight MH17 in eastern Ukraine, with the loss of nearly 300 people, produces an interesting sequence of revisions.
The first report by the major state-owned Itar-Tass newsagency was headlined "Donetsk People's Republic militia downs another Ukraine's An-26 plane — eyewitnesses".
Noting that this was the second Ukrainian An-26 plane brought down by separatist rebels, Itar-Tass reported: "Militiamen of the self-proclaimed Donetsk People's Republic (DPR) brought down a military transport Antonov-26 (An-26) plane of the Ukrainian Air Force on the outskirts of the town of Torez, eyewitnesses said.
"A missile hit the An-26, it fell on the ground and caught blaze, they said."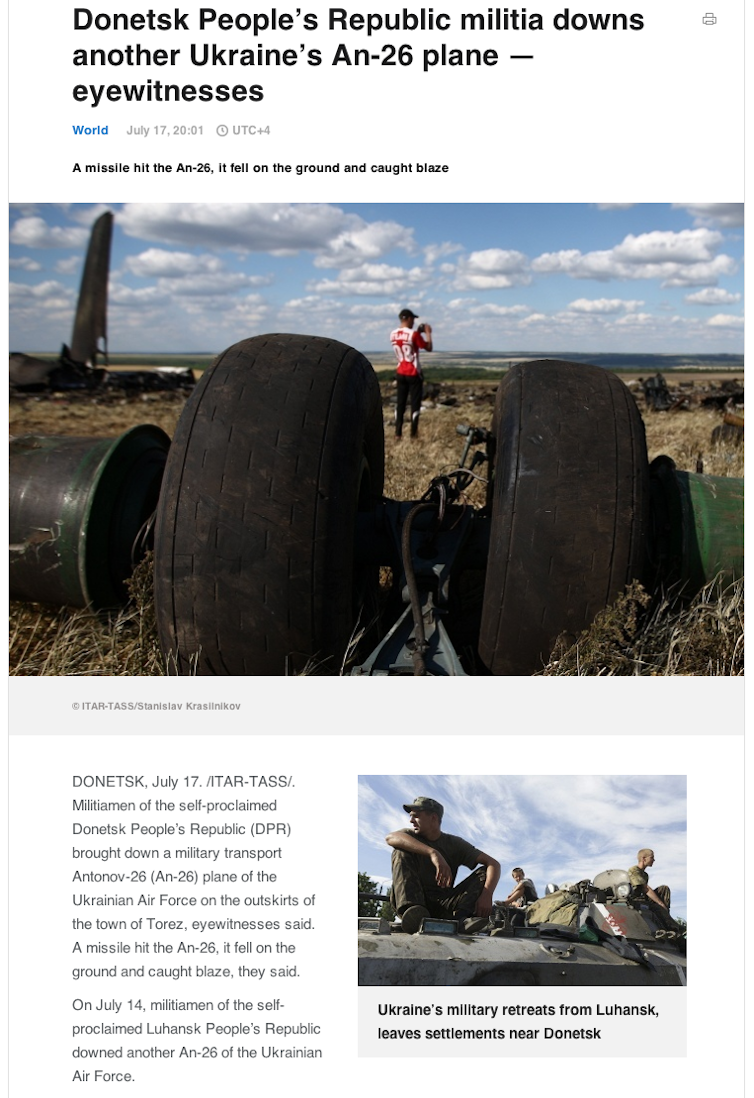 Half an hour later, it was as if the previous report never existed. The second Itar-Tass report now implied that the finger of suspicion pointed to the Ukrainian military. Under the headline "Ukraine's anti-aircraft missile system dispatched to Donetsk Wednesday", the report cited a "well-informed source" for this news.
The source added "the aircraft at an altitude of over 10,000 metres could be shot down only with the weapons of the S-300 or Buk (Beech) missile systems".
The report continued: "In the meantime, militias of the self-proclaimed republics of Donetsk and Luhansk have said they do not possess armament systems of this class."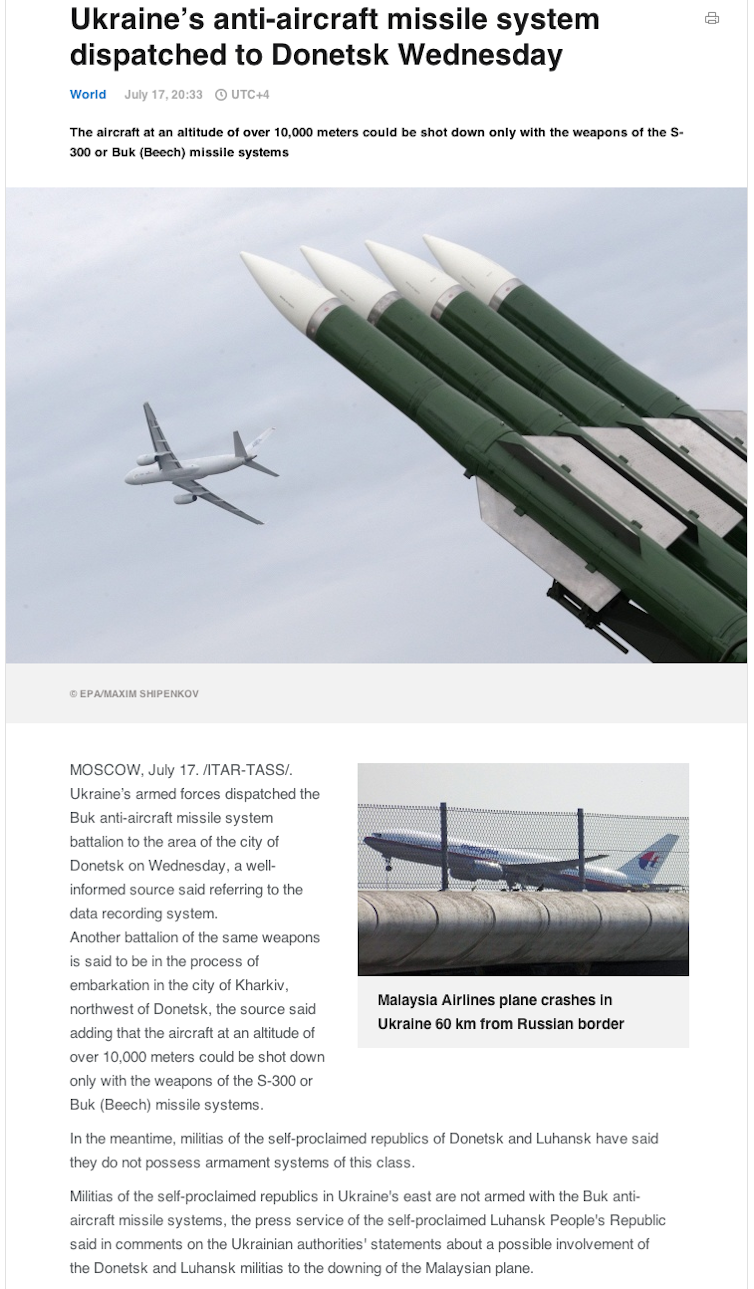 Forty-five minutes later, a further unacknowledged shift in assessing responsibility for the tragedy took place. According to Itar-Tass, no civilian plane should have been in the area.
Under the headline "Commercial flights impossible in Ukraine's east as infrastructure destroyed — DPR", the article said "a source from the self-proclaimed Donetsk People's Republic (DPR) told Itar-Tass" that:
"Kiev operates all air traffic control services and it is unclear how this plane (the Malaysian Airlines Boeing 777 that crashed in eastern Ukraine near the Russian border Thursday night. — ITAR-TASS) could appear in the area," he said.
"During the combat actions in Donetsk's airport the communication tower, a part of the united air control service was blown up," he said adding that "planes cannot fly there".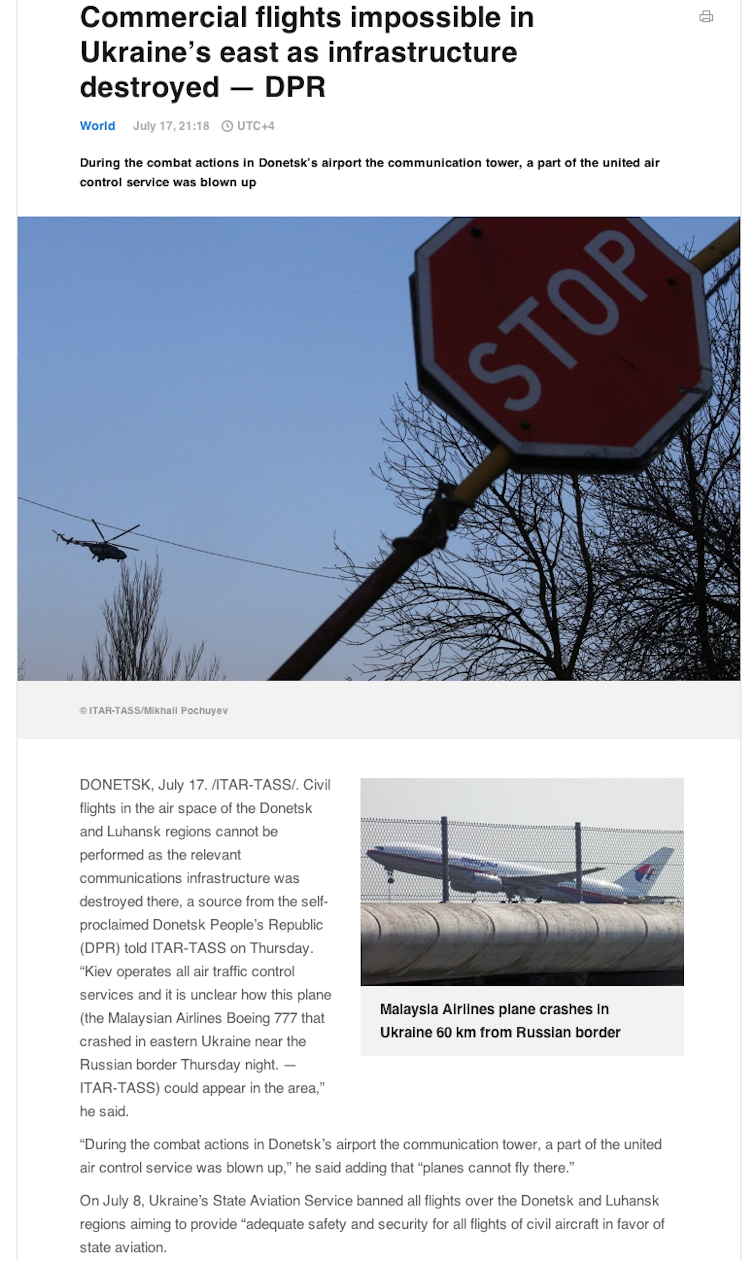 None of these reports acknowledged what had previously been reported - in particular, the report directly attributing the downing of a large aircraft in the area to separatist rebel forces.