This latest instalment in our series on Russia's relations with its neighbours focuses on Georgia. Caucasus-watcher Julie George explains how the Ukraine situation has magnified the uneasy truce that continues to hold Georgia together.
Georgia's response to the Ukraine crisis has been less strident than some of Russia's other neighbours. In part this is because many Georgians view the 2008 Russo-Georgian war as the first expression of renewed Russian expansionism, which makes them wary of taking too provocative a position.
Nonetheless, the Ukrainian crisis has had several direct effects on the Georgian political conversation, both on domestic and international fronts. These responses centre on Georgia's aspirations to join the western club. Though President Giorgi Margvelashvili recently confirmed that the country is still pursuing membership in the EU and NATO, the country's split on how much to tilt towards the West parallels the domestic fault lines inside Georgia – the ruling Georgian Dream (GD) coalition on one side and the opposition United National Movement (UNM) on the other. It was founded by 2003 Rose Revolution leader Mikheil Saakashvili.
Restrained criticism
The Georgian Dream, created by billionaire Bidzina Ivanishvili and now led by the prime minister, Irakli Garibashvili, maintains an official stance of cautious support for the Ukrainian government. While the West has initiated sanctions against Russian assets, the Georgians are in no such position of power. Economic relations between Georgia and Russia were severed following the 2008 war and have only recently experienced some restoration.
Likewise, since 2008 Russia and Georgia have not maintained direct diplomatic ties with one another, although both have indirect conduits. Georgia's official statements reflect the cautious stance of the current ruling party. A statement issued by the Georgian parliament expressed its "extreme concern" and linked the violence in Ukraine to the pro-Western stances of Ukraine and Georgia.
However, the Georgian leadership in Tbilisi also tempered this by saying it would avoid making "radical statements", due to its "pragmatic policy". In general, any current Georgian antagonism toward Russia derives more from wounds it sustained in 2008 rather than neighbourly solidarity with Ukraine.
Parallels with 2008
Georgia's official pragmatic rhetoric riled the members of the UNM, who demanded a stronger response. Mikheil Saakashvili, who stepped down as president last year, argues that Russia's annexation of Crimea and its role in destabilising eastern Ukraine illustrate Russia's ongoing foreign policy. Saakashvili argues that the Georgians were the first victims of Putin's policy of naked aggression when the Russian military entered Georgian territory in 2008 to intervene in a long-standing territorial crisis in the breakaway region of South Ossetia.
Russian policymakers framed their incursion in South Ossetia as a humanitarian act to protect citizens there from Georgian violence. South Ossetia had fought in 1992 for independence from Georgia, although the two sides had never reached a political settlement.
During the 2008 war Russia also intervened in Abkhazia, which subsequently expelled soldiers in a Georgian military base in the Georgian-held Kodori Gorge. The South Ossetians and Abkhazians both had reasons for political grievances with the Georgian state, but the Georgian leadership continually emphasises the role of Russia in escalating and aiding the secessionist rhetoric and activity in both regions.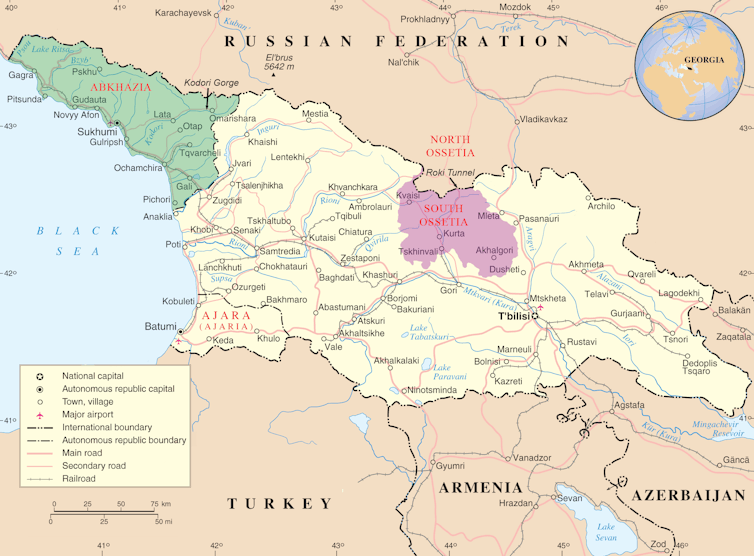 There had also been no Georgian military action in Abkhazia at the time the region started expelling Georgian soldiers, for example. And Russia subsequently recognised the independence of both Abkhazia and South Ossetia and pursued a policy of building military bases in the regions. With Russia's recognition of their independence, the leadership in Abkhazia and South Ossetia have little incentive to consider Georgia's negotiation overtures, which can offer modest enticements compared with the protections of the Russian state.
These Russian activities have left little room for Georgian politicians to take any stance other than a pro-Western, anti-Russian one. Neither has Russia's post-war position made this easier. Russia's position in Abkhazia and South Ossetia has strengthened since 2008. Russian military bases sit on Abkhazian and South Ossetian soil. The Russians have signed a new economic treaty with Abkhazia that will bring considerable Russian investment to the region. The Georgian government views this treaty as a move to annex Abkhazia.
Shevardnadzean acrobatics
At one time, the Georgian leadership could navigate the difficult waters between east and west. Eduard Shevardnadze, Saakashvili's predecessor, maintained close ties with Russia and studiously navigated its interests in a way that avoided most direct confrontations, all the while establishing solid pro-Western connections that reached back to his years as the Soviet Union's foreign minister.
But with the Rose Revolution, Saakashvili ushered in an era of zero-sum politics toward the West, alienating the Russian leadership on several occasions. This "pro-Western at any cost" policy has also emerged in Georgian domestic politics, in the form of a war of words between Garibashvili, and a rival with stronger Western credentials, former defence minister Irakli Alasania.
While still in office last month, Alasania publicly criticised an anti-corruption project in the ministry of defence for being a political witch-hunt. Garibashvili responded by sacking him. Alasania responded with accusations that the Georgian leadership had rejected a "Euro-Atlantic choice", an allegation that Garibashvili has been quick to reject – highlighting the importance of Georgia's Western orientation and its need to maintain its benefactors in Europe and the US.
So in the current climate, it looks impossible for Georgia to return to Shevardnadze-style flexibility, even for those who may want it. Given that the current Georgian political theme of Russian occupation transcends party differences, Georgian leadership is limited to a foreign policy that rejects Russian influence and embraces the West.
To read previous instalments from our Russia's borders series, click here.