Last week, the Adult Video News (AVN) Media Network opened pre-nominations for the 2014 AVN Awards, known as the "Oscars of Adult", and announced the inclusion of two new categories: the best safe sex scene and best condom manufacturer.
These novel additions were in response to a recent outbreak of HIV in the pornography industry, where four actors had reportedly tested positive for the virus. Although the industry's trade organisation, the Free Speech Coalition, insisted the virus was likely contracted outside working hours, it imposed a moratorium on filming, pending further tests. This was lifted on Friday 20 September and filming resumed.
Industry-imposed moratoriums and awards for safe sex are one thing, but government mandates around condom use remain disputed territory. On September 14, California's upper house shot down a bill that would require actors to use condoms when filming sex scenes in the state.
The legislation is set to be reintroduced in the next parliamentary session. But pushing through such regulations will be no easy feat in a country where civil liberties are fiercely protected.
The case against condoms
The use of condoms is not standard practice in the mainstream US porn industry. There have been a number of arguments both for and against their use, dating as far back as the first HIV outbreak in the industry in the 1980s, and with each outbreak since.
Some commentators argue that the theatrical and prolonged nature of sex in porn means condoms cause discomfort and chafing for female performers. Standard condoms aren't designed for prolonged sexual encounters, and performers are reluctant to keep changing condoms throughout a scene.
But this argument is perplexing because there is another successful genre of pornography that manages condom use quite well: gay porn. Here, condom use has been standard practice since the late 1980s.
While bareback or condom-less gay porn does exist, it is highly contentious. Researchers investigating the increased popularity of bareback porn among gay men have speculated that it may reflect changing attitudes to HIV, or may be evidence of "condom-fatigue" in the gay community.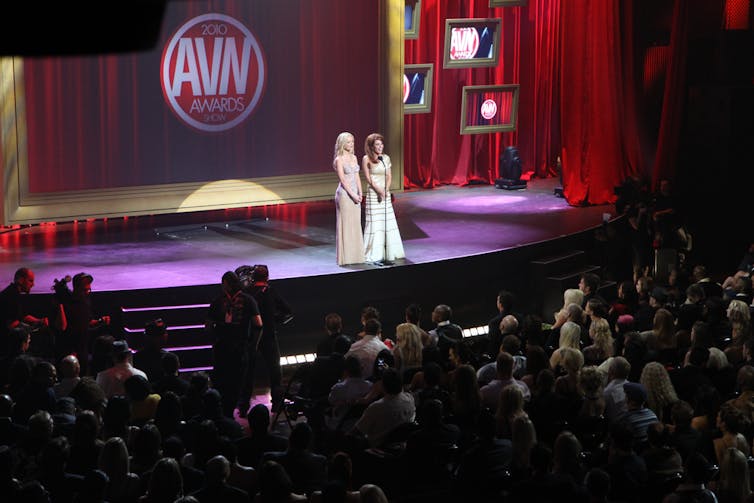 Porn producers have also argued that audiences don't want to see sex with condoms because porn is about fantasy, not real life.
But pornography is not purely fantasy, and involves real people's real bodies. Trading off the potential risk to performers' health against audience's preferences is a harsh equation.
While this "aesthetic" argument has not played a major role in recent debates, it still has currency, with some critics arguing that mandatory condom use will cause audiences to reject mainstream pornography in favour of deregulated alternatives.
Pornography and health
With infrequent condom use, the US porn industry has had to rely on testing. In California, the Adult Industry Medical Foundation acted as a centralised testing agency for HIV and STI testing from 1998 until its closure in 2011, following a leak of the patient database. For many porn performers, centralised testing offered security and the US industry was considered to be self-regulating when it came to sexual health.
But regular testing was not a guarantee of freedom from STIs. Porn performers have sex off camera too, and they make their own decisions about whether to use condoms in this context. This overlap becomes tricky when porn actors aren't aware of their partners' health status outside of work.
When extreme porn performer Belladonna announced in 2003 that she was "retiring" from male-female porn to specialise in directing and girl-girl scenes, she openly dismissed the reliability of the industry's testing regime. Her concern wasn't HIV, but gonorrhoea, chlamydia, and other infections.
Condoms and civil liberties
Many in the industry oppose legislation around condom use. Even some porn performers who choose condoms themselves have argued that condom use should not be mandated by the state.
However, other performers have not been be able to choose safer sex in the heterosexual porn industry. In a press conference for the AIDS Healthcare Foundation, Cameron Bay, who announced her HIV positive status in August, called for a wider acceptance of condom use, saying she had felt pressured not to ask for condoms.
Testing is currently regulated by the Free Speech Coalition, whose name reflects the national focus on freedom of choice and civil liberties. From an Australian perspective, it seems extraordinary that any industry would not be subject to occupational health and safety regulations. As Bay's partner, Rod Daily, observed in the same forum, using "condoms in porn is not really that crazy a thing."