The latest attack ascribed to Boko Haram, a suicide bomb set off in the city of Zaria, has killed at least 25 people. While the group has not yet commented on the bombings, they follow a week of carnage across northern Nigeria – proof that the Boko Haram insurgency around Lake Chad and its long campaign against the Nigerian Government has entered a new phase.
Having been beaten back by a significant regional force led by troops from Chad, Boko Haram no longer holds the vast areas of land it once did, but it is also very clear that the Nigerian government does not control all of these areas either. The security of the people who live there is still anything but assured – that much has now been made clear by some of the worst violence Nigeria has seen for a long time.
On June 30, Boko Haram insurgents shot 48 men leaving prayers at a local mosque near Monguno in Borno State. The next day, around 50 gunmen killed 97 villagers near Lake Chad; the day after, two suicide bombers blew themselves up in villages in Borno, killing at least ten.
In a particularly disturbing attack on July 3, around 50 gunmen on motorbikes stormed in to the village of Mussa and killed anyone they found. Then, on July 5, the extremist group attacked a church in the north-eastern city of Potiskum and detonated two bombs in Jos, taking the week's total of victims to more than 200 – though the isolation of many Boko Haram targets and the opacity of the Nigerian state means that nobody knows how many people were actually killed.
Spike
The fact that it also took around 48 hours for news of these atrocities to reach the new military headquarters at Maiduguri, the capital of Borno, speaks volumes about the Nigerian government's loose grip on the country.
This violence is the worst since Nigeria's president, Muhammadu Buhari came to power with a mandate to destroy the insurgency, which has killed more than 15,000 people. Since he took office the group has taken around 450 lives, launching raids and suicide attacks across the region.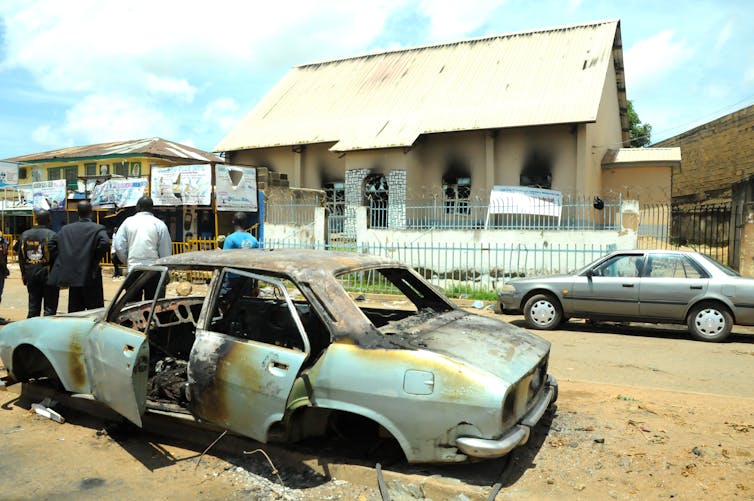 Outside Borno, Boko Haram has recently been linked to a regular upsurge in violence during Ramadan. The suicide bombings in Jos targeted a Muslim restaurant and a mosque in what appeared to be an attempt to assassinate a Muslim cleric – Sani Yahaya of the Jama'atu Izalatul Bidia organisation, which advocates peace between faiths.
This significant spike in violence has led to concerns that Boko Haram and regrouped following the successful military assaults by the regional military force that brings Nigeria together with Chad, Cameroon and Niger to establish real regional military cooperation.
The Chadian intervention has been a real game-changer, forcing Boko Haram back and encouraging the Nigerian military to commit better quality troops and creating a regional military command in Borno.
Chaos and spiralling violence
While this slew of attacks proves Boko Haram is still very much alive, it also heralds a new phase in the saga. This is now a game of hit-and-run coupled with terrorism, rather than a struggle for territory. At the same time, the last week's slaughter also shines a light on Chad and Nigeria's sharply contrasting fortunes in their offensives against the group – and on deep underlying issues in both countries.
The Nigerian story is one of recrimination and spiralling violence. The Nigerians themselves have shifted their military headquarters to Maiduguri in Borno, 500 miles away from the capital, Abuja, until the insurgency is resolved. The aim is to centralise operations, cut bureaucracy and speed up decision making, while overcoming a common perception of the senior military personnel being removed from the soldiers on the front line.
The Nigerian military has a history of downplaying complaints of poor equipment and supply by those operating in Borno, even when disillusioned soldiers have refused to fight, or even in one case, shooting their commanding officer.
In keeping with many poorly disciplined and supplied militaries, the Nigerian army's tactics have become ever more violent. A recent Amnesty International report accused the military of killing some 8,000 civilians, routinely engaging in torture and forcible detention and also accusing several military leaders of crimes against humanity.
Chad steps up
But whereas the situation has led to a great deal of soul-searching within the Nigerian military over its failure and embarrassment in not dealing with the militants, Nigeria's Chadian counterparts scored a major success when they crushed a terrorist cell in their capital, N'Djamena.
The Chadians have reportedly arrested 75 militants who were planning attacks on their soil, which hosts the regional command centre for the forces combating Boko Haram.
These militants were apparently coordinating weapons and recruit trafficking for the group; among them is a senior and well-known leader, Naana Fanay, alias Mahamat Moustapha. Crucially, the Chadians also arrested a Boko Haram financier, who they believe could well hold further intelligence on Boko Haram's poorly understood regional operations.
Both sides are escalating the fight – and a new regional fighting force comprising 8,700 troops from Nigeria, Niger, Chad, Cameroon and Benin is due to deploy at the end of July. But the dramatic performance gap between Nigeria and Chad, the two pre-eminent military forces in the region, is a serious cause for concern. It remains to be seen if Nigerian military is actually capable of leading the fight against Boko Haram.