The launch of the End Prostitution Now campaign in Scotland earlier this month signalled a continued commitment among certain individuals and groups to a policy of criminalising clients of sex workers.
In light of the recent decision to criminalise clients in Northern Ireland, following in the footsteps of Sweden, Iceland, and Norway, the apparent popularity of this policy direction may create the impression that this is the most sensible course of action.
Those in support of adopting the Swedish model argue that prostitution is inherently exploitative and that outlawing the purchase of sex would assist in achieving greater gender equality. Is it the most helpful course of action for sex workers? The evidence suggests that it is not.
A report published in 2010 on the impacts of the criminalisation of clients in Sweden suggested that since the change in the law, fewer men admit to paying for sex and there has been a dramatic reduction in the numbers of street-based sex workers. The experience in Sweden has been praised in some corners as a change for the better.
But sex workers often tell a different story of what such policies mean for them. Sex workers have said that they feel at greater risk when clients are criminalised. Research conducted with street-based sex workers in Canada found that a new law enforcement strategy in Vancouver, which targeted clients, had inhibited the safety strategies used by sex workers to manage risks. As a result they rushed screening practices, getting into cars quickly so as to avoid detection by authorities.
Claims that the change in the law in Sweden has reduced the sex worker population have been widely disputed. Instead, it has been suggested that sex workers now work more covertly indoors and in greater isolation, since the law means that those who work together risk being accused of profiting from the prostitution of others. Sex worker rights advocates have also argued that the criminalisation of clients in Sweden has increased stigma, which has wide-ranging negative impacts on sex workers.
Listening to sex workers
Proponents of a policy that would criminalise clients argue that it is the right course of action, not only for sex workers but for all women. However, Scotland's sex worker organisation, Scot-Pep, disagrees. One sex worker has taken legal action to challenge the recent change in Northern Ireland, fearing that sex workers will face greater risks when clients are criminalised.
Sex worker-led advocacy groups around the world have spoken out against the criminalisation of clients. A recent survey carried out with 500 sex workers in France, where the criminalisation of clients has been considered, found 98% in opposition, fearing that this would place them at greater risk of violence and poverty. A similar survey conducted in Northern Ireland in 2014 revealed the same thing.
However, the stigma attached to sex work means that it is often difficult for sex workers to publicly speak out regarding such policies. What this means is that the voices of those who will be most affected by policy changes – and those who are best placed to speak about what policy is right for them – are the least likely to be heard. If policy is to be made that makes a positive difference for sex workers, then it is crucial that sex workers have a genuine say – and are taken seriously.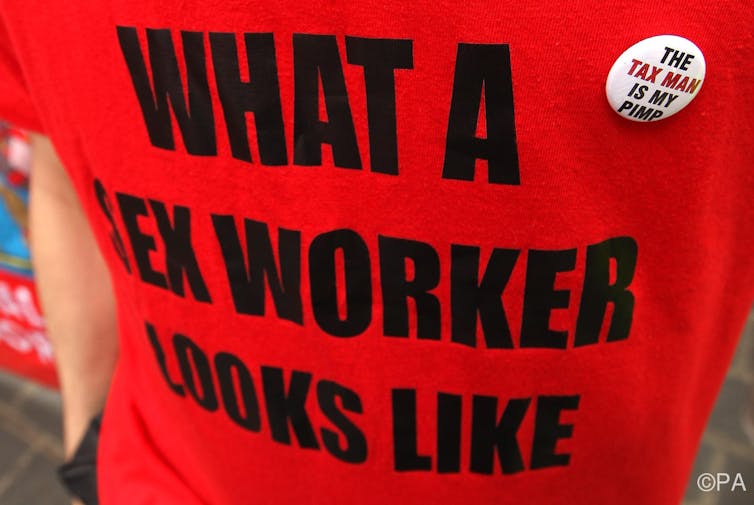 An alternative approach
When we listen to sex worker-led organisations, it is apparent that there is an alternative approach to the criminalisation of clients. Full decriminalisation would mean that neither the sex worker nor the client is criminalised.
This approach was adopted in New Zealand in 2003, and the evidence suggests this change has been positive for sex workers. In fact, it has been suggested that New Zealand is the best place in the world to be a sex worker.
Research conducted by researchers from the Christchurch School of Medicine into the impacts of the Prostitution Reform Act found that sex workers are now better placed to challenge exploitation, reflecting the specific provisions contained in the act to decrease exploitative working practices. This research also revealed a high level of awareness among sex workers of their rights since the law changed – with 95% of respondents reporting they felt that they had rights under the act.
Research carried out specifically with street-based sex workers, who are often considered to be the most vulnerable group, indicated that decriminalisation makes it easier to manage risks of violence since screening does not need to be rushed. In 2014, an indoor sex worker won a landmark sexual harassment case against a brothel operator using the Prostitution Reform Act. While no law is perfect, the evidence overwhelmingly suggests that decriminalisation has been positive for sex workers in New Zealand and has shifted the power balance in their favour.
Proponents of the criminalisation of clients argue that adopting this policy would create greater gender equality. However, would gender equality really be a step closer by creating a law that some women in sex work say they don't agree with, a law that they say would make them less safe and would have a negative impact on their lives?
A unique feature of New Zealand's decriminalised model is that the law was written with the input of sex workers, with their human rights and well-being at the centre of the policy.
But should this be unique? Shouldn't it always be the case that what sex workers have to say is prioritised in policy debates about their lives? Debates about prostitution law reform are often reduced to two opposing paradigms – one which argues that sex work is inherently exploitative and another which argues that sex work is work.
Full decriminalisation does not necessitate denying the harm and exploitation that can occur in sex work. On the contrary it provides an opportunity to afford rights to sex workers so they can challenge exploitation, rather than creating barriers that make their work more difficult. And if we are to focus on human rights and the reduction of harm, then we must put ideology aside and make policy that is based on respect for sex workers as the experts on their own lives.