In the wake of the furore surrounding the raising of university tuition fees in England to a maximum of £9,000 a year in 2012, there has been extensive debate on the size of the debt that students will accrue after three years of university study.
Less attention has been paid to how students and their families manage the costs of accommodation and day-to-day living, and whether these costs deter or disadvantage those from lower income families whose living expenses have, up to now, been offset by maintenance grants.
But the majority Conservative UK government has far-reaching plans for government debt reduction. One public spending cutback measure hinted at in recent weeks is a proposal to phase out the system that provides non-repayable maintenance grants to university students from low-income backgrounds.
A report on BBC's Newsnight programme on June 11 suggested that cuts in maintenance grants (as opposed to maintenance loans which do have to be paid back) are almost inevitable, though there has so far been no confirmation from official sources. More could become clear when George Osborne announces his summer budget on July 8.
Suggestions that the maintenance grant may be scrapped – saving the Department for Business, Innovation and Skills around £2 billion a year over three years – are all the more unexpected because few people are aware that there still is a means-tested maintenance grant for students in England. Yet 531,000 higher education students were awarded a maintenance grant in 2014-15. Of these 368,300 were awarded the full grant of £3,387 a year and 122,800 were awarded a partial grant. Therefore around half a million students are likely to be negatively affected by its abolition.
Amid negotiations ahead of the expected spending cuts, the BBC report suggests that proposals to withdraw income-contingent maintenance grants have been on the government's agenda since 2013, although they were blocked by Nick Clegg, former Liberal Democrat deputy prime minister – presumably for fear of the kind of public outcry that accompanied the £9,000 fees hike and his party's u-turn on the issue. Now the Conservatives are back in power with an overall majority, there seems no political obstacle to removing maintenance grants.
While the possible scrapping of these grants would certainly hit lower-income students hard, we would argue that the question of its impact on university application rates is a subsidiary one. What is more important is whether implementing such a cut is tantamount to the end of publicly funded education, as it has been historically understood. If so, what are the implications for our notion of equality in educational opportunity?
It seems that the government, while seeking to reduce national public debt, is in practice pursuing policies of increasing private debt, and is prepared to pass off government debts onto those whose families are least likely to be able to afford to repay them.
Tracking the shift in maintenance costs
Policies to shift the costs of higher education from the public purse to the private individual pre-date the controversial hike in tuition fees in 2012. Means-tested maintenance grants (familiar to those who went to university between the 1960s and 1990s) were phased out from 1998. A series of alternative measures aimed at supporting poorer students have been in place since that time. The Blair Labour government introduced tuition fees of £1,000 from the 1998-9 academic year, replacing maintenance grants with repayable student loans for all but the poorest students.
In 2001, geographically-targeted means-tested government grants (Opportunity Bursaries) were introduced and, in 2003, a national Higher Education Grant of £1,000 a year was rolled out by the Labour government. The income threshold to qualify for these grants was low, and in effect only students in families dependent on benefits were eligible to receive them.
In 2006, they were re-named Higher Education Maintenance Grants. Their level was increased to up to £2,700 a year and eligibility was widened to some extent through the implementation of a higher income threshold. These grants became what are now known as Maintenance Grants.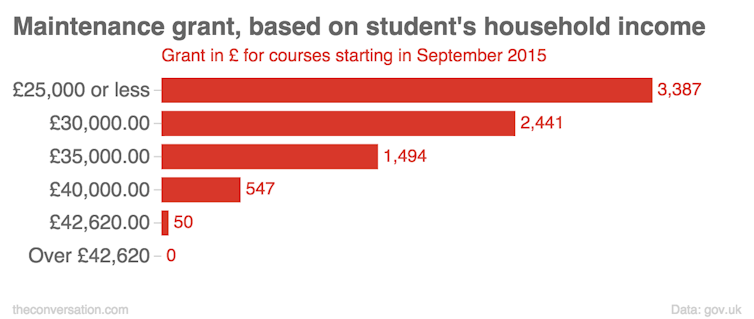 Currently, the maximum Maintenance Grant is £3,387 for families with an income below £25,000 per year; there is a sliding scale of decreasing grant payments up to an annual income of £42,000. Students, whatever their family income, are also eligible to apply for repayable Maintenance Loans of up to £5,555 a year (outside London) or £7,751 for those studying in London.
In 2009 the landmark Browne Review of higher education was commissioned by the then Labour government. It reported in 2010, after the election of the Conservative-Liberal Democrat coalition, under the title: Securing a Sustainable Future for Higher Education. The report, which signalled a further shift towards "user pays" higher education, recommended the removal of the maximum fee universities could charge for tuition. In the event though, the government opted to cap annual tuition fees at £9,000 –- an almost threefold increase on the previous level. These are financed through student loans, repayable after graduation.
The report was somewhat vague on whether it expected living costs to be supported solely through a loans system, or whether grants would be available for those on the lowest incomes. However, Student Maintenance Grants did survive the Browne Review and the government's subsequent 2011 White Paper, Students at the Heart of the System. But their time may now be up.
Fees and their impact on applications
Despite concerns that higher levels of debt would deter poorer students from continuing on to university, the evidence collated by the Independent Commission on Fees in (2014), which was set up by the Sutton Trust and drew on UCAS data on university applications and acceptances, suggests that, while application rates for 18 year-olds did slow in 2012, they have since recovered and continue to rise. Application rates for mature students fell, however. This suggests that not all poorer students may be as debt averse as it was feared.
Research by Neil Harrison and colleagues at UWE Bristol throws some light on this issue. They have found that:
Counterintuitively, many students from lower social-class backgrounds show positivity about debt as a means of enabling them to access higher-level careers; this is consistent with admissions data following the 2006 increase in tuition fees and student indebtedness. More generally, the mainstream of student attitudes appears to fall between the 'debt-savvy' and 'debt-resigned' types, with students being relatively well-informed about repayment terms and accepting large-scale indebtedness as 'normal', with most students being 'in the same boat'.
Harrison believes that whereas recent research findings suggest that debt may be psychosocial in origin as much as it is a class- or income-related phenomenon, proposals to reduce maintenance grants are nevertheless pernicious.
Like him, we are not convinced that lower-income students will necessarily be put off pursuing higher education if maintenance grants are scrapped. Potential students are aware that they have a better chance of getting a job – and a reasonably paid job – with a degree than without one.
Evidence from the Sutton Trust suggests that, despite the huge increase in young people with a higher education qualification, graduates still have an earnings advantage over non-graduates (though financially advantaged graduates from elite universities enjoy this to the greatest extent). An undergraduate degree also continues to represent an important "positional good" whose individual value may be measured not only in monetary returns but in terms of social standing and public regard.
More and more into the red
So, while some students may be deterred by the scrapping of maintenance grants (particularly mature students, who are likely to be more debt-averse) we should not be too surprised if application rates continue to rise if the cuts go ahead. But this is no reason to rejoice.
The cause for real concern is that, having already been burdened with massive debt, students and their families may be expected to go even further "into the red" to compensate for the government's unwillingness to fund education as a public good. It is already common for undergraduates to combine full-time work, or shift work, with full-time study. It is also clear that parents already have to subsidise the day-to-day living costs of their student offspring, with or without a maintenance grant or loan.
If the proposed cut goes ahead, it will represent another nail in the coffin of publicly funded education. For it seems that the government disapproves of debt only when it is public debt; it is quite prepared to exchange this public debt for private debt incurred by those least able to afford it.