You may have missed it among all the talk of minimum wages and welfare cuts, but as part of its summer budget announcements the UK government also abolished the requirement for new homes to be "zero carbon" from April 2016. A commitment in place since 2006 and supported through successive governments, now thrown into a bonfire of supposed "red tape" holding back new building projects and the productivity of the UK economy. It's an appalling act of policy vandalism.
I heard the news on my way back from a big international conference in Paris on Our Common Future under Climate Change, a prelude to the next round of climate negotiations to take place later this year. Listening to speaker after speaker stressing the urgency of climate action – and the attempts by at least some of those present to be optimistic about what might be agreed – I deluded myself into thinking that maybe the carbon question would now be taken seriously, even in the UK with a government demonstrating at every step its now true-blue ideology.
The zero-carbon homes policy was properly ambitious (at least in its original form). It focused on radically reducing the emissions from housing through a combination of energy-efficient building design and use of low or zero-carbon energy generation, such as solar panels. More recently forms of carbon offsetting were allowed as part of the "zero" calculation so that carbon could be mitigated away from the immediate development site. The Conservative government has now scrapped both this allowable solutions policy and the increase in on-site energy efficiency standards, taking away the foundations of zero-carbon compliance.
The meaning of the "zero" had already been diluted, stripped of any sense of entailing new ways of ongoing low-carbon living – and the closely-related Code for Sustainable Homes had been got rid of. But even so, at least the zero-carbon requirement was still in place in some form.
Not now. Not after nine years of intensive collaborative work by the Zero Carbon Hub, set up after the obligation was first put in place to work out exactly what the zero would mean, how it would be calculated and to provide guidance to housing industry on all sorts of detailed aspects of compliance. This is what makes it policy vandalism and a damaging breach of trust that can only undermine attempts at collaborative initiatives in the future.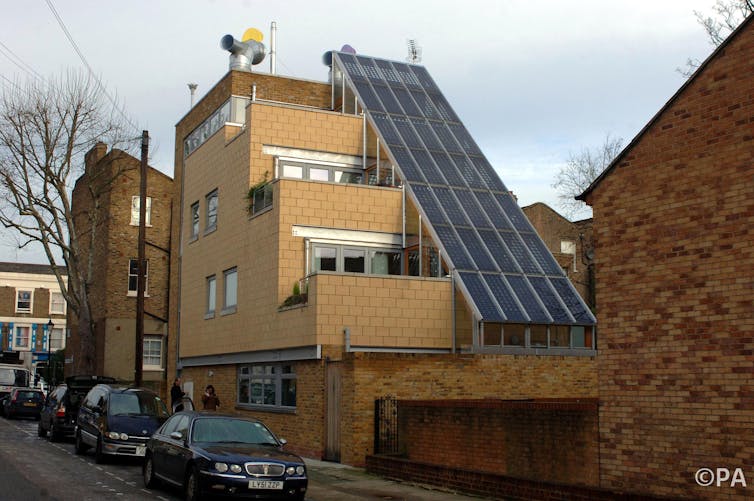 It's not just those trying (increasingly desperately) to make the case for action on climate change that have protested, the British Property Federation, the Chartered Institute of Building the UK Green Building Council and some (but not all) other industry bodies have registered their protest at the loss of a long-term commitment to improving the energy and carbon efficiency of new homes.
The government's argument is that scrapping the zero-carbon obligation will stimulate house building and help reduce house prices. But the evidence is lacking for both claims, with high house prices in particular far more a function of the dysfunctional way that property markets work in the UK and the lack of a proper regional policy to distribute jobs and growth more evenly across the economy.
More fundamentally, a decision that can only serve to increase our carbon emissions projected into the future sends absolutely all the wrong signals, including to those governments in the Global South that quite rightly point out our historic and contemporary responsibility for carbon accumulation.
Maybe house builders will still take up some of the innovation and capacity for building in new low-carbon ways that have been developed over the past nine years. But without the regulatory push it is hard to imagine that things will not level out at a lower standard.
There is now an open invitation to build less carbon-efficient houses, for profit-making at the expense of our deep moral responsibility to act now to mitigate future climate impacts. Yes new homes are needed (in some places), but not at this cost, and not in a way that destroys even the limited sense of what "zero carbon" had become.