Sebastian Kurz, the youngest leader on the world stage and slated to become the next Austrian chancellor under a potential coalition, might resemble Donald Trump Jr in appearance, but he is far more eloquent. And while he shares Donald Trump Sr's proximity to the far right on the issue of immigration and Islam, he also held a speech in front of the UN General Assembly in defence of globalisation, citing Kofi Annan and condemning Russia's Ukraine policy.
It remains to be seen how 31-year-old Kurz's pre-election positions play out once he is in power. After his triumph in Austria's latest election, a coalition government comprised of his conservative Austrian People's Party (ÖVP) and the far-right FPÖ is considered the most likely outcome.
During the campaign, the ÖVP converged its position with that of the far-right FPÖ to such a degree that the latter cried foul, branding Kurz a copycat. Running a campaign on closing the borders, promising more and quicker deportations and casting rescue missions for drowning migrants as "NGO madness", Kurz tirelessly emphasised that there was no need to vote FPÖ. Why bother when a politician presents himself as part of a movement – a sort of right-wing en marche – that will crackdown on immigration, confront Turkey and end corruption?
But Kurz is not as extreme as Geert Wilders in the Netherlands or his probable future coalition partners Heinz-Christian Strache. His rhetoric is less confrontational and his positions seem less radical than those of the FPÖ. Yes, he seeks to ban headscarves for teachers – but not if they teach religion. He wants to close the borders for refugees but emphasises that Austria already has more than its fair share and that refugees should not be allowed to pick and choose which EU country to live in. Why would they not stay in Greece?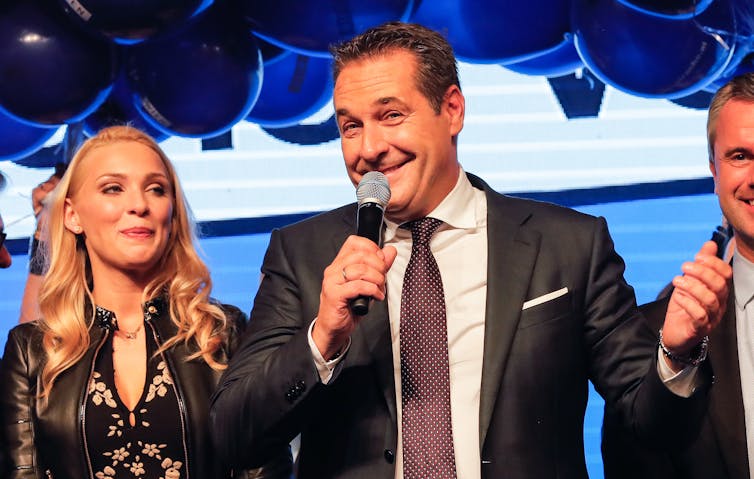 The messages are not as provocative as those coming from the FPÖ, which has in the past used election slogans such as Heimatliebe statt Marrokkaner-Diebe ("Love for the homeland instead of Morrocoan thieves") or Daham statt Islam ("Home instead of Islam"). Where the FPÖ craves provocation, Kurz wants to be seen as pragmatic and confident enough to speak inconvenient truths.
A coalition with the far right is not only a concern for ethnic minorities. The FPÖ is absolutely opposed to gay marriage and uses every page out of the homophobic rulebook to attack it. Strache argues that same-sex should be happy with civil partnerships. Anything more, Strache states, would amount to an attack on the traditional family – a notion that the left allegedly hates. As for the ÖVP, it has already blocked a parliamentary initiative to expand marriage to same-sex couples.
Austria in Europe
Despite the differences in style and rhetoric, a coalition with the FPÖ puts Kurz in a similarly divisive position as Donald Trump.
There is precedent in Austria for a coalition between a conservative party and the FPÖ. When Jörg Haider's FPÖ achieved a sensational 27% in the national council election of October 1999, shockwaves were felt across Europe. Haider was not only openly xenophobic and opposed to refugees, he praised the labour policy of the Third Reich. At the time he was seen as a youthful breath of fresh air for many on the right who were tired of decades of seemingly endless grand coalitions. Under Haider's coalition, Austria became internationally isolated and there were even calls for sanctions among EU politicians. The other 14 EU member states agreed to a joint position and decided to reduce diplomatic relations with Austria to a minimum.
Now, nearly two decades later, many European members states are witnessing a shift to the right. It's extremely unlikely that the rest of the EU will turn on Austria in the way it did in 2000 when a far-right government takes power this time. Right-wing governments in Central and South Eastern Europe might even look to Kurz as a potential source of stability.
Kurz is undoubtedly a talented career politician who recognised that this would be his calling when he stopped studying law in favour of becoming a lawmaker. The ÖVP saw great potential in him early on. Aged just 27, he became the youngest ever foreign minister. Only four years later and he is set to become the youngest world leader. His strength is to anticipate critical questions and interpret and sell his right-wing positions as common sense moderate policies. Underestimating him ahead of debates has proven to be a huge mistake.
Before rising to the top job, Kurz was not only foreign minister but also minister for Europe and integration. As a true integration expert, he may soon integrate euroscepticism, xenophobia and homophobia into his cabinet.