On Oct. 15, 2017, the United Nations will withdraw its peacekeeping troops from Haiti, ending its 13-year mission there.
One might expect mixed feelings about the soldiers' departure. After all, since the arrival of the U.N. Stabilization Mission in Haiti (MINUSTAH) in June 2004, after former President Jean-Bertrande Aristide was forced out by a coup, the island has seen neither war nor armed conflict.
Crime and violence levels also remain high in Haiti, particularly in the capital of Port-au-Prince, and until January 2017 the country was leaderless due to repeated delays in holding its presidential election. Haiti is also still recovering from Hurricane Matthew, which caused famine in some hard-hit areas in 2016.
Despite these challenges, reports from the island suggest that most Haitians are ready to see the mission depart. That's because, beyond stabilizing the country during a period of political tumult, the U.N.'s troops have also done harm in Haiti.
The international organization has admitted that its peacekeepers introduced cholera to the island after the devastating 2010 earthquake and sexually abused women who lived near U.N. camps.
What it has not yet acknowledged is that during early efforts to take out gangs in crime-riddled neighborhoods, U.N. troops also unintentionally killed more than 25 of the same citizens they were deployed to protect.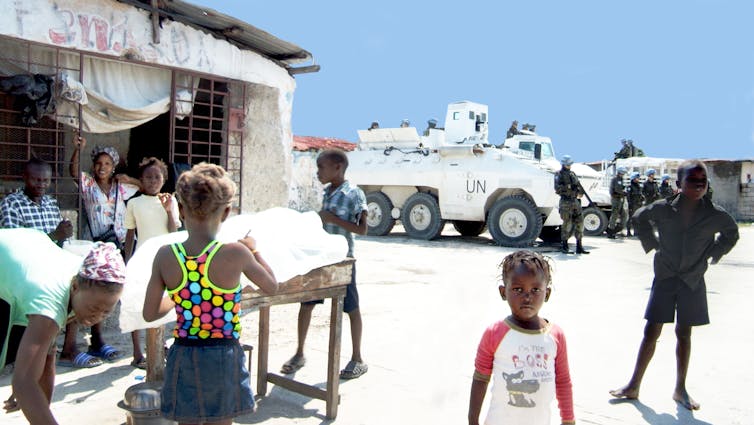 Keeping the peace?
This lethal violence, which has garnered little international press, is the subject of our new film, "It Stays With You: Use of Force by U.N. Peacekeepers in Haiti," a 50-minute documentary released in Port-au-Prince in June 2017 and set for its U.S. release on Oct. 30.
Between 2004 and 2007, MINUSTAH carried out at least 15 heavily militarized operations against criminal gangs living in Cité Soleil, a seaside shantytown of 300,000 to 400,000 people. In these crowded neighborhoods, where most homes are made of scavenged sheets of corrugated metal and other scrap materials, the U.N. troops battled local organized crime groups using heavy weaponry, including automatic rifles and grenades.
During Operation Iron First, for example, which took place in the Bois Neuf section of Cité Soleil on July 6, 2005, the U.N. reports that it used 22,700 bullets, 78 grenades and five mortars and killed seven gang members.
But, according to some residents interviewed in "It Stays with You," unarmed civilians also died in this raid. Douglas Griffiths, then deputy U.S. ambassador to Haiti, has also confirmed that "credible sources" have accused U.N. peacekeepers of killing "more than 20 women and children" in the operation.
Some were shot inside their homes by U.N. soldiers in helicopters, whose bullets easily penetrated their metal rooftops. These accounts have been substantiated by witnesses and international aid workers interviewed for our film, including by one American doctor who saw bullet holes in the roof of a home that he visited while treating a young girl for gunshot wounds.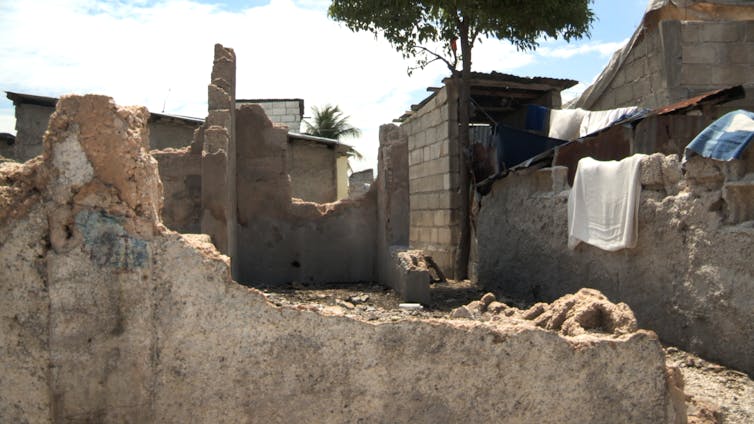 Other Cité Soleil residents were killed by machine gun fire by U.N. troops from armored personnel carriers, shooting from guns mounted on the vehicles' roofs. Witnesses state that during Operation Iron Fist, sustained firing over several hours destroyed entire homes, killing some of the people inside them.
In 2005, Jean-Marie Guehenno, who was then the U.N.'s undersecretary general for peacekeeping, essentially confirmed these reports. At a press briefing at the U.N. headquarters in New York, he said, "A number of operations have been conducted by MINUSTAH… I have to be honest with you, there may have been some civilian casualties."
The following December, just before Christmas in 2006, the U.N.'s Operation New Forest went through some 10,000 bullets over two days. Numerous people with no connection to gangs, including children, were killed or injured in this raid.
The exact number is unclear, however, since the U.N. has carried out no investigations involving a visit to the neighborhood into this raid or others in Cité Soleil. The Haitian police have conducted no investigations, either.
No accountability
These accusations are not the first to damage the reputation of the U.N.'s vast peacekeeping operation, which currently has soldiers stationed in 15 countries around the world. Rape and other forms of sexual abuse are an endemic problem in multiple missions.
Even so, MINUSTAH has a bad record. In Haiti, 134 Sri Lankan soldiers set up a child sex ring, exploiting boys and girls as young as 12 years of age. There is little accountability for such violations. The Sri Lankan troops were sent home, but none have been jailed; the U.N. was criticized for its inadequate response. It also took five years for the U.N. leadership to take responsibility for the cholera epidemic.
It is not surprising, then, that the international organization's response to the killings in Cité Soleil has been lackluster. The end of the Haiti mission this month offers an opportunity for an independent investigation into the unintended harms of U.N. operations in Cité Soleil, particularly in Bois Neuf.
Based on our on-the-ground research, we believe a full accounting would find that the repeated military raids not only killed innocent bystanders but also exacerbated the precariousness of residents' already marginal existence. Poor families lost their breadwinners; homes were destroyed; children were made orphans and had to be taken in by neighbors.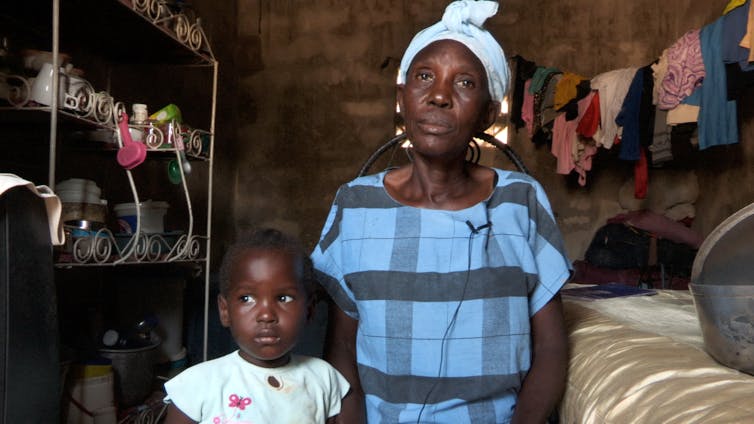 After a pot-maker, Nelson Ti Lari, was inadvertently killed in his workshop in 2005, his wife, Veronique, told us that she repeatedly visited the U.N. base at Camp Delta with a photograph of her dead husband, seeking acknowledgment that the breadwinner of her family had been killed. But, she says, the staff there sent her away every time. Eventually, she gave up.
Failing U.N. support – such as medical assistance to those injured in raids or financial support to people who lost their homes or livelihoods in the crossfire – people were compelled to seek help from the cohort of international NGOs that have provided the bulk of citizen services in Haiti since the 2010 earthquake.
There is a growing body of international literature, including research by Dr. Ilionor Louis, co-author of this article, demonstrating that such forced dependency is itself a form of indirect violence. And in a country like Haiti, where post-disaster aid is big business and oversight of NGOs is almost nil, this will be another lasting legacy of the U.N. mission.
In making our documentary, we found that Cité Soleil residents aren't just sad for their losses – they're also angry that the U.N. hasn't taken responsibility for its actions. MINUSTAH may be pulling out of Haiti on Oct. 15, but the the agency's misdeeds will live on in Cité Soleil long after the last peacekeeper departs.
The film "It Stays With You: Use of Force by UN Peacekeepers in Haiti" is available for streaming (password Haiti17).