David Ginola has announced he will stand for the presidency of FIFA, opposing current chief Sepp Blatter. Ginola's bid (sponsored by betting company Paddy Power) comes on the heels of Prince Ali Bin Al Hussein of Jordan's surprise announcement that he would stand for the post at the FIFA congress on May 29 in Zurich.
Blatter originally declared in 2011 that he would not stand for re-election this year, partly on the grounds of his age (he will be 79 at the date of the vote), but has changed his mind since.
Blatter has held the role since 1998, and was re-elected three times. FIFA's reputation has been sullied in relation to claims of financial irregularities and the nature of the awarding of the World Cup to Russia in 2018 and Qatar in 2022.
The vote
FIFA currently has 209 members, and whoever wins the presidential race will have to have the backing of 105 delegates at the FIFA congress.
Despite all the scandal, Blatter is the strong favourite. FIFA delegates tend to operate with a herd mentality, and therefore it is essential to get the support of regional blocks of votes rather than individual football associations – 133 countries who vote for the FIFA president have never appeared in a World Cup final tournament, and Blatter's experience in keeping delegates from these countries happy could well be crucial.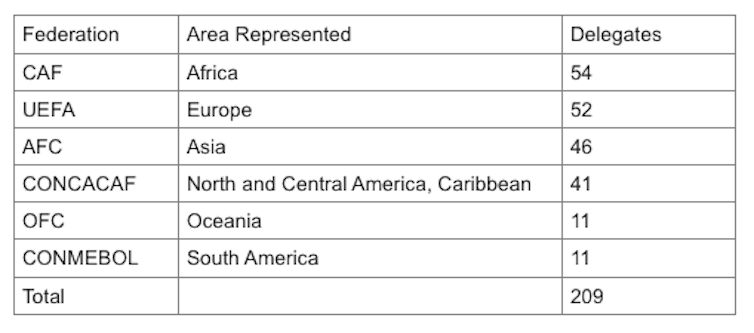 Blatter has close allies in the likes of Sheikh Ahmad Al Fahad Al Sabah of Kuwait, who is head of the Olympic Council of Asia, and is likely to carry the support of most of the 46 Asian Football Confederation countries. Similarly Blatter is held in high regard in Africa, which has 54 members. If he can take both these blocs then he is almost certain to win the election.
Prince Ali is most likely to have support from European countries, partly due to his friendship with UEFA president Michel Platini, but also due to those countries being most unhappy with the recent allegations about impropriety made before, during and after the awarding of the 2018 and 2022 World Cup Finals.
The investigation into the allegations, undertaken by American lawyer Michael Garcia, has been dogged by accusation and counter accusation, which culminated in Garcia resigning his position.
Why is Blatter so popular?
Blatter's power base has arisen for two reasons: money and benefits.
The 2014 World Cup tournament in Brazil was a financial success for FIFA, which generated more than US$2 billion from the event. Of this sum, less than 30% ($576m) went to the participating teams and the clubs they play for. This allowed Blatter to announce shortly after the tournament that each of the 209 voting countries would receive $750,000 each to share in the success of the tournament.
While this is a insignificant sum for the larger footballing nations, it is of far greater significance for those countries who have little or no history or probability of participating in the finals.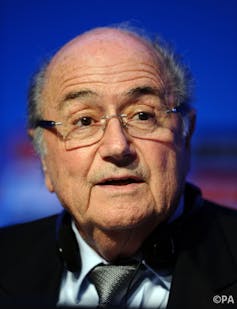 How this money is spent comes down to individual football associations to determine. FIFA has no involvement or audit of these distributions. The DPR North Korean Football Association, for example, earned US$8m from participating in the 2010 finals in South Africa. There is zero evidence to support that any of this money was spent on the sport.
FIFA delegates are also well looked after. In 2013, when FIFA held the Confederations Cup in Brazil (effectively a dress rehearsal of the 2014 competition), the association spent US$70m on expenses for the tournament. It spent a further US$68m on travel and accommodation for countries who were in the qualifying tournament for the finals themselves. The delegates have Blatter to thank for five star hotels and business class travel around the world to the FIFA Annual Congress and other events.
Blatter's behaviour
Blatter has made a number of comments over the years that have provoked criticism. He claimed that women's football would be more popular if players wore "tighter shorts and low cut shirts", that racism on the pitch could be resolved with a handshake, and that homosexual fans travelling to Qatar for the 2022 tournament should "refrain from sexual activity".
His failure to criticise the Russian football authority, which recently suspended and fined Guelor Kanga, a black player who reacted to racist chanting and behaviour from fans, has added to the view that he is happy with racism, sexism and homophobia in the game.
Will the prince become king?
Prince Ali's chances of success will probably depend on the reaction of FIFA's main sponsors, who contributed more than US$400m in marketing income to FIFA in 2013, and even more in the World Cup final year. If these global organisations, such as Adidas, Coca-Cola and Visa are unhappy with being associated with FIFA and its reputation, they could put pressure on the delegates to reform and have a fresh start under new leadership.
Ali has earned plaudits for his work in some grassroots projects in football, and encouraging FIFA to relax rules in relation to religious headgear. Whether this is enough to displace Blatter from his throne is at present unlikely in my view.
As for Ginola, apart from his friendship with Michel Platini, it is difficult to see how he would put up a serious challenge.