According to data released by the US National Oceanic and Atmospheric Administration (NOAA) this week, September 2016 was the second-hottest September on record globally. Until then, every month since April 2015 was the hottest for its month on record (the hottest August, the hottest July, and so on).
Back in April 2015, Donald Trump was still considering whether to run for US president while Malcolm Turnbull was still five months away from becoming Australian Prime Minister. Since then we've also seen two new versions of the iPhone come out.
So our 16-month streak of record heat is a long one. In fact it's the longest in NOAA's 137-year records of global temperatures. Other global temperature series have slightly different records but the general story is the same – the last couple of years have been very hot.
Rising temperatures
Heat records are a clear sign that temperatures are rising. If they weren't, you wouldn't expect too many new records after more than a century of measurements. For example, to get a record-hot September now means that it has to be hotter than all the other Septembers that have gone before, all 136 of them.
Statistically we might expect record hot or cold months about only once a decade if temperatures were flat. Records are often clustered, one hot month is usually followed by another one.
Of course we do have a trend in global temperatures and this makes breaking heat records much more likely. Without the effect of climate change it's very unlikely we'd be experiencing so many records.
In contrast, we haven't experienced a cold record in a very long time. The last record-cold year globally was in 1911, but there have been 20 record-hot years since then up to 2015.
Several studies have shown that even on more local scales we experience far more hot records than cold records, including in Australia where we've experienced 12 times as many hot records as cold ones. The increase in hot records has been attributed to climate change.
The El Niño after the 'hiatus'
The last couple of years have been strongly influenced by El Niño. The expulsion of heat from the ocean into the lower atmosphere (where most of our temperature measurements are made) means that these periods are about one-tenth of a degree more than average.
In comparison, human-caused climate change has warmed the planet by about one degree Celsius. Combining the warming signal of climate change with the El Niño has led to the record warmth over the past 16 consecutive months.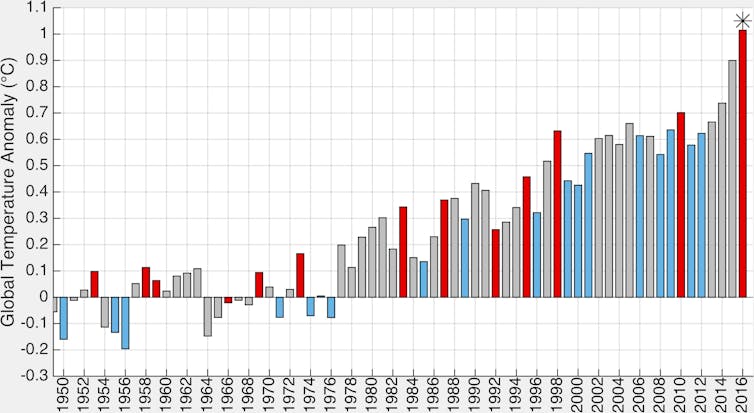 The 2015-16 El Niño came off the back of the so-called warming hiatus. From about 2000-14 the Earth experienced very little warming. This has been linked to decade-length variability in the Pacific Ocean. Since 2014, the warming has restarted and this has meant that record heat across the globe is now more likely.
Australia avoids the heat
If you're reading this in Australia you might be thinking, where's all this heat? After a warm summer and a record-hot autumn the winter was pretty wet with cities such as Melbourne feeling cool compared to previous winters. But across Australia, this winter past was the sixth warmest and second wettest on record.
More recently, September was actually cooler than average (one of the few spots across the globe to not be abnormally warm) as well as the second wettest since 1900. The wetter-than-normal conditions were associated with very warm waters to the west of Australia feeding in more moisture across the continent. The wet weather prevented heat from building up.
Australia only represents a small part of the globe though, and overall the world is still experiencing near-record warmth. Over the next few months we're less likely to see global heat records fall. Now that the El Niño has well and truly disappeared, replaced by cooler waters in the central Pacific, the record warmth is likely gone. For now.
This won't prevent 2016 as a whole almost certainly becoming the hottest year on record. This will make it the third consecutive record-breaking hot year globally.
And when the next big El Niño comes, combining with a growing human-induced climate change effect, we can be confident more heat records will fall.