A professor repeatedly tells sexist jokes in class. The dean comments admiringly on a student's appearance every time he sees her. A student's advisor sends her emails with sexual pictures and innuendo.
So what? Can't students take a joke? Can't they take a compliment?
While repeated sexual joking may not seem serious, the truth is such acts fall under the broad category of sexual harassment. Unwanted actions (verbal or physical) of a sexist or sexual nature may appear minor but can create an uncomfortable or even hostile learning environment.
In the late 1980s and early 1990s, a number of research studies revealed the disturbing fact that about a third of female graduate students had been sexually harassed by their professors. Male participants were not always included in these studies, but when they were, they reported less harassment than their female counterparts (with somewhere between two and nine percent of male graduate students indicating experiences of sexual harassment).
Since then, women's representation in higher education has almost doubled. In 1991, just under 19 percent of women age 25 and older who were surveyed in the U.S. census held a bachelor's degree (compared to 24 percent of men). Today, 32 percent of both men and women have graduated with a bachelor's degree.
More women are coming to institutes of higher education, but are they experiencing any less sexual harassment?
Sexual harassment on campus today
We recently surveyed 539 graduate students (out of about 3,500 graduate students enrolled overall) at a large public university in the Pacific Northwest. Our research findings show that rates of sexual harassment of women in graduate education on this campus were almost identical to those found nearly 30 years ago on other large university campuses.
In our research, both male and female students reported experiencing sexual harassment. However, women in our sample were more likely to have been sexually harassed than men were.
More than a third of graduate women in our sample reported they had experienced sexual harassment (ranging from repeated sexist remarks and sexualized jokes to unwanted sexual touching and sexual coercion) from faculty or staff, compared to about a fifth of graduate men. Women reported experiencing 1.64 times more harassment than did their male peers – a statistically significant difference.
Our results are comparable to findings from the 1980s and 1990s, when research found that a third of female graduate students experienced sexual harassment.
Of our female participants who had been harassed, 86 percent had been harassed by men. Of our male participants who had been harassed, 64 percent had been harassed by men as well.
Changes on campus
As we surveyed graduate students at only one school, we can't generalize to universities everywhere. But our findings are an important first step – they highlight that sexual harassment is still a very real experience for many students today.
Our results show that despite almost a third of a century and greater representation of women in higher education, sexual harassment is still a clear problem in academia. Several decades ago, schools lacked the language to talk about sexual harassment and guidelines to respond to it. But today, universities are clearly told by the federal government that sexual harassment is not acceptable in education. All universities should have publicly available definitions of what exactly sexual harassment is and instructions on how to report when it happens. Many schools have even created task forces to address sexual violence on campus.
Not safe on campus
Sexual harassment is connected with various negative outcomes. Previous research has shown that sexually harassed students can experience post-traumatic symptoms, avoid taking a class because of a professor, or even drop out of their graduate program altogether.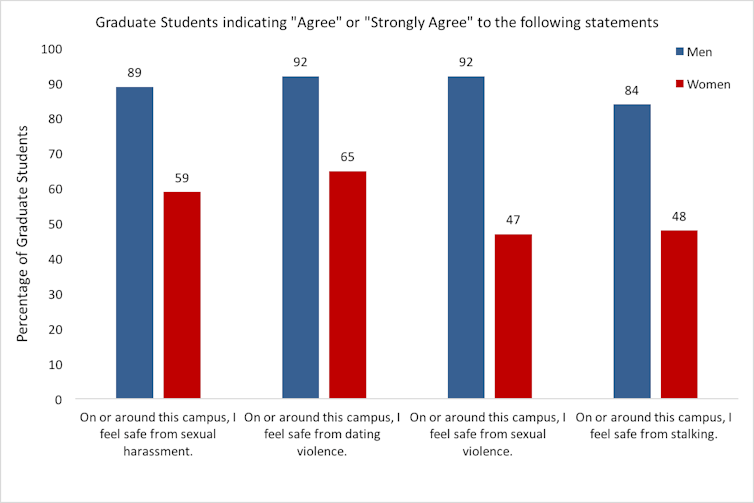 Our findings are consistent with some of this research. We found, for both men and women, that sexual harassment by faculty or staff predicted symptoms like anxiety, dissociation, sleep problems and sexual problems. For women, sexual harassment was associated with feeling less safe on campus. And in general, women felt less safe on campus than did their male peers.
When universities don't help
Students who had been sexually harassed by faculty or staff also reported more "institutional betrayal." Students depend on and trust their schools – they expect their university to keep them safe and to help them if something bad, like sexual harassment, happens.
Institutional betrayal occurs when schools tolerate negative experiences like sexual harassment, ignore reports of sexual harassment or conceal or minimize the problem of sexual harassment in general. By failing to address the issue, the university violates an implicit contract with its members – that they will be safe and respected.
For women in our study, experiencing sexual harassment by faculty or staff was significantly associated with institutional betrayal, above and beyond the effect of other traumas (no significant effect was found for male participants).
This finding makes sense given the context and power dynamics at play. Faculty in particular hold power over graduate students: to change grades, to approve research projects, to provide grant funding to help with the high costs of postgraduate education, and to advise on next steps like finding a job. Faculty can abuse their power and betray their students.
Barrier to advancement
After all these years, women continue to face barriers at several levels. They face more sexual harassment and more negative outcomes of sexual harassment than their male peers – for women, pursuing higher education costs more than money.
And after they graduate, they will be paid only 74 cents on the dollar compared to their male peers who also hold advanced degrees.
Despite increasing awareness and policy changes, sexual harassment is still a major issue in graduate education.