For many in the UK and Europe, Shaun Gladwell is considered one of Australia's leading contemporary artists. In 2013, visitors to the epic Australia exhibition at the Royal Academy of Arts in London were met first-up by Gladwell's video Approach to Mundi Mundi, 2007.
The video installation was the only work that occupied the exhibition's first room. Like many Australian entertainers, the reality is that contemporary artists still have to leave Australia to gain their recognition on the international stage – which is why Gladwell has been based in London since 2010.
In two major exhibitions opening in Sydney this week, Gladwell returns home, to the art school where he earned his Masters degree and the gallery where he was first represented. The exhibitions are organised by the Sherman Contemporary Art Foundation (SCAF) in association with UNSW Art & Design.
At UNSW Art & Design gallery, curators Barbara Polla and Paul Ardenne have selected around 20 of Gladwell's works from public and private collections for a survey of his practice for Collection+ :Shaun Gladwell.
In the words of Felicity Fenner, Director of UNSW Galleries:
This project incorporates the first solo exhibition to be staged at the new UNSW galleries. In many senses, it is a homecoming that celebrates the multidisciplinary work of a significant contemporary international artist at the place where his remarkable career began.
The works include some of Gladwell's earliest video works, such as Double Linework, 2000, and more typical Gladwell videos that record the human motion of performers, such as In a Station of the Metro, 2006 (see below). The exhibition also includes some Gladwell paintings, a medium for which he is less known, such as Helmet apparition (major league infidel), 2011-12.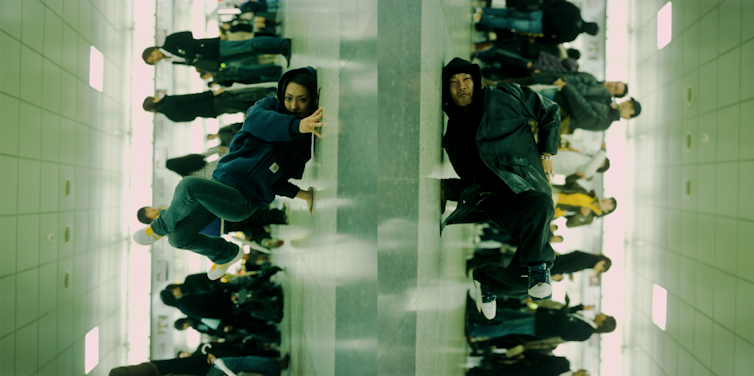 While the UNSW show is a survey (perhaps not quite a "retrospective" for an artist still only in his 40s), the SCAF show in Goodhope Street, Paddington, is a body of completely new works. The central work at SCAF is The Lacrima Chair, a sculptural work in which a large shower head cascades water onto an economy class chair from a commercial airliner.
Although he's lived in London since 2010, Gladwell is frequently back in Australia, either for a shoot or for exhibition openings and events, such as his Artbar at the Museum of Contemporary Art in 2012. He has beaten the well-worn path through the air between Heathrow and Kingsford-Smith Airports – so it's no surprise that civil aviation features so heavily in this exhibition.
The Lacrima Chair is about crying in the strangely public/private space of an economy class aircraft seat. We may be surrounded by hundreds of others on board, but for many Australians the seat on a long-haul flight is where we often feel most acutely the emotion of our geographical distance from the rest of the world. From Sydney, we must fly many hours even before we reach our nearest regional neighbours.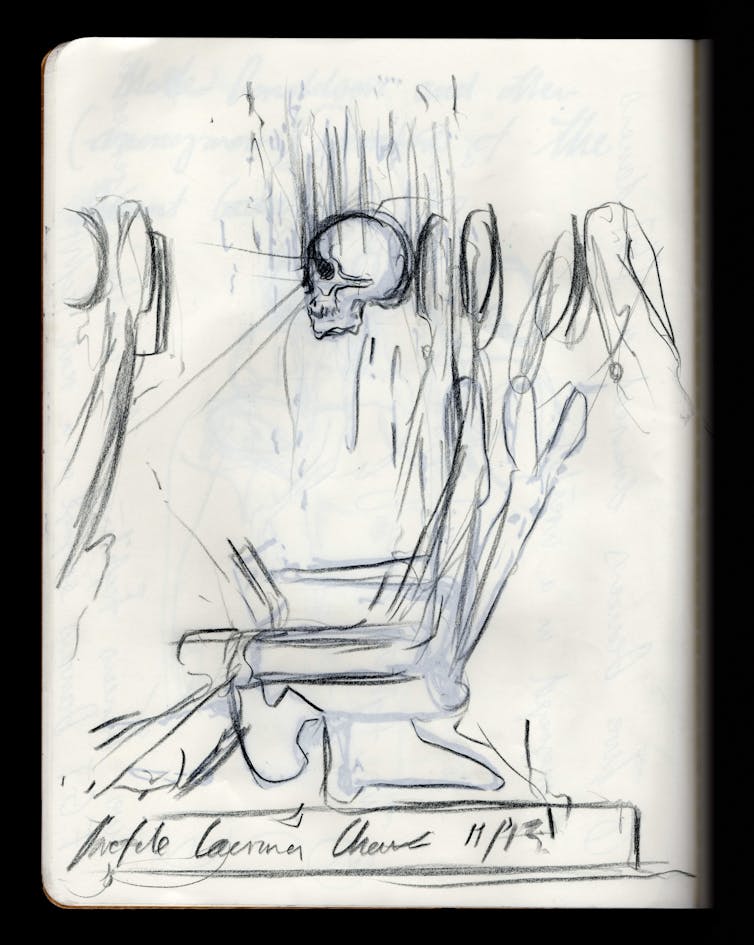 It is a familiar yet dislocating space, where we might grieve the loss of home as we make our pilgrimage to the "old country", where we acutely feel the absence of the loved ones we've left in the departure hall. In a recent interview I conducted in his London studio, Gladwell told me:
This was the most generic aircraft chair, almost like the Platonic aircraft chair that we could find, that spelt disaster for your muscles, and atrophy, deep vein thrombosis, whatever. I think people who have been in an aircraft that long can relate to this chair, they can fear it in a way and maybe cry in it.
For Gladwell, and anyone else who travels extensively for work, the economy class seat is where the tyranny of distance in the age of jet travel is most keenly felt. It's a first-world problem, but not an uncommon one.
The Lacrima Chair is accompanied by three new video works. One of the pieces was filmed recently while flying between Sydney and London. The video features a performance by the dancer Kathryn Puie, who has previously worked with Gladwell, taking on the historical persona of Nancy Bird–Walton.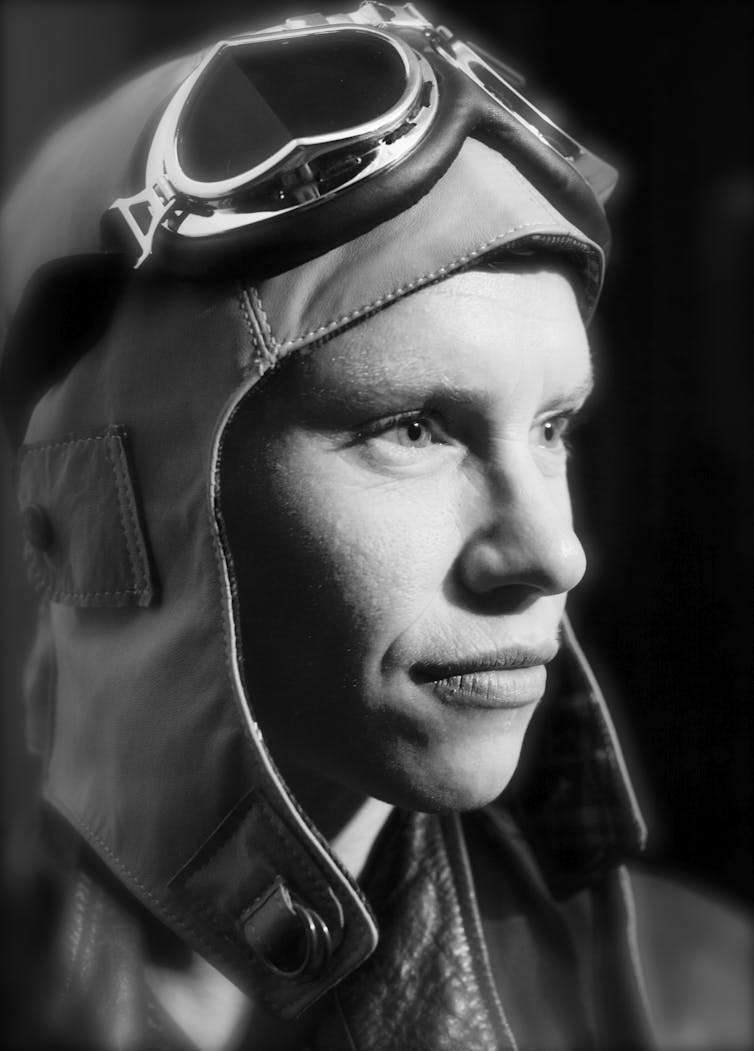 Appropriately, Puie's performance – which happened during an actual QF1 commercial flight – is aboard Qantas's A380 named Nancy Bird-Walton.
As well as paying tribute to one of Australia's pioneers of aviation, Gladwell also chose the Nancy Bird-Walton A380 because of its part in an incident on November 4 2010, when an engine explosion damaged the wing and the fuel system, forcing the plane to land back in Singapore.
For Gladwell, this idea of a machine's function failing is intriguing. It also forms the basis of the text in his artwork-book, which forms the third part of the SCAF show. Gladwell has created a "fake" theory book titled Patafunctions, which mimics in every detail Foreign Agent Press's legendary Semiotext(e) book series.
The Semiotext(e) books were theory and philosophy texts, often originally written in French and translated into English. They were extremely influential for artists in Australia and the US during the 1980s and 1990s.
They brought into the English language thinkers such as Jean Baudrillard and Paul Virilio, and profoundly influenced Gladwell as an art student at Sydney College of the Arts and UNSW Art & Design (then CoFA) in the 1990s.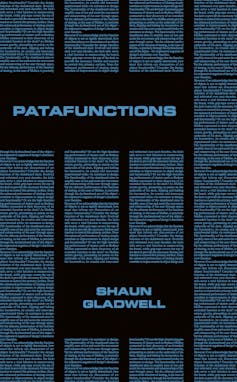 Foreign Agent Press only printed 1,500 of each book, so degraded photocopies were usually circulated among art students, with the original paperbacks attaining an almost mythical aura.
For the work, Self Portrait as a Semiotext(e) Foreign Agent, 2015, Gladwell has worked with Philosophers Denise Thwaites and Paul R. Patton (one of the original translators of Semiotext(e) books) to create a theory of "patafunction".
The essay reads like a piece of 1980s French theory, complete with fake square-bracketed translation notes: " … a dynamic chain of signs [une chaîne dynamite de signes]"
Some 1,500 copies of Gladwell's fake Semiotext(e) book, titled Patafunctions, have been printed for the exhibition.
Gladwell will once again be boarding a flight from Heathrow to Sydney for the opening of the exhibition and to give a talk on the Semiotext(e) work, this coming Saturday. Once again he will be feeling that sense of psychological dislocation that accompanies long-haul travel.
But maybe he won't be shedding a tear on this occasion.


The Lacrima Chair is on exhibition at Sherman Contemporary Art Foundation's Goodhope Street gallery, Paddington, and Collection+: Shaun Gladwell is at UNSW Galleries, UNSW Art & Design, Paddington. Exhibition Dates: 6 March 6 – 25 April 25 2015. Opening Night: March 5, 6–8 pm.