At time of writing, Malcolm Turnbull is still prime minister. But he is seriously, and most likely, terminally, wounded. It is unclear how long he will be able to remain as Liberal leader and PM.
Turnbull's turn as leader was always likely to be an exceedingly difficult one. From the start, he faced the problem of whether he would be able to bring the conservatives into the Liberal party room with him. That problem was compounded by the narrowness of his election win in 2016, which further undermined his authority as leader.
That 2016 election outcome partly reflected the errors in Turnbull's political judgement that have dogged his career. He called the election too early and had an exceedingly long campaign marked by various "own goals".
Such mistakes reminded some Liberals of previous debacles. These included Turnbull's disastrous handling as opposition leader in 2009 of the Godwin Grech affair, when he made false accusations of Labor government financial impropriety based on easily faked documents (forwarded emails with their content changed).
Concerns over Turnbull's lack of political nous continue in the party today, including over the timing of the recent leadership spill.
---
Read more: The Turnbull government is all but finished, and the Liberals will now need to work out who they are
---
On the other hand, Turnbull has attempted to fix aspects of his leadership performance. When he lost the Liberal party leadership in 2009, it was partly because he'd been seen as not making enough concessions to the party room before trying to sign them up to an agreement on climate change policy, which he had negotiated with the Rudd Labor government.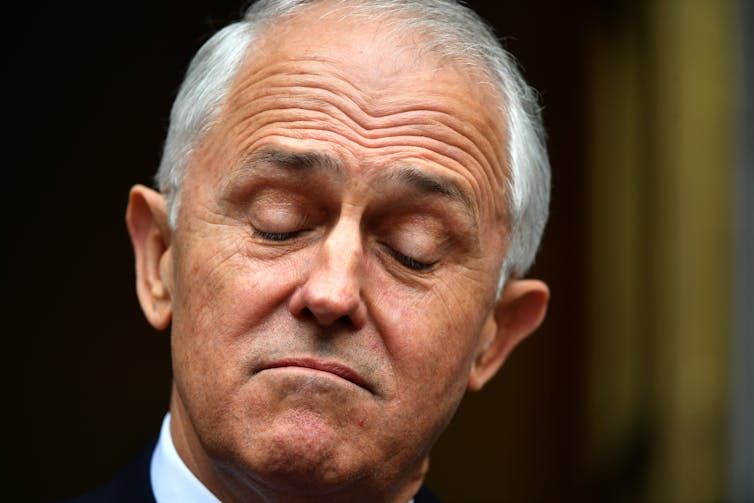 Now Turnbull has made so many concessions to the conservatives in his party, including signing up to Tony Abbott's direct action climate change policy that he had previously lambasted; agreeing to canvas the public's opinion on same-sex marriage despite previously criticising the idea; substantially putting off the republic issue; dog-whistling on race; and now dropping the emissions reduction targets in the National Energy Guarantee, that voters are left wondering whether he has any convictions left.
As Labor is delightedly pointing out, what happened to the man who once emphasised the need for political leaders to act decisively on climate change?
A failure to connect with voters
In fact, what happened reflects a deeper malaise in the Liberal Party, namely the failure of a diehard group of conservatives, post John Howard, to accept that small "l" moderate traditions have also always been part of the Liberal party's heritage.
Dutton supporters are presumably hoping that a deeply conservative alternative leader will at least save the furniture by holding on to key seats in Queensland.
---
Read more: Can Malcolm Turnbull be a Liberal leader for the 21st century?
---
However, even that is questionable given the recent byelection outcomes and major questions about how well Dutton would do in a general election in the rest of the country. (It isn't clear that any other Liberal politician is currently in a position to challenge Turnbull, even given questions over Dutton's eligibility for parliament, although a compromise candidate may well emerge.)
If he is eventually elected as party leader, Dutton may be able to mobilise the conservative base on issues such as race, crime and security more effectively than Turnbull (albeit at the risk of alienating many other voters). But how effectively would he be able to address the broader issues concerning the electorate?
Currently, the focus on bringing down power costs seems to be the Coalition's main strategy for tackling cost-of-living issues. It is straight out of Abbott's playbook. Dutton has now proposed removing the GST on power to bring down bills even further.
---
Read more: Tony Abbott and the revenge of the 'delcons'
---
Whoever ends up the Liberal prime minister will need to address deeper issues of inequality and weak wage growth in the Australian economy. Those issues, not just the banking royal commission, are why cost-of-living concerns are so important and why the proposed big business tax cuts have proved so toxic.
Conversely, it is arguably Labor's focus on tackling inequality that is helping it to do so well in the polls, despite the electorate's reservations about leader Bill Shorten.
Admittedly, unlike Turnbull, Dutton does have the advantage of not being a wealthy former banker and he doesn't own a harbourside mansion. He may be a less easy target for Labor on those equality issues. However, he is vulnerable from his time as health minister, when he advocated Medicare co-payments, and his controversial comments as home affairs minister have also alienated many voters.
Furthermore, it will arguably take more than a change of leader to convince Australian voters that the Liberal party is prepared to tackle voters' everyday economic concerns. It may take a move away from the trickle-down, free-market, neoliberalism that has dominated Liberal economic policy since the 1980s, but was not actually part of the Menzies' tradition. Turnbull might have originally been a moderate on social issues, but he remains predominantly a "dry" on economic policy, with a continuing belief in trickle-down economics.
In other words, the Liberals need to acknowledge that one of the reasons why they only narrowly won the 2016 election and have been doing so badly in the polls may have been because of the difficulty in selling their economic policy to a post-financial crisis electorate in anxious economic times. This will still be the case, even if someone else replaces Turnbull as prime minister in the not-too-distant future.