Labor is running high-profile former New South Wales premier Kristina Keneally in the December 16 Bennelong byelection, upping the stakes for both Malcolm Turnbull and Bill Shorten in the battle.
Shorten rang Keneally, who is a commentator and presenter on Sky, at the weekend to ask her to contest the seat, which is on a margin of nearly 10%. The byelection has been triggered by its Liberal member John Alexander, 66, a former tennis star, resigning in the dual citizenship crisis after it became obvious he had inherited his father's British citizenship.
Meanwhile, that crisis has now captured its eighth victim, with Jacqui Lambie, a Tasmanian crossbench senator, announcing on Tuesday morning that she was resigning from parliament.
Lambie – who was originally part of the Palmer United Party before quitting it, forming her own group and being re-elected in 2016 – inherited UK citizenship.
An emotional Lambie, breaking the news in a Launceston radio interview, said she realised she had a problem after former Senate president Stephen Parry went public with his UK citizenship.
"I'm obviously doing my autobiography, I've gone back over dad's stuff and straight away I just thought 'oh my God' …By Thursday last week I rang him and I said 'Dad, I'm gone, aren't I?' and he said 'you know what sweetheart? I think we're gone'."
Lambie said that if there was a byelection in the lower house federal seat of Braddon, where there is a question mark over the citizenship of Labor member Justine Keay, she would think about running. "I'd certainly have a good look at it, I just have to see what else is going on," she said. She ruled out running in a state seat in the coming election.
Later she made a tearful statement to the Senate.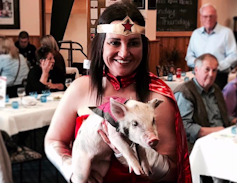 Keneally, who lives just outside the Bennelong electorate but has a long association with the area, said: "I am not running in Bennelong because John Alexander is a dual citizen.
"That's why we're having this byelection but that is not why I am running. I am running because this is a moment, this is an opportunity for the community in which I live to stand up and say to Malcolm Turnbull, 'Your government is awful'."
Shorten said the byelection was "a great opportunity to send a message to Mr Turnbull to pull up your socks, lift your game, focus on the people and not yourself".
Keneally, 48, was premier from December 2009 to March 2011 when the government was defeated at the election. After the announcement of her Bennelong candidature, federal Coalition members and commentators immediately started homing in on the NSW Labor scandals involving Eddie Obeid and Ian Macdonald, who were both eventually jailed.
Nathan Rees, the premier she replaced in a coup, described her as "puppet" of powerbrokers Obeid and Joe Tripodi, prompting her much-quoted reply: "I am nobody's puppet, I am nobody's protege, I am nobody's girl".
Health Minister Greg Hunt said: "You've got a comparison here. One, Kristina Keneally, fought for Eddie Obeid. The other, John Alexander, fought for Australia on the international [tennis] courts."
Turnbull, who is in the Phillipines, was asked about Bennelong and said: "Don't let Kristina Keneally do to Bennelong what she did to NSW".
"She is Bill Shorten's handpicked candidate, so obviously, Eddie Obeid and Bill Shorten have formed the same view about Kristina Keneally."
Labor defeated the then prime minister, John Howard, in Bennelong in 2007 with another high-profile candidate, TV personality Maxine McKew. But she lost the seat to Alexander after one term.
But former premiers inevitably carry the barrage of their earlier political years. In the 2013 election the ALP ran former Labor premier Peter Beattie in the Queensland seat of Forde but he failed to wrest it off the Liberal National Party.
Keneally is American-born but long ago renounced her US citizenship.