When humanitarian emergencies flare up, what should prompt the U.S. government to "send in the Marines"?
Disasters like Hurricane Harvey's floods in Houston and Hurricane Maria's devastation of Puerto Rico's roads and power grid can quickly overwhelm civilian authorities and emergency responders. Military support can make a life-or-death difference in those emergencies.
As scholars at the U.S. Naval War College and Harvard Humanitarian Initiative, we have seen that the military can have a profound and positive impact on the immediate response to large-scale disasters such as Hurricanes Harvey, Irma and Maria or the Haiti earthquake in 2010.
But soldiers, sailors, marines and aviators are primarily trained to fight, not feed disaster victims. When they report for humanitarian duties, it typically costs far more than when civilians handle them. Does their muscle actually go to good use?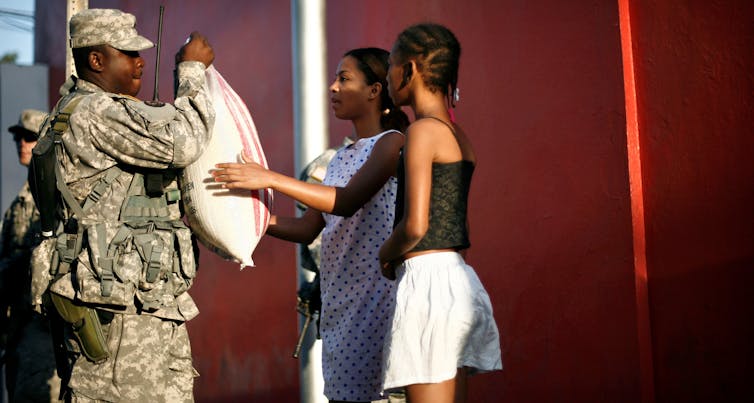 Why deploy the military
Nonprofits like the Red Cross and government agencies like FEMA simply don't have the equipment required following disasters like the one unfolding in Puerto Rico – where millions of people may lack power and clean drinking water for months.
Only the military can promptly dispatch the ships and planes required to move people, supplies and fuel. It has the electrical generators, water purifiers, bulldozers and lift equipment for search and rescue operations, debris removal and reconstruction.
At the same time, many military personnel also report that aid missions are good for morale, as countless service members take pride in doing disaster relief.
Having soldiers or sailors airlift people from their flooded homes or distribute hot meals is also great public relations at a time when the U.S. military is engaged in several unpopular and protracted conflicts abroad.
Domestic limits
While military missions can fill critical gaps in response to large-scale natural disasters like Hurricanes Harvey, Irma and Maria, there are also significant limits to the military's ability to jump in.
For one, there are laws restricting U.S. military operations on U.S. soil. The Posse Comitatus Act of 1878 prohibits active duty military personnel from engaging in civilian law enforcement, although the National Guard may be deployed in some circumstances.
Also, under a law known as the Stafford Act of 1988, the Department of Homeland Security may request military assistance as a last resort in major disasters and emergencies.
These restrictions have loosened up a little since the 9/11 terrorist attacks, granting the military and National Guard more leeway to support domestic counterterrorism operations. These changes made it easier for the military and National Guard to respond to the recent hurricanes.
But there are no such legal restrictions on how the U.S. military may respond to foreign disasters, as long as host governments request help or consent to it.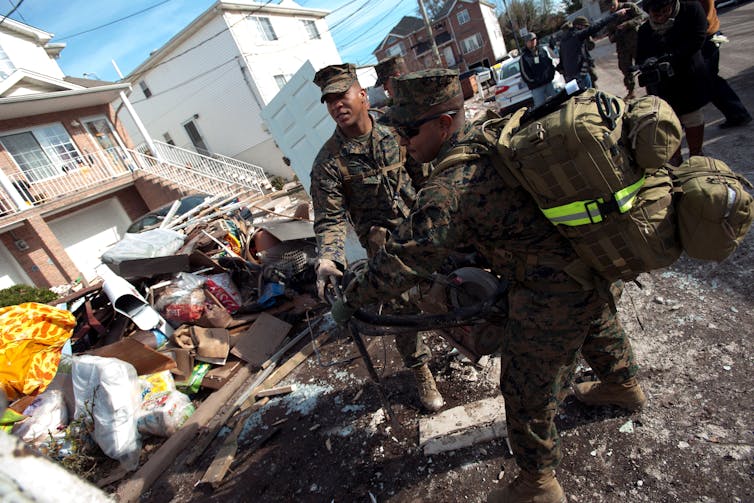 A common call
According to the Center for Naval Analyses, a federally funded defense research center, the U.S. military diverted units from "routine" operations to conduct humanitarian assistance operations 366 times from 1970 to 2000, compared with 22 times for combat missions.
Since 2000, the U.S. armed forces have conducted many massive humanitarian operations around the globe, such as responding to the 2004 Indian Ocean earthquake and tsunami and the 2015 Nepal earthquake, as well as Superstorm Sandy and Hurricane Katrina at home.
Given how frequently the military undertakes these missions, preparing for them should be a high priority. But that is not the case. With few notable exceptions, soldiers, sailors, marines and aviators spend little if any time training for disaster-response strategies, tactics, policies and procedures.
Concerns
When the same people fight wars and distribute food to people in distress, it can quickly blur the lines, exposing aid workers to attack.
That is why aid workers for nonprofit organizations like Doctors Without Borders and Oxfam have expressed concerns about what they see as a growing "militarization" of humanitarian relief that endangers their own safety and hinders their effectiveness.
There is also the high cost of having boots on the ground doing civilian work.
Consider what happened when the U.S. military responded rapidly after the 2010 earthquake in Haiti that left 220,000 people dead, 300,000 injured and 1,500,000 people displaced. More than a third of the total of US$1.12 billion in U.S. aid – $453.5 million – covered the costs of military transport, personnel and supplies.
According to estimates by Aruna Apte at the Naval Postgraduate School and Keenan Yoho at Rollins College, the U.S. spent more than $17 million just to operate a single aircraft carrier nearby for 17 days – not counting personnel costs.
Aircraft carriers are essentially floating airfields that make it easier to access otherwise impossible-to-reach areas, facilitating evacuations. Although they can dispatch critical food, water and medicine, there are usually better ways to deliver aid after disasters.
For context, that $17 million could have covered the cost of all of the humanitarian organization Save the Children's health programs in Haiti between 2010 and 2012.
Finding the balance
Despite the big price tag, military involvement in disaster relief is bound to grow. That's because global humanitarian organizations are already stretched thin by competing needs. Conflict-driven migration is growing, and severe storms are becoming more common as a result of climate change – along with the higher sea levels scientists say it is causing.
Meanwhile, the Trump administration wants to cut civilian government spending while boosting the Pentagon's budget.
But we believe it would be a huge mistake for the government to rely primarily on the armed forces in the aftermath of disasters.
The military's unique capacity can be incredibly useful in the short term. Yet even when its help is most needed, these deployments should be brief and tailored.
Other than in the immediate aftermath of the biggest emergencies, the government should activate civilian emergency responders and humanitarian aid groups instead of sending the Marines.