After Chelsea clocked up their ninth defeat of the season against Leicester, their manager José Mourinho's departure was all but inevitable. Nonetheless I was surprised. He is undoubtedly a master tactician and I would have liked to see what he would have done in the January transfer market, where I fully expected Mourinho to splash out on a goal-scorer, despite all the speculation of going after Everton defender John Stones for a second time.
Chelsea's lack of goals this season is a major reason why they are languishing just one point off the relegation zone. In particular, their front man, Diego Costa, has not performed. With just three Premier League goals this season, he falls far behind the league's top scorer, James Vardy, who has netted 15. And this is reflected in their respective league positions (Vardy's Leicester is top).
A look at statistics from the Premier League, ESPN and Soccerway shows that having a top-performing centre forward is key to winning games – and ultimately trophies – in football. The correlation between teams that challenge for the league and those that have a player personally challenging for the golden boot is strong.
Last season, when Chelsea won the title, Costa scored 20 Premier League goals and finished third in the scorers' chart. The winner, Sergio Aguero (with 26 goals) played for Manchester City who finished second. Go to the previous season when Manchester City won the league, Yaya Toure had 20 goals, with the top scorer Luis Suarez and second place scorer, Daniel Sturridge, both playing for Liverpool who finished runners-up in the league.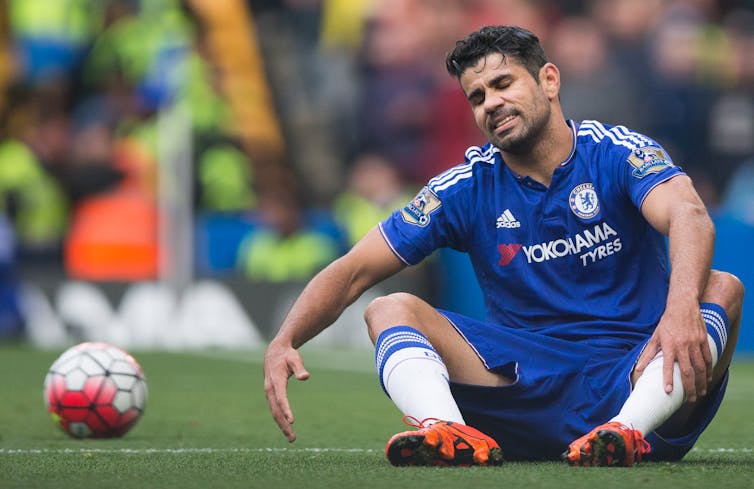 The most successful team in Premier League history, Manchester United, have always had proven goal scorers. Since the league began in 1992, the 13-times champions have always had at least one scorer in the top ten and have, on all but one occasion, had that player score more than 15 league goals. The average number of goals from United's top scorer is just under 20, finishing on average fourth place or higher in the scorers' charts with five golden boot winners. Omitting the first few years of the Premier League, there has only been one occasion when Manchester United's top scorer finished outside of the top three.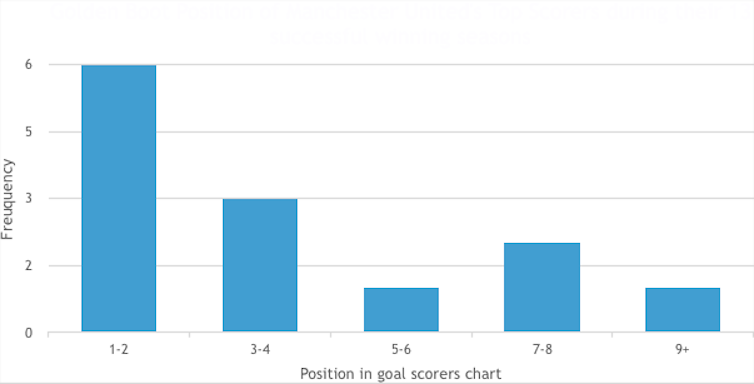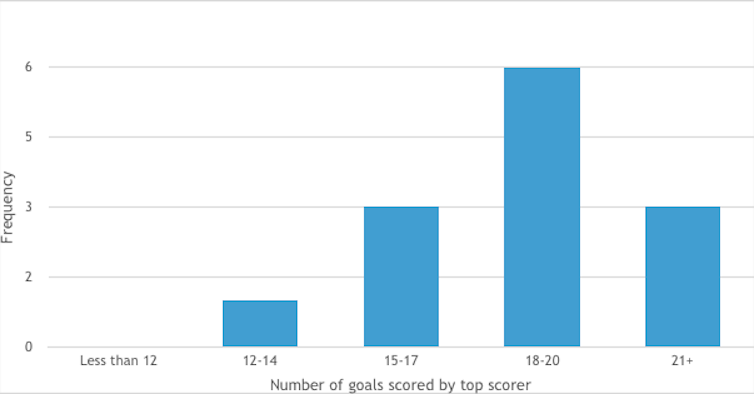 While it is naïve to purely suggest having a top goal scorer will hand you a title, in simple footballing terms, the team who wins the game is the team who scores the most goals. Therefore a player who regularly finds the back of the net is invaluable to a team's assault on the title. Leicester City is finding that at the moment. Despite conceding over a goal a game at the time of writing, they sit comfortably on top because they are scoring goals too.
In the graph below, you can see a team's final league position and the number of goals their top goal scorer has scored for the past three years. The obvious downward trend with the correlation coefficient of -0.60 does suggest that the lack of goals at Chelsea is why they find themselves in their current situation. It suggests that Mourinho has ultimately been let down by his forwards.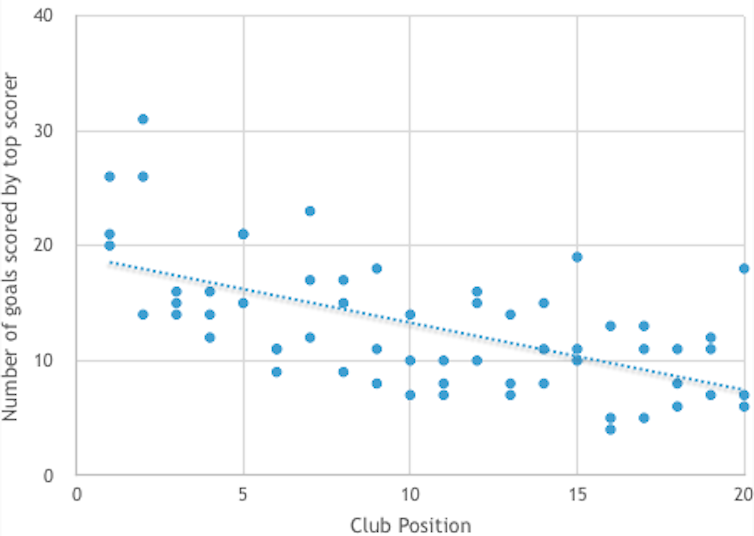 While outliers do exist (Charlie Austin who scored 18 goals for Queen's Park Rangers in 2014-15 and Christian Benteke who scored 19 goals for Aston Villa in 2012-13) and some team's tactics do not rely on scoring an abundance of goals (just ensuring they score more than they let in), the data still suggests that a lack of goals from the Chelsea frontline is why they are not challenging for a top four place this season. So much so that when Chelsea finished third in 2013-2014, Mourinho was playing midfielder Andre Schurrle as a false striker at times and bemoaning the fact that he didn't have a centre forward for him to win the title. It appears that the lack of a pivotal centre forward (or a misfiring one) this time around has not only cost him a chance of a title, but a job.
While it is cruel to pin the blame directly on Costa or Chelsea's other strikers – Costa, Loic Remy and Radamel Falcao are Mourinho's signings after all and it is his job to motivate them and the rest of the team to supply them. Midfielders also bear some responsibility. Chelsea's Eden Hazard scored 14 goals last season and has yet to do so this year. And other title-winning teams, notably Manchester United, have had additional goals come from midfield with the likes of Paul Scholes and Ryan Giggs during Manchester United's heyday in the late 1990s and early 2000s.
Ultimately, as manager, Mourinho has paid the price for his team's shortcomings. For whoever takes charge at Stamford Bridge, they'll want to get Costa, Remy and Hazard back to form and scoring goals, otherwise their stay in London may be short lived.