When the chiefs of Australia's largest banks appear before the Standing Committee on Economics this week it's likely they'll be asked about the current level of competition in retail banking.
One of the objectives of competition law in Australia "is to enhance the welfare of Australians through the promotion of competition". Promoting competition means making sure there is vibrant competition. This means ensuring that competitiveness is enhanced once competition is established.
Reluctance to change
Existing market players generally resist the changes needed to make a sector more competitive. This resistance is driven by the rational fear that a more competitive sector will lead to lower margins and loss of market share.
It seems odd, but in the early days of text messaging it was only possible to send texts to people on the same network. Interconnection of networks was driven partly by commercial opportunity, but mainly by the prospect of regulatory intervention. In mobile telecommunications, mobile number portability was introduced in Australia and elsewhere as a result of similar pressures.
Competition regulators know that competitiveness is higher when it's easier for a consumer to switch providers. Of course, that does not mean there will be mass switching. Consumers switch when there is a prompt. This might be the end of a contract, or poor (uncompetitive) service from a provider.
Switching banks
In Australia, in common with other parts of the world, switching between retail banks presents hurdles. It's just a difficult process, even with the help of the bank to which you are switching. A mixture of direct credits, direct debits, mortgage or rent payments and links to credit cards means that switching banks is complex and hard.
One solution to this problem is bank account number portability. The idea is that you can switch your bank without changing your bank account number – just like switching mobile providers.
This could be implemented by having a single independent bank account number database (iBAND), which links account numbers with people. Each bank would then check the iBAND when making a payment as depicted below.
The UK experience
Even this might be a bit more complicated than is needed. The Australian Payment Clearing Association's "New Payments Platform" offers a range of identifiers for people in addition to bank account numbers. This could also form the basis for portability and switching.
In the UK, the Current Account Switch Service (CASS) is a free-to-use service for consumers to simplify switching current accounts. This service is designed to increase competition, competitive entry and consumer choice.
There is a Current Account Switch Guarantee to enable switching to occur within seven days. Since the scheme started in 2013, there have been 3 million switches and 99% of these occurred within seven days.
The consumer education process that accompanied the introduction of CASS in the UK means more than three-quarters of all current account holders are aware of the service.
Data can help
The other issue with switching is knowing whether the deal you will get with the new bank is better. What would be ideal is to have a way of comparing your existing bank or banks and credit card providers with other financial institutions. One way of doing this is by having a standardised form of metadata.
If you wanted to do a comparison, you could download a set of anonymised metadata that described your banking needs. This could then be compared on a platform with other providers.
The UK's Competition and Markets Authority (CMA), in its final report into the UK retail banking system, suggests that the provision of open banking applications programming interfaces (API) would facilitate such an exchange of data. The broad approach is set out below.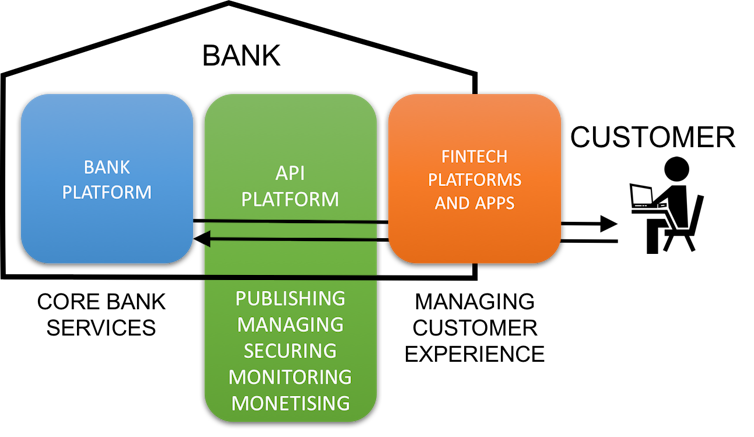 The idea is that each bank would present a common interface to external systems through the API. This would allow the banks to create and use apps to enhance the consumer experience. However, it would also allow third parties to be intermediaries or to compare the banks' offerings.
Switching, innovation and productivity
In its submissions to the Harper review of competition law and policy, CHOICE argued that such a scheme would encourage innovation. The ACCC put the case that "initiatives to allow consumers to effectively use their information … have the potential to assist consumers to make better choices and drive competition".
The UK government has put consumer switching at the heart of its approach to increasing productivity. It regards this step as critical to open and competitive markets with the minimum of regulation.
Both the Harper review and the Murray inquiry into the financial system found that competition should be at the forefront of regulatory consideration. One way to improve competitiveness in banking is to facilitate both switching and consumer information.
But perhaps the best way to determine whether there is a need to promote competitiveness would be for the ACCC to commence a market inquiry on retail banking. This could have the aim of developing initiatives to stimulate additional competition.