Victorian cyclists have achieved amazing success on the national and international stage, as I outlined last week.
Victorian riders were the first Australians to compete in, win and wear the most prized jerseys of the European grand tours and classics. They have won more Olympic and Commonwealth Games medals, more World Championship medals and more National Championships than riders in other states.
None of this would have been possible were it not for a number of key interconnected moments and factors unique to Victorian cycling history.
1. Early uptake and popularity of the bicycle
Victoria has always led the way. After the first velocipedes arrived in Melbourne from Europe in 1868, Australia's first bike race was at the Melbourne Cricket Ground on July 10, 1869. The first long distance ride was in October 1869 when William Kernot rode East Melbourne to Geelong in around 10 hours.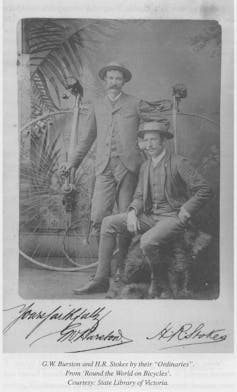 High wheeler bicycles ("penny farthings") also made history after arriving in Melbourne in 1875. Melbourne Bicycle Club members George Burston and Harry Stokes became the first Australians to ride around the world on high wheelers in 1888. Burston was also first to cycle across Mt Hotham in 1894.
Such feats inspired a mania for endurance riding all over Australia.
Next came the safety bicycle to Melbourne in 1889. Its popularity soared after Dunlop in Melbourne supplied pneumatic tyres from 1890. The safety bicycle revolutionised cycling for the masses. It was simple to ride and affordable.
By the late 1890s, barely three decades after the first bicycles arrived they had permeated most areas of life in Victoria – sport, recreation, business, everyday transport and work.
2. Strong amateur and professional governing bodies and clubs
Organised cycling spread in Victoria after the Melbourne Bicycle Club (MBC) formed in 1878 and held its first ride from St Kilda to Mordialloc. It was the first Australian club, and important in the history of the sport – the launch of its Austral Wheel Race placed Australia on the world cycling map.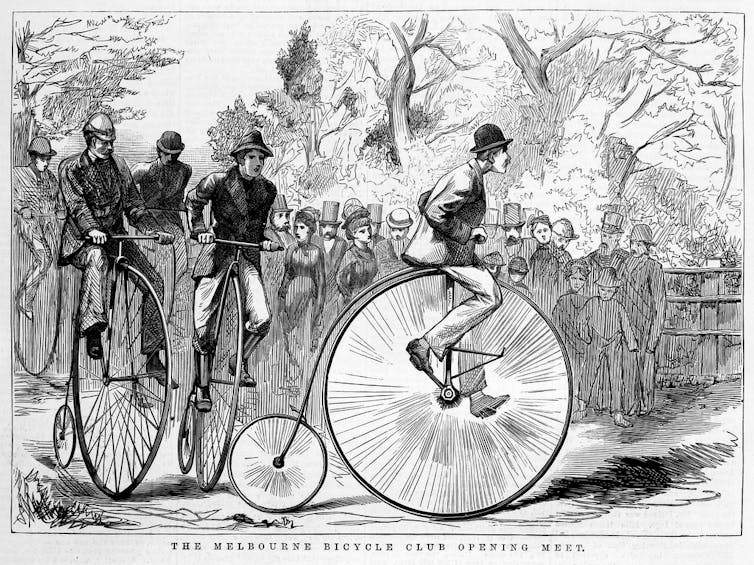 The League of Victorian Wheelmen (LVW) was the first professional cycling body, formed in 1893 by disgruntled MBC members seeking change. A year later on December 14 1894 the Victorian Amateur Bicycle Club formed to advance amateur interests.
The LVW was powerful, and was another significant body in Australian cycling. In 1895 the League successfully lobbied for reduced tariffs on imported bike parts, leading to an increase of local bicycle manufacturers and subsequent sales. The Victorian market for bicycles was the biggest in Australia at that time.
Victorian amateur cycling was also well catered for. In 1914 the Northern District Amateur Club formed as an autonomous cycling body. It gave rise to the Brunswick Cycling Club in 1916 (one of Australia's most successful clubs), and the Victorian Amateur Cyclists' Union in May 1917 that continued until a 1986 name change (to Victorian Cycling Federation).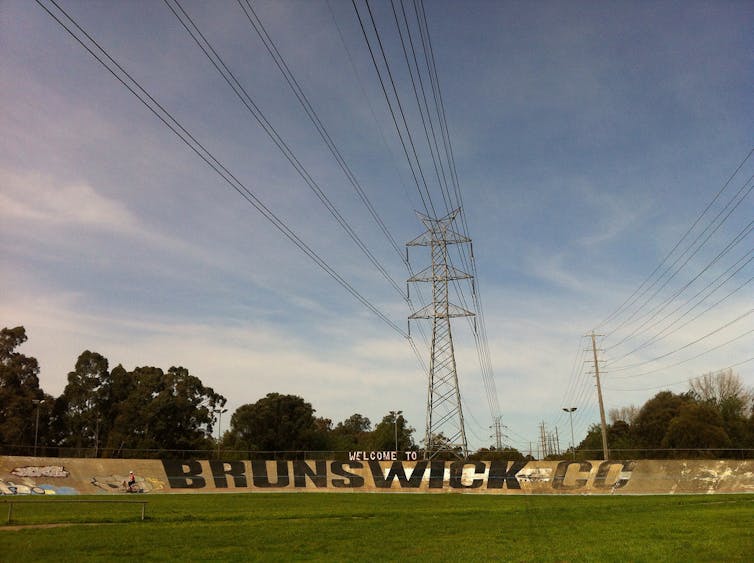 By the early 1990s the amateur and professional bodies amalgamated to form Victorian Cycling Incorporated, which became CycleSport Victoria in the late 1990s and Cycling Victoria in 2011. Cycling Victoria's leadership continues today through development and elite initiatives in road, track, BMX and cyclo-cross.
3. Quality racing
Victorian cyclists have always had the benefit of choice in racing types, availability, and quality. Indeed, since the earliest days of racing in this state, interstate and international riders have travelled to Victoria for the big races.
By the mid 1880s, organised "path racing" was well established in Victoria, and grew in popularity aided by strong clubs, governing bodies, and promoters. From the late 1890s cycling tracks were constructed across Melbourne and regional Victoria on all manner of surfaces (cinder, cement, asphalt, timber, grass, dirt).
Melbourne's Austral Wheelrace was the pinnacle of Australian track racing, attracting a long line of interstate and international competitors seeking prize money and prestige. The first Austral was held at the Melbourne Cricket Ground in 1887. It is the oldest track cycling handicap race in the world.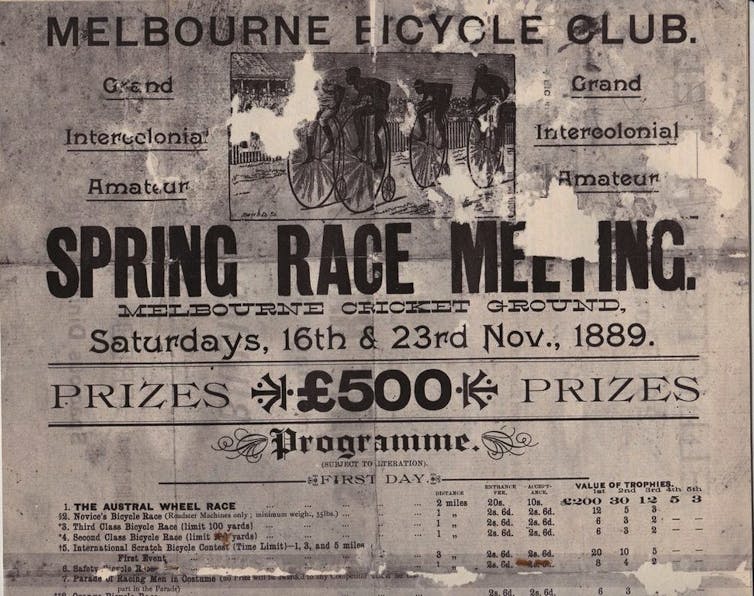 Huge crowds were common for the big track events: 12,000 at the MCG for Australia's first velocipede race in 1869, 32,000 at the MCG for the 1901 Austral, and the Australian Natives' Association carnivals at the Exhibition Building track were also hugely popular (50,000 in 1898 and 65,000 in 1899).
Road cycling races grew in popularity with the support of sponsors such as the Dunlop Company, bicycle manufacturers, and media coverage. Dunlop's association with the Warrnambool to Melbourne classic began in 1897 (providing food along the course).
The first Warrnambool was held on October 6 1895, making it the oldest one-day classic in Australia, and second oldest in the world behind Liège-Bastogne-Liège.
Victoria is also the home of Australia's oldest stage race, the Sun Tour. It started in 1952 and is still a premier event on the Australian road racing calendar today.
4. Cycling lobby groups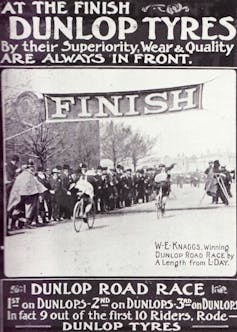 Victoria has a long history of advocacy and lobbying that has improved conditions for all cyclists. The early amateur and professional bodies played a role in advocating for improved cycling infrastructure in Victoria. William Kernot was an early voice whose leadership resulted in Australia's first cycling paths along the Yarra river in the late 1890s.
An important group was the Bicycle Institute of Victoria, established 1975 in Melbourne. It helped prompt policy progress in 1976 with the Melbourne Bikeway Plan, and the 1978 Geelong Bike Plan – forerunners of today's bicycle planning.
The Bicycle Institute of Victoria later became Bicycle Victoria, then Bicycle Network Victoria, and Bicycle Network in 2011 reflecting its national focus (now more than 40,000 members). It runs major community events such as Around the Bay in a Day, Great Victorian Bike Ride, Ride 2 School and Ride 2 Work.
5. Media coverage
In addition to the mainstream newspapers, numerous specialty cycling journals emerged in Melbourne over the years to cover Victorian, interstate, and international cycling news (such as The Bicycle 1880-1882, The Austral Wheel 1896-1901, Australian Cycling 1930-46, The Australian Cyclist 1947-74, National Cycling 1976-84).
Such publications were important for the profile of cycling in Australia.
Victoria also produced the first cycle touring and road maps in the 1890s, owing largely to the touring efforts of George Broadbent and Major O'Farrell. These maps were popular at the time and used by the growing numbers of cycling tourers and long distance riders.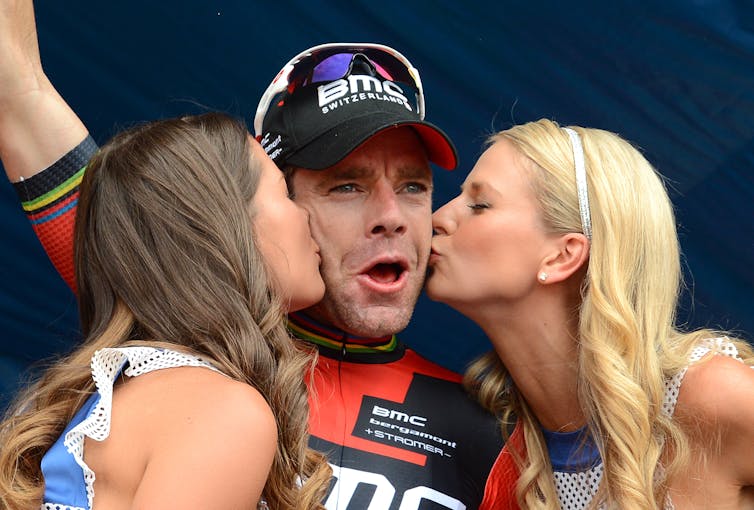 Later, after the advent of television in Melbourne, cycling coverage also occurred through the hugely popular Channel 7 program World of Sport – broadcast 1959-1987 on Sundays and included regular roller sprint racing where stars such as Sid Patterson would take on all-comers.
Today Victoria is still the home of cycling magazines such as Ride On (Bicycle Network publication), and Treadlie, as well as the popular cycling website, Cycling Tips.
6. Champions inspire champions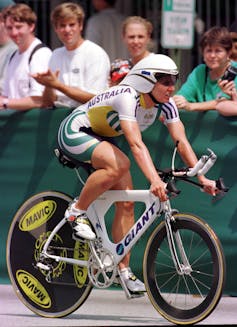 The long history of national and international success by Victorian riders no doubt inspired successive generations of cyclists here. Victoria's up-and-coming cyclists have long had access to this state's best riders – as members of local clubs, as they took coaching roles or other positions within the sport (as many did).
And many of Victoria's elite riders worked in local bike shops during their careers, or after retiring – the Beasleys, Sid Patterson, Terry Hammond, Barry Waddell, Kathy Watt and Dean Woods to name a few. This offered another opportunity for new generations of Victorian cyclists to learn from their knowledge and experience.
Victoria has also had its fair share of significant public figures who have contributed much to the development of cycling promotion and administration – people such as Bill Long, John Trevorrow, Peter Bartels, Hubert Opperman and Tracey Gaudry to name just a few.
Many of Victoria's big amateur cycling clubs still benefit from the involvement of past champions in junior development and other roles (such as Hilton Clarke Snr at Carnegie Caulfield). The Victorian Institute of Sport cycling program also employs past champions such as Scott McGrory and David Sanders.
These are the foundations and historical factors that have enabled Victorian riders on the national and international cycling stage for so long.
---
Further reading:
Victorians rule Australian cycling, at the Giro d'Italia and beyond