In March, Shadow Minister for Education and Training Tanya Plibersek outlined Labor's plan to review the architecture of the post-school education sector if elected next year. She said they would look at whether current qualification structures, the mix of institutions, and financing models are still fit for purpose.
The Mitchell Institute has highlighted incoherent policy across the higher education and VET sectors - a legacy of short-term fixes and poor state/federal co-ordination. The latest fix is last year's freeze on teaching grants in the higher education sector. Meanwhile, the VET sector has seen falling TAFE enrolments and VET FEE-HELP loan rorts.
---
Read more: Vocational education and training sector is still missing out on government funding: report
---
A Labor review would seek to "put TAFE and unis on an equal footing" while restoring demand-driven funding. What should it consider?
1. Look beyond a 2020 vision
Any "2020" vision shaped by near-term budget or electoral considerations risks (at best) partial policy fixes. Earlier reform attempts have mixed subsidy cuts, fee hikes and Higher Education Loan Program (HELP) changes, many of them rejected as unfair.
A 2030+ vision is needed to reset post-secondary education as a platform for knowledge-era nation-building. In this future, most Australians will need to up-skill and re-skill across their working lives. And as now, the sector will serve many related aims: as a booster of innovation, an export industry and a channel for global engagement.
2. Work back from the future of work
Recent reports conclude that Australians aren't facing an "end of work" future where robots take our jobs. Instead, we are seeing old job destruction, new job creation and (mostly) the transformation of existing jobs to focus more on non-routine tasks, both manual and cognitive.
---
---
Meanwhile, post-school credentials, especially bachelor degrees, are becoming mainstream pathways into the Australian workforce. The authors of this recent future of work report conclude that:
Education and skills remain essential, as partial insurance against technological unemployment, as a basis for innovation and competition, as a contributor to individual resilience and adaptability to change, and as a bulwark against further deepening of inequalities in opportunity.
3. Learn from other systems
But what kind of education and skills is less clear. In international comparisons, Australia looks strong in bachelor degrees. But some systems, such as Canada with its large community college sector, are stronger at the sub-bachelor level. A review should test whether we have the right mix for our future labour market, which types of qualifications should be demand-led and how these are to be financed.
---
---
Some systems focus more on upper secondary vocational credentials. Offering these on a demand-led basis implies a different profile of post-compulsory provision, perhaps with a more diverse mix of institutions.
---
---
Some systems have strong industry and government support for a broader vocational sector with clearer pathways into work. In Australia, post-school pathways should be clearer into initial credentials and jobs, and into flexible "lifelong" learning for mid-career up-skilling.
---
---
4. Consider new types of credentials
Since 2012, Massive Open Online Course (MOOC) platforms have promised mass scale yet personalised degree level learning, at very low cost. At the same time we've seen wide experimentation with new types of micro-credentials. These represent the accomplishment of short study, training or project assignments, often focused on enterprise skills. Small and stackable units of learning may count for credit towards a degree. Or supplement one by certifying wider sets of capabilities valued by employers.
As portfolio careers become mainstream, a subset of the emerging streams of micro-credentials that specify what learners know and can do in more detail will gain wider acceptance.
---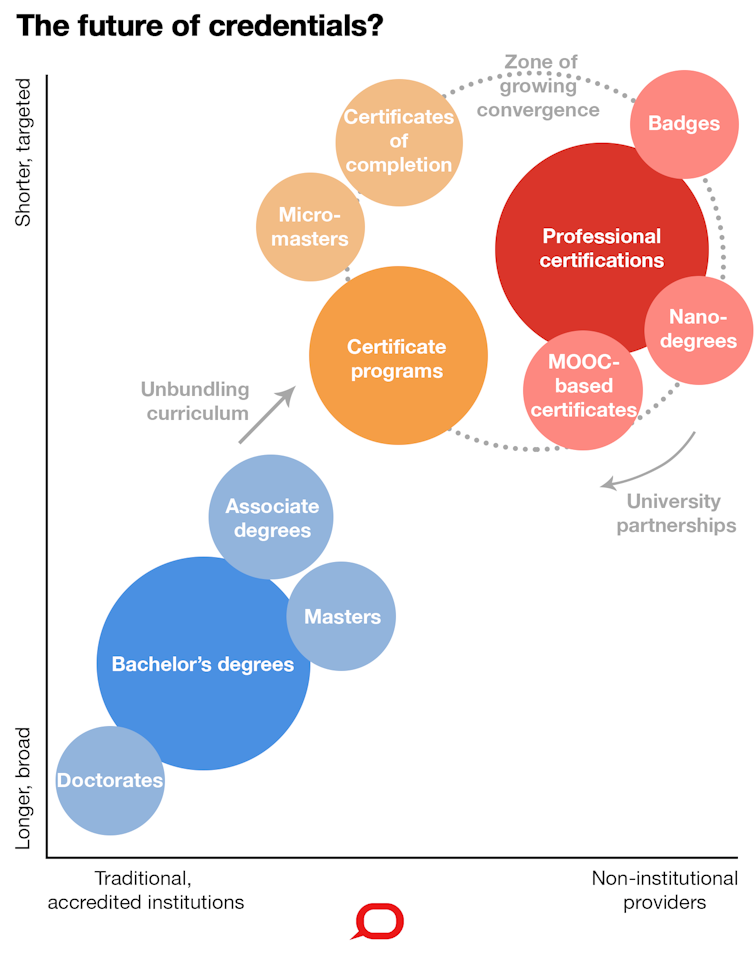 ---
A formalised system could offer more portable credit across education sectors and providers, and wider recognition across employers and industries. This may be a better fit for the idea proposed by the Mitchell Institute in 2015 for the government to provide younger cohorts of students a standard entitlement for upper vocational as well as degree level programs.
Or the idea proposed by the Business Council of Australia last year to provide every Australian a capped Lifelong Skills Account that could be used to pay for courses at approved providers across the tertiary spectrum over the person's lifetime.
In each case a key aim is to ensure that young people in particular choose post-secondary courses and skillsets with clear aims in mind, without being diverted or disadvantaged by funding anomalies.
5. Learn from mistakes
Along with lessons from VET FEE-HELP, Australia may learn from the UK experience with big funding cuts combined with big fee hikes in 2012. This lifted university revenue per student but also landed many graduates in major debt for decades. This has raised serious questions about value for money at English universities.
In 2014, plans to deregulate uni fees in Australia assumed competition would limit price hikes while HELP loans kept study costs fair. This "market" solution failed to see how open-ended loan entitlements in Australia can lead to major debts where much of the cost is eventually met by taxpayers.
6. Settle structure, then governance and who funds what
RMIT's Gavin Moodie has argued a joint review by state and national governments is needed to integrate VET and higher education policy. Industry engagement is needed also, to help define future needs and support more work-integrated learning.
A Labor review should rethink the future structure of post-secondary education then reconsider who finances what level of qualification.
Finally, we'll need an independent body to oversee tertiary education, and plan for the long term.