A 3D body-scanning initiative announced by the retail chain Target Australia has attracted extensive media interest.
Not least because it has been trumpeted as Australia's largest-ever body-shape survey using 3D body-scanning technology.
At a cost of A$1m, the project will involve scanning up to 20,000 men and women using millimetre-wave technology – the same technology used in airport security.
In a process that takes around a minute, and can be done fully clothed, the AlvaScan scanning booth (pictured below) collects data from 200,000 points on the customer's body, determining size and shape and creating a 3D image of the subject's body. The scanner has been used in the past by Levi's in the US and Marks and Spencer in the UK.
The incentive for consumers is obvious: in return for their time they will get a print-out of their exact body measurements, making it easier to buy clothes in future.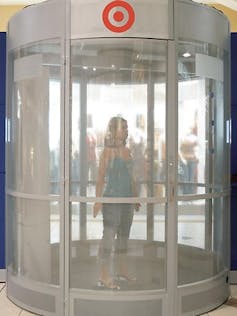 For the retailer, the data will prove invaluable for determining the most common shapes and for producing size charts – information that will feed directly into clothing development and sales nationwide.
Given the much-publicised growth in online shopping at the expense of the traditional bricks-and-mortar shopping environment, there's much to gain from generating in-store customer traffic around a technology experience.
For Target, the use of millimetre-wave technology makes sense. The fully clothed capture format is logistically easier to manage in a retail environment than the alternate data-rich 3D scanning technology formats of white light or laser.
How does it work?
Millimetre-wave technology uses low-powered radio waves that penetrate clothing and bounce off the skin to recreate a 3D surface image of the body.
From this 3D data, numeric 2D body measurements can be extracted according to specified points of body measurement – chest, waist and hip, etc. It is unclear if Target will store the 3D data for ongoing analysis and data mining.
White light scanners project patterns of light directly on the body surface which is recorded. Laser scanners work on the principle of triangulation, projecting a single point, or multiple lines onto the subject.
Laser and white light scanners provide a more accurate record of the surface of the body than a clothed millimetre-wave capture.
Historically, large scale 3D body-scanning projects such as the Civilian American and European Surface Anthropometry Resource Project (CAESAR), SizeUK, and SizeUSA (to name a few) have preferred white light or laser technology for 3D database development.
The emphasis for these large scale anthropometric projects has been on the data integrity of the x, y, and z cartesian co-ordinate points (where x refers to width, y refers to height and z refers to depth), as the data has potential for application in a range of areas, not just to determine clothing size.
Subjects are scanned in underwear and often landmarked to identify body points so scan data can be validated.
Most major international projects such as those mentioned above have been structured by the Public, Private Partnership model (PPP) which allows for research and industry applications in a broad range of areas, including:
apparel manufacturing
ergonomics
gaming
sports science
public health
The 3D body data has direct applications in additive (3D printing) and subtractive manufacturing (computer numerical control) processes and demonstrates new approaches to apparel design and innovation in the increasingly common 3D computer-aided design (CAD) environment.
A national body-type?
Many people within the textile, clothing and footwear (TCF) industry will no doubt be viewing Target's body-scanning project with a certain amount of envy.
After all, many have lobbied for years for a public domain database to inform both the industry and consumers on our size and shape.
Hopes were raised in 2008 by Professor Roy Green, who recommended in his review of the TCF industry, Building Innovative Capability:
"A new Australia National Sizing Standard for clothing and footwear is long overdue and should be developed as a matter of urgency, with a funding allocation of A$5m, to meet the changing needs of customers and ensure that Australian TCF firms and organisations are not placed at a competitive disadvantage."
And Senator Kim Carr announced the government's response to the report in the May 2009 budget by commissioning:
"the TCF Industries Innovation Council to provide further advice on the introduction of a voluntary ethical quality mark, voluntary national sizing standards for clothing and footwear, and a national anthropometric (human measurement) database …"
This resulted in the National Measurement Institute undertaking a scoping exercise to report to the TCF Industries Innovation Council on the requirements for developing a national sizing standard and anthropometric database.
As discovered, valid public domain anthropometric surveys are expensive and logistically difficult projects. The Innovation Council did not deem it a priority to develop a national sizing standard and anthropometric database.
That said, it is understood, that the subject is still on the Council's agenda.
For the moment though, apparel technicians will have to keep looking to other data sources to inform their practice.
Unless, of course, they work for Target.
Further reading: