Making an appearance on a politics programme such as The BBC's This Week presents something of an opportunity for a rock star such as Primal Scream's Bobby Gillespie. There is the chance to burnish radical credentials. And there is scope for promoting new work. But, of course, there is always the risk of being asked to do something stupid.
Fortunately for Gillespie, he had a keen sense of his own red lines when asked to join presenter Andrew Neil, Michael Portillo and Caroline Flint in the Skibidi challenge – something that rock bible the NME calls "a particularly irritating dance phenomenon that is infecting the internet like a bad case of the clap".
The look on Gillespie's face was stony; devastating. As Neil grooved, Portillo twisted and Flint turned, the cult figure just stared straight ahead. Fans – and those who just don't like the way politics is routinely trivialised on television – are calling it the "TV moment of the year".
Just because he has an album to promote, Gillespie's deadpan expression clearly said, doesn't mean he has to play nicely and ditch the outlaw status so vital to his character – and Primal Scream's celebrated sound.
Underground movement
Gillespie founded Primal Scream in the mid 1980s while simultaneously playing drums with The Jesus and Mary Chain. The group initially styled themselves on 1960s guitar pop groups with tracks such as Velocity Girl and All Fall Down, their first single.
Initially, the movement that Primal Scream emerged from, which centred around Creation Records – a label set up by punk impresario Alan McGee – seemed to be itself retrogressive: influences included 1970s blues and rock, Velvet Underground-style art rock with a whiff of self-indulgent psychedelia.
At the same time, the Creation roster – including Primal Scream – dived headlong into the sex and drugs antics and rock star clichés of the past. Even the artwork for Primal Scream's latest CD, The Memphis Recordings, is another nod to rock's glorious golden age – replicating the packaging for magnetic quarter-inch tape, which was used back in the day for studio recording.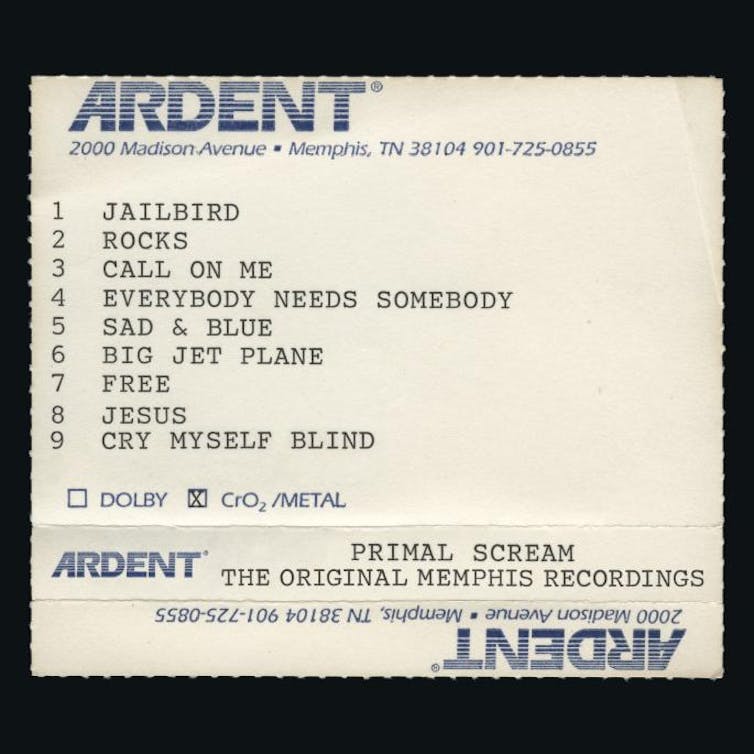 This was the period where independent record labels flourished and music was released seemingly free from the constraints of corporate control. Creation's cultural and musical predecessor from Glasgow, Postcard Records – the brainchild of the even more eccentric Alan Horne – also took the Velvet Underground as its blueprint. But it synthesised this with, in the case of Orange Juice, a camp sense of fun, or with Josef K, a European art-house chic. It was a case of learning from the past to create a new present.
Politics with added funk
Primal Scream alone, for all their recycling of classic 1960s and 1970s rock on songs such as Movin' On Up and Jailbird, realised that the message was as important as the medium. Gillespie's background in Scottish socialist politics (his father was a left-wing trade unionist) came to bear on his statements where he used pop media to rail against government crack-downs on unlicensed raves in a "basement club beneath a kebab shop on Edgeware Road for 20 people who'd been up dancing for three nights" as he once put it.
He also made it clear what he thought of the conservatism of young people and the Thatcher government's individualist social and economic policies (a theme he took up again with Andrew Neil on This Week, much to the presenter's obvious discomfort).
Musically, Primal Scream's reuse of the sorts of styles the Rolling Stones had colonised on their seminal Exile on Main Street LP – where The Stones augmented rhythm and blues with country, soul and gospel elements – married to dance and rave culture elements to create something completely new and fresh. The dub symphony of Higher Than the Sun and the epic Come Together sounded both contemporary and timeless. Their hiring of dance music producer Andrew Weatherall to remix their third album, Screamadelica, in 1991 could have been a gimmick – yet this particular synthesis of the old and the new was a triumph.
Screamadelica was funky and celebratory, a successful fusion of the grooviest elements of popular music. Primal Scream became one of the few groups at that time to take part in what journalist Dorian Lynskey in his book 33 Revolutions Per Minute calls more "challenging dialogues with history" contrasting with other dance enthusiasts committed only to the present or some "mythical past".
It was Gillespie's respect for history and sense of social justice, despite his evident wealth, that guided his stance on the This Week show – a stance that shattered several myths.
By challenging Neil's neoliberal rhetoric head-on, Gillespie refused to bolster the cosy narrative of the programme, itself reflective of the decline of contemporary mass media. Then, by refusing to take part in the embarrassing impromptu dance as the credits rolled, he reminded us that music is also a protest movement, capable at its best of expressing the fears, anger and injustices of people everywhere.
Afterwards, Gillespie's Instagram account took up the fight. He criticised Neil, and said the "sickening" display was indicative of how the media "enables" the political class in Britain.
But that look had already done all the talking required. It lasted just a moment, yet Gillespie's scornful face as he watched, incredulous at the behaviour of the other guests – the political class. A real rock rebel gave a us memorable TV moment and, in the words of the title track of Primal Scream's fourth studio album, said to a new generation: Give Out But Don't Give Up.