Prime Minister Julia Gillard's decision to appoint a Federal Small Business Commissioner is a welcome move that signals an increasing interest in small business.
But what exactly should a new commissioner do? Small business advocacy groups are reportedly calling for the federal commissioner to "fight red tape". There are also calls to work via the Council of Australian Governments to better align state and federal law.
They suggest that the federal commissioner should be a mediator in disputes between small business and federal government agencies.
While all of this is both reasonable and expected, it would be worthwhile looking at the roles of the current state-based small business commissioners.
State roles
Victoria has had a commissioner in place since 2003. This commissioner is tasked to "enhance a competitive and fair operating environment for small business" in that state.
Both New South Wales and Western Australia appointed commissioners in 2011.
In NSW the commissioner's role is one of dispute resolution, advocacy and the review of state laws and regulations.
Other responsibilities include working with private and public sector organisation to remove unfair practices. The aim is to foster market practices that are friendly to small business.
Retail tenancy is also the responsibility of the NSW commissioner.
In WA, the commissioner oversees the working of the state's Small Business Development Corporation. This commissioner also receives and investigates complaints about unfair practices that may impact on small business, while helping resolve complaints.
The commissioner in South Australia has a similar role. However, the SA commissioner has been given greater powers. Where they see activities under the state's Fair Trading Act (1987) and relevant consumer laws as detrimental to small business, they can intervene.
This gives the SA commissioner more power to intervene and shape the way industry sectors work than is the case for the Victorian and WA commissioners.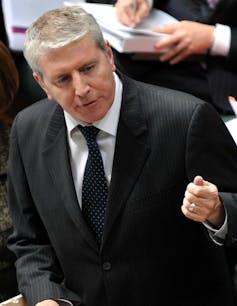 For example, the SA commissioner has the power to require information and documents from individuals that are needed to carry out this function. Failure to comply can result in prosecution and fines of up to $20,000.
Powers
It is currently unclear what the powers of the federal commissioner will be. However, for the role to be effective they should be appropriately empowered.
Any commissioner who lacks the type of power currently available to their SA counterpart would risk becoming something of a toothless tiger, a point recently raised by Ken Phillips, Chairman of the Council of Small Business of Australia.
From a practical perspective, the federal small business commissioner should collaborate with their state counterparts. They should explore the gaps that exist between federal and state legislation that have adverse effects on small business.
This can encompass a wide range of things including the trade practices/fair trading acts, franchising codes of conduct, taxation and labour laws.
Regulation
There are also a number of industries that are currently poorly regulated at the federal level, but dominated by small business owners. These include motor trades, newsagencies, service stations, community pharmacies and real estate agencies.
A key role for the federal commissioner would be to bring greater standardisation to these sectors, and ensure that they remain friendly environments for small business.
An important issue for small business policy development is to ensure that it is built on well-founded evidence. The federal commissioner should work with organisations such as the Australian Bureau of Statistics to collect data on Australia's small business sector.
This data should be longitudinal in nature. It should allow the overall health of the sector to be monitored.
Taxation
Another urgent task is taxation. This is already being considered in Parliament, but it must be driven by facts not politics.
The federal commissioner should work closely with the Australian Taxation Office to review the tax codes that apply to small businesses.
Around 62% of small firms employ only the owner-manager. This means that there are overlaps between personal and business taxation that need attention. Changes here could foster entrepreneurship and assist the formation and growth of new ventures.
The emergence of a new type of corporate entity specifically for small business is another area for the new commissioner. In its concept this would allow small firms to get some of the benefits of big business, without the costs and compliance issues of incorporation.
While this is a good idea in theory, care will need to be taken. What defines a "small business" will need to be clarified. Currently there are too many confusing definitions.
It will also be important to avoid this new structure from turning into a ghetto for small businesses. If we desire our small firms to grow and build a competitive economy, they must learn from an early stage how to run themselves like larger businesses.
Small Business Impact Assessments
Finally, we believe that there should be small business impact assessments undertaken. These should occur before major new economic policies are implemented. They should include changes to federal laws and regulations that impact on a wide range of areas.
They may also need to be applied where major changes to a business environment occur with negative effects on small business. For example, where major retailers engage in price wars, or when major mining companies enter a regional area soaking up the skilled workers, pushing up real estate prices and not using local suppliers.
The new federal commissioner should be tasked to prepare these assessments and ensure that they do not result in outcomes that are adverse to small business operators.
Phil Kemp is a co-author on this article. He is the executive director of Business Foundations, a Perth-based not-for-profit organisation which provides training and mentoring advice to small businesses.