The search for Scotland's new first minister is in full flow. Three candidates have emerged to replace Nicola Sturgeon, arguing over subjects including independence, religion and gender recognition.
But so far, these topics seem to have overshadowed detailed discussions about the state of the Scottish economy. None of those vying for Scotland's top political job have been particularly vocal about the (admittedly complex) challenges of handling a cost of living crisis, or the best ways to respond to Brexit and the pandemic.
These areas of policy are a key part of governing any country, and are likely to be a priority for any voter considering who gets to run Scotland. Crucially for the Scottish National Party (SNP), they are also vital for anyone wanting to make a sound economic case for independence.
So what should the three candidates – Kate Forbes, Ash Regan and Humza Yousaf – be talking about? At the very least, you might imagine they would be pointing to some of the SNP's achievements since it came to power in 2007.
These include investment in rail infrastructure of over £11 billion, and extending rates relief for over 100,000 small business premises. Scotland was also named in one survey as the top UK destination outside of London for attracting foreign investment.
The nation enjoys flourishing tourism, food and drink, and financial services sectors. It had 360,000 private businesses operating in March 2022, an increase of over 5% from the previous year.
So there seems to have been plenty of scope within Scotland's devolved powers to allow for independent economic success (helping to boost Sturgeon's approval ratings.
But the SNP can surely not afford to leave things there. The politicians hoping to lead the party will need to show voters that they understand and prioritise major issues including fluctuating oil revenues, high energy costs and uncertainty over rejoining the EU.
They will also need to take good care of those 360,000 Scottish businesses, many of which recently opposed high business rate costs, and controversial policies on rent.
Some of those firms are also suffering low levels of growth, with the Scottish economy projected to grow at levels notably slower (around 0.9% per year) than the rest of the UK (1.4%).
Educating entrepreneurs
My research indicates that one way to help businesses in Scotland – and encourage budding entrepreneurs to set up more – would be to make better use of the country's successful higher education sector.
Scotland's universities already contribute over £4.5 billion to the economy. My research suggests that within those institutions there is exciting potential for supporting entrepreneurship – and the Scottish economy as a whole.
This potential can only really be realised if the new Scottish government works to improve the links between academia and industry. This would involve establishing a strong network of people and organisations in which skills, knowledge and experience are shared throughout the country. An "entrepreneurial eco-system" could then flourish, with industry-focused colleges and universities transferring knowledge, developing new ideas and sharing research findings.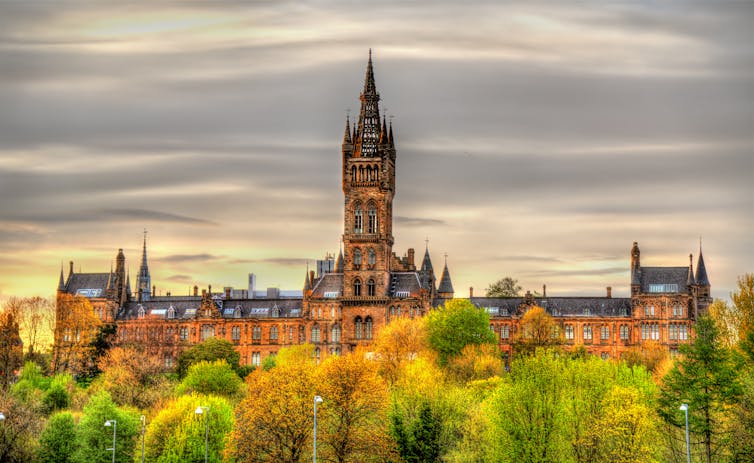 Separately worth noting for Scotland's economic future is research which strongly recommends greater investment in Scotland in renewable energy, sustainability and decarbonisation. And we shouldn't forget the evidence indicating that the Scottish economy demands a decent level of immigration to build a strong and sustainable economic community.
Amid the inevitable rhetoric and bombast of a political leadership battle, the leadership hopefuls should remember to address these critical concerns. For as the campaign rolls on, many voters will probably be hoping to hear more detail about a reassuring economic agenda.
It won't be easy, but the challenges of effective welfare, financial security and social justice should be priorities for the new administration, just as they are for society in general.
Improved relationships between government, industry and the higher education sector could quickly start to improve Scotland's economic status within the United Kingdom. Or, if the SNP achieves its ultimate goal, as an independent global nation.