With the 2014 Winter Olympic Games fewer than six months away, the last thing Russia needs is another scandal. But that is exactly what the organisers have got.
The latest controversy involves migrants working in Sochi, the site of the games. According to Human Rights Watch, hundreds have been rounded up and "held in arbitrary and inhuman detention conditions".
This comes after accusations of widespread damage to the natural environment around Sochi, and changes in laws relating to homosexuality which have been extremely controversial and may yet lead to some countries boycotting the games.
The Olympics mark the start of what is a very important decade for Russian sport and for the country itself. Russia is set to host the 2014 Games, the 2018 World Cup, a Formula 1 Grand Prix and a host of other international sporting events.
Securing the rights to hold such events not only highlights growing economic strength, it also signals the country's potential re-emergence as a sporting superpower. Russia will be desperately hoping sporting success is not overshadowed by controversy.
Fall from grace
Russia failed to build sustainable success in the post-communist era, leading to two decades of under-performance. The planning, organisation and delivery of sport has been problematic, and the confused nature of modern Russia disrupted the former Soviet Union's strongly centralist, and some would argue more successful, sporting model.
Other countries have therefore outperformed Russia, or else have been more efficient in using the resources at their disposal: the US and China are the superpowers; countries such as Australia, Germany and Great Britain have harnessed commercial and managerial developments in sport; while countries such as Qatar and Brazil have proved themselves to be far more politically adept and influential.
But the tipping-point is here, which is why the next decade is so important. Russia does not want to let the moment pass, and its re-emergence is underpinned by a recognition that sport enables global political influence and economic impact.
This kind of influence doesn't come cheap. The country is midway through a US$10 billion plan to develop 3,500 athletes by 2020 to compete in 45 Olympic sports. At the heart of this is a kind of corporate collectivism whereby the government strongly encourages both state-owned organisations and private corporations to deliver on the country's sporting goals.
This partnership was aptly demonstrated by the recently-opened Russian International Olympic University (RIOU) in Sochi, the world's first official "Olympic" university. The US$500m project was paid for by oligarch Vladimir Potanin and fulfils a national interest, training a new generation of sporting managers and strategists who will be able to use their skills around the world.
Team triumphs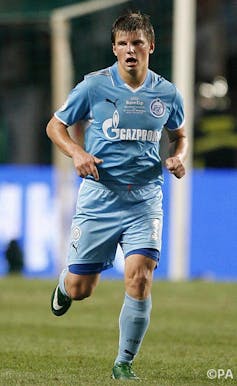 Yet there is more to sport in Russia than the Olympics: the Kontinental Hockey League has grown to become the second richest ice hockey league in the world; and football club Zenit Saint Petersburg won the UEFA Cup in 2008. In these cases, sporting achievement is aggressively supported by significant investments from state-owned organisations such as Gazprom and Lukoil.
But just how strong and sustainable such investments are is nevertheless open to question. Suleyman Kerimov, a businessman and oligarch, has invested heavily in football club Anzhi Makhcachkala and also serves as a member of Russian wrestling's governing body. Kerimov's investment in Anzhi saw massive salaries and transfer fees handed out to attract top players to the shores of the Caspian Sea. However, last summer Kerimov drastically reduced his involvement the club, putting the "project" he instigated in serious trouble.
The instability of Kerimov's business empire does not bode particularly well for Russia, nor does the large outflow of capital into overseas sporting interests. The likes of Roman Abramovich at Chelsea in London and more recently Dmitry Rybolovlev at FC Monaco have spent billions on their football teams.
While there is significant socio-political and economic capital to be made by such oligarchs (and Russia itself) through these foreign investments, promoting the development of overseas sport detracts somewhat from Russia's domestic sporting activities.
The way in which sport is embedded in the Russian political system also continues to raise some interesting issues. The Nord Stream gas pipeline project, in which Russian state-owned energy giant Gazprom is a major partner, has been hugely controversial. There has been a range of disputes around the construction of the pipeline, some of which continue to be contentious.
In conjunction with the project, Gazprom has signed major sport sponsorship deals with clubs like FC Schalke in Germany, and the UEFA Champions League. This has placed sport centre stage in a much broader geo-political debate, which can only intensify now that another pipeline – South Stream – project is being proposed by Gazprom.
Tainted gold?
In the same way, Gazprom's exploration activities in the Arctic have attracted condemnation, to the extent that a recent Champions League game involving Schalke was targeted by environmental protesters.
Yet, Russia's obvious belief in the power of sport is to be welcomed, and the country's commitment to pursuing a strategy aimed at improving sporting performance while building an infrastructure and sport industry is to be applauded.
But Russia is being scrutinised by the rest of the world and needs to persuade many people that it can deliver on its promises, create a sustainable sporting economy and appropriately address socio-political matters such as homosexuality. While Russia may well strike gold in the coming Olympic winter games, without addressing these issues the country will struggle to convince its critics.