Denmark's award-winning cultural export, Borgen, is back on our screens for a second series following the fortunes of its fictional female Prime Minister Birgitte Nyborg. Denmark need never resort to hard power again – its cultural warriors are doing just fine in their campaign to take Danish values and stories to the world.
When we first met Nyborg (played by Sidse Babett Knudsden), she was a naïve but trusted politician, a happily-married mother who'd suddenly found herself catapulted to the top job.
By the last episode of series one she'd fine-tuned her Machiavellian instincts, betrayed loyal colleagues, exploited the symbiotic relationship with the media – and paid the price. Power came at the cost of her marriage. Reality check: you can't have everything.
In series two, which kicks off tonight on SBS, we find her in Afghanistan visiting Danish troops. But this too has come at a cost with terror attacks back home. Is it a local Muslim backlash or a Danish Anders Breivik at work?
When soft power trumps military might
The concept of "soft power" was developed by Harvard's Professor Joseph Nye, who theorised that there were three ways that nations could gain influence and power: the first was hard power or military might; the second was economic power or investment; and the third was soft power, or leading by attraction.
Nye cites the example of the Cold War, won by the West without a shot being fired. That war, he said, was won by the cultural values of the West penetrating the Iron Curtain and causing communist citizens to lose faith and reject their own system.
It's via this soft power that Danish culture is being showcased internationally.
Telling stories to a global audience
Last month Sydney celebrated the 40th birthday of its most iconic building, the Sydney Opera House, designed by the Danish architect Jørn Utzon. The Crown Prince and Princess of Denmark were appointed patrons for the Sydney Opera House celebrations and they seized the occasion to honour their most creative citizens.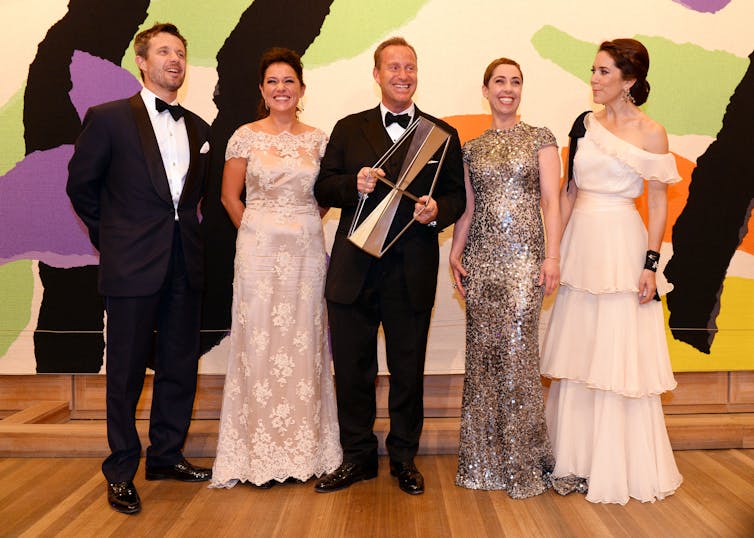 The Crown Prince Couple's Awards draw attention to Danish social and cultural achievements and this year the top Culture Award was given to the creative teams behind the first seasons of the drama series The Killing and Borgen.
The citation for the award noted that both series "are characterised by their striking female leads". They feature strong women who drive the plots and also "provide insight into modern dilemmas and choices and their consequences". Finally they observed that the teams were "exemplary in their insistence on high quality entertainment to broad audiences".
Both series were made by the Danish public broadcaster DR – and the award citation noted that they "enraptured not only Danish viewers, but have also enthused, worried and touched audiences far beyond Denmark's borders".
The award was an acknowledgement that, in a globalised world, cultural industries can put small countries on the map. Danish dramas have won five Emmys recently. Borgen won a BAFTA last year and so did The Killing in 2011. Sidse Babett Knudsen won best actress in a drama series award at the Monte-Carlo TV Festival 2013 and Borgen won best TV series at the Biarritz International Festival of Audiovisual Programming in 2011, as well as the 2010 Prix Italia for best TV drama.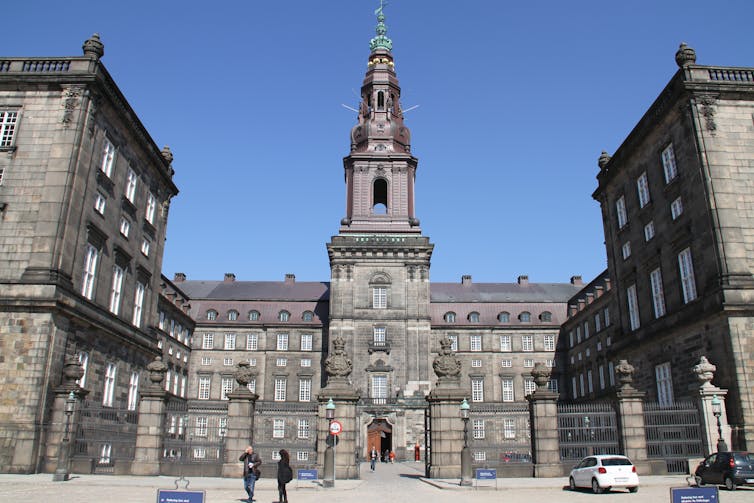 How the Danes got serious about TV drama
The successes of Borgen and The Killing were no accident. The producers consciously sought to professionalise the way the public broadcaster told Danish stories.
Twenty years ago you couldn't find a Danish TV series that rated a mention overseas. Then DR staff decided to get serious – and went to Hollywood.
They hung around the sets of American shows such as The West Wing , NYPD Blue and LA Law. They talked with writers and producers and studied the formulas of multi-episode dramas.
Piv Bernth is the head of Drama at DR. Back then she was one of those Danish producer/interns. Recently, during an interview, she told me about the lessons she took from her time in Hollywood.
We started to work out what the Americans do. And then we realised that we can't do the same things because they have been doing it for so many years, so we have to find another way of working.
That other way had already been laid out in a manifesto by Danish filmmaker Lars Von Trier. His Dogme 95 movement eschewed the special effects of Hollywood and its big budget blockbusters and looked locally for stories that were unique to his homeland.
Bernth said she was keen to showcase her society and banish dated Nordic stereotypes:
We've always been selling the Scandinavian countries as this place where there is light 24 hours a day and we have all these blonde girls with blue eyes and Hans Christian Anderson and things like that – but we wanted to show the other side, the underbelly.
And they certainly did that with The Killing – a slow burning series in which the dour, uncommunicative policewoman Sarah Lund (Sofie Grabol) takes 20 episodes to solve a grisly murder, alienating her boyfriend, son, mother, colleagues and public officials along the way.
There are no car chases, no special effects and, judging by the leading lady's omnipresent fisherman's jumper, no wardrobe allowance. Bernth told me she thought:
the key to get the attention is to stick with your own originality, so we had to find out what is the sort of Danish or Scandinavian originality and then stick to it.
Borgen brings a female PM to the screen – what next?
What Denmark had was a social democracy in which 70% of women work. It was a place that could one day conceivably vote in a female prime minister. Borgen brought Birgitte Nyborg to power a good year before Helle Thorning-Schmidt was voted the country's first female leader.
The Danes, not wanting to be typecast, are now giving up crime and politics for a while. Bernth says there is a major family drama in the works as well as a comedy series and a Danish Downton Abbey that will explore their ANZAC moment: their catastrophic defeat at the hands of the Germans in 1864.